Before precision cable strippers and grippers were available, preparing coaxial cables for installation of connectors could be a dangerous enterprise. Many a Ham's digits have felt the business end of a cutting tool blade when attacking the rigid outer jacket of a cable. Even when completed without personal injury, manual stripping often yields far from textbook results, including damaged conductors that can affect performance.
As longtime Amateur operators, the designers at DX Engineering understand that simplifying everyday tasks in the shack and out in the field means less frustration and more time on the air. The development of DX Engineering branded grippers, strippers and complete coaxial cable tool kits is another example of our commitment to helping fellow Hams get more enjoyment out of our favorite hobby.
These DX Engineering strippers take the hassle out of preparing 50 ohm coax cable for installation of solder-on PL-259 connectors. In a two-step operation (insert cable in one end and twist, then reinsert in the other end and twist), the three available strippers can prep RG-213, RG-8U, RG-11U, Belden 8237, RG-8X, RG-58 and similar sized coaxial cables. Each tool comes with premium tool steel, long-lasting cutter blades. Replacement blades are also available.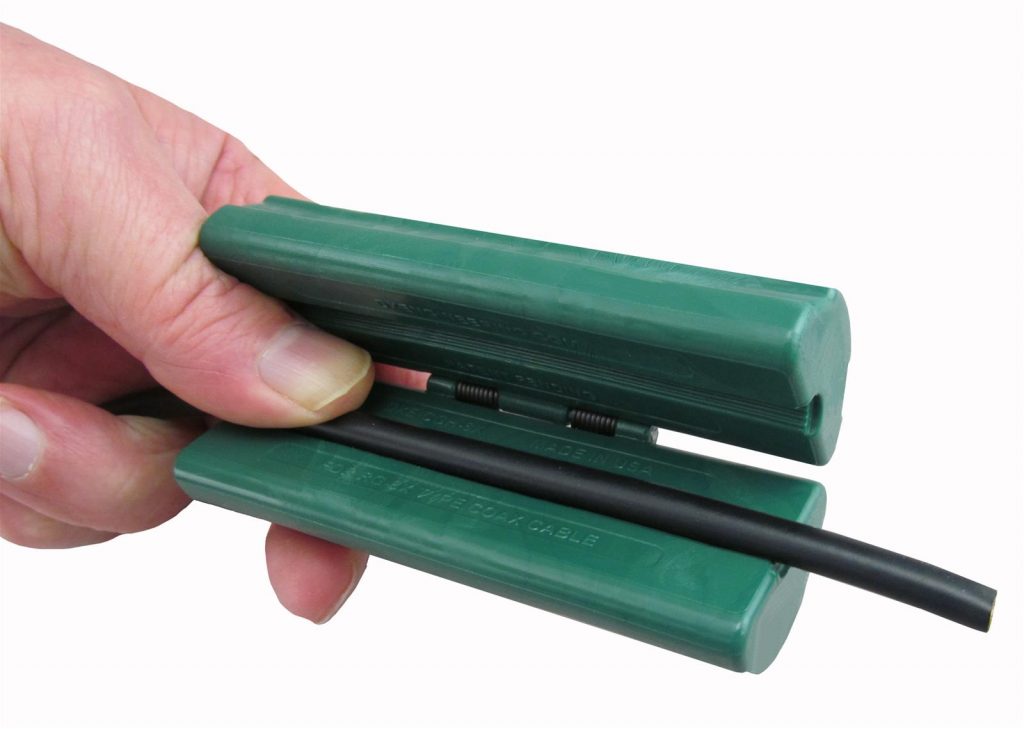 For some Hams, gripping a cable can be awkward and painful, especially after a lifetime of strenuous work with your hands. These hinged hand grippers are the perfect complement to DX Engineering's coaxial prep tools. They help you securely hold the cable while you're using the stripper. Grippers are available for RG-8U and RG-8X size cables.
Connector assembly tools allow simple threading of connector bodies onto the vinyl jacket of RG-8/U, RG-213/U and similar size cables. Use the DXE-UT-80P assembly tool for PL-259 connectors and the DXE-UT-80N for two-piece Type N connectors.
Hinged Cable Strippers for Crimp Connectors and Complete Kit
DX Engineering developed four sizes of hinged coaxial cable strippers for prepping coaxial cable for crimp connectors. The hinged tools allow the user to insert a coax against an internal stop, close the tool, and rotate to cut the cable to the correct measurement using three internal blades. The cable is reinserted into the other end and then withdrawn for simple removal of the cut portion. The Coaxial Cable Prep Tool Kit for Crimp Connectors (DXE-UT-KIT-CC1) includes all four strippers, grippers for 8X and 213-size coaxial cable, 10 replacement blades, side cutter, braid trimmers, CHANNELLOCK cable cutter, and carrying case. Tools are also sold separately.
The strippers prepare these DX Engineering and AmphenolÒ crimp connectors:
400MAX
8U
213U
LMR-400
8X
LMR-240
Other DX Engineering Coaxial Prep Kits
What do Hams say?
"I now have every one of the cable prep tools in the kit. Initially I was only interested in working with RG-8 or 213 cables. Recently I needed to work with some RG-8X and these tools are 'The cat's meow' when working with any cable. I don't do this professionally but learned long ago that anyone using the best tool for the job does the best work. Now I need a case to hold all these tools. I should have bought the pro kit in the beginning."
Click here for videos on DX Engineering Coaxial Cable tools.