Being prepared is something ham radio operators understand well. After all, many longtime amateur radio folks first learned the magic of Hertzian waves through Scouting, where the longtime motto "Be Prepared" was first written in the Scouting for Boys handbook in 1908 by Boy Scouts founder Robert Baden-Powell. The Girl Scouts also use the "Be Prepared" motto. Read here about the ARRL's Radio and Wireless Technology Patch Program for the Girl Scouts, in which participants have the opportunity to learn about ham radio through hands-on activities.
With the strong connection between hams and being ready for emergencies, today's OnAllBands post is devoted to highlighting Severe Weather Preparedness Month—an annual recognition every March that an ounce of prevention is worth a pound of cure, or, in ham-speak, purchasing an affordable coaxial lightning or ladder line surge protector sure beats replacing a scorched rig.
Here are just a few of the many products available at DXEngineering.com designed to protect your family and station:
Tornado Alert
Billed as the world's first personal tornado detector, this device constantly monitors the skies in real-time for electrical activity, the scientifically proven cause of tornado formation. Tornado Alert will tell you when a tornado, lightning, or severe weather is detected within a 30-mile radius of your location, providing up to 30 minutes warning to get to safety, day or night. The backlit display shows raised warning levels as the emergency weather approaches. The device includes a powerful built-in antenna, 90 dB siren, live proximity readings that let you know how close the threat is to your location, strobe light, and simple two-button setup. By installing a backup battery, the Tornado Alert will keep you protected even with the loss of A/C power (battery not included).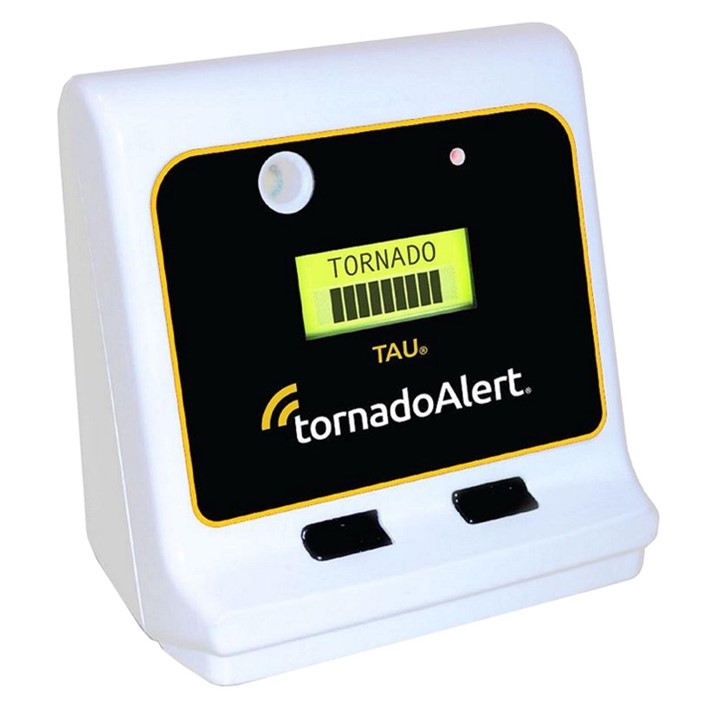 Sangean MMR-99 Weather Alert Multi-Powered Digital Tuning Radio
The MMR-99 radio delivers excellent performance and peace of mind in a rugged package. This emergency radio covering AM/FM-RDS and seven NOAA weather channels can be charged by hand-cranking, DX-In power by USB Type-C, or by included solar panel. The radio also serves as a portable battery to charge smaller devices and can be used as a flashlight with 15 different lighting patterns for emergencies or other situations. It runs on a rechargeable 18650 Li-Ion 3.7V/2600mAh battery and comes with weather alert functionality, memory bank with up to 40 station presets for AM/FM radio, Auto Tuning System, adjustable bandwidth, Bluetooth, IPX55 rating against dust and water, reinforcements on each corner to resist damage from drops, and more. Enter "MMR-99" at DXEngineering.com for availability.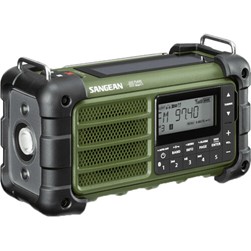 Eton Emergency/Weather Radios
The reliable and versatile lineup of Eton emergency/weather radios includes the Sidekick, featuring solar-powered charging, Bluetooth technology, bright LED flashlight, 2600mAh rechargeable Li-Ion battery, and hand crank which produces power for 10-15 minutes of operation after four minutes of cranking. The Sidekick will receive your favorite AM/FM stations plus the NOAA weather bands.
The "Alert" function lets you receive weather alerts when you're on the go. It automatically broadcasts emergency alerts for your local area such as hurricanes, tornadoes, and severe weather. It features S.A.M.E. (Specific Area Message Encoding) technology that will send weather alerts for your specific location; just enter your S.A.M.E. county code found on the National Weather Service website or choose one of the preloaded locations.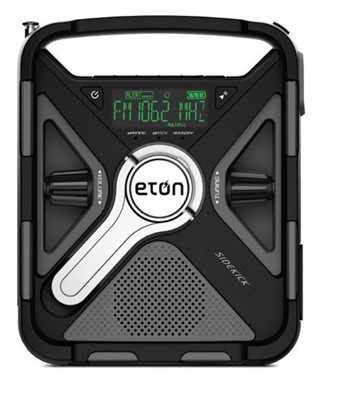 The Scorpion II Multi-Purpose AM/FM/NOAA Radio has a rugged exterior with an aluminum carabiner for extreme outdoor conditions. It's ideal for emergencies and outdoor adventures and is easily stored in a safety kit or backpack. It includes a rechargeable 800mAh lithium battery that can be charged with its built-in solar panel or by the built-in hand crank. The micro-USB charging port can also be used to charge the internal battery. A bright, long-lasting 0.5-watt LED flashlight and a USB-A smartphone charging port are included.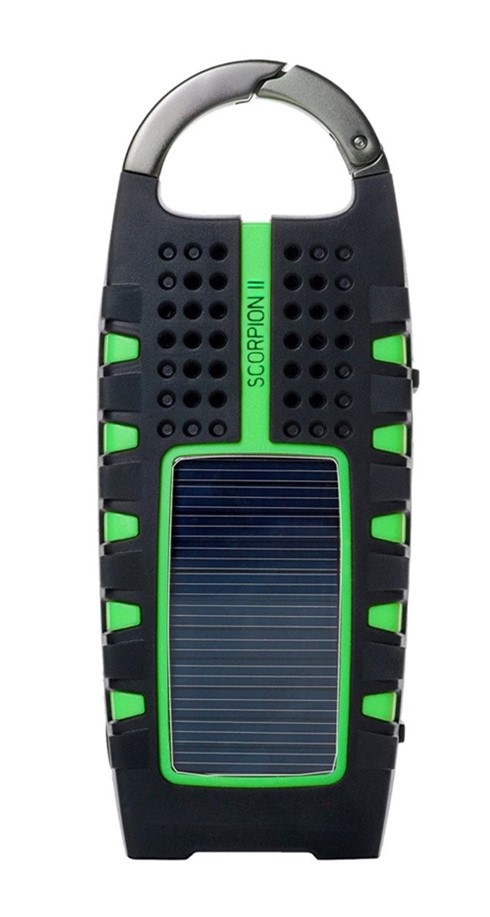 The ZoneGuard AM/FM NOAA Weather Radio includes seven built-in NOAA/Environment Canada weather band stations. Enter your S.A.M.E. county code and if there's a warning, watch, or advisory you will be notified by a red, orange, or green flashing light bar based on the severity of the alert and a 90 dB audible alert. Save up to 25 S.A.M.E. locations to get notified wherever you are. A telescoping whip antenna, detachable stand, and wall-mounting options are included.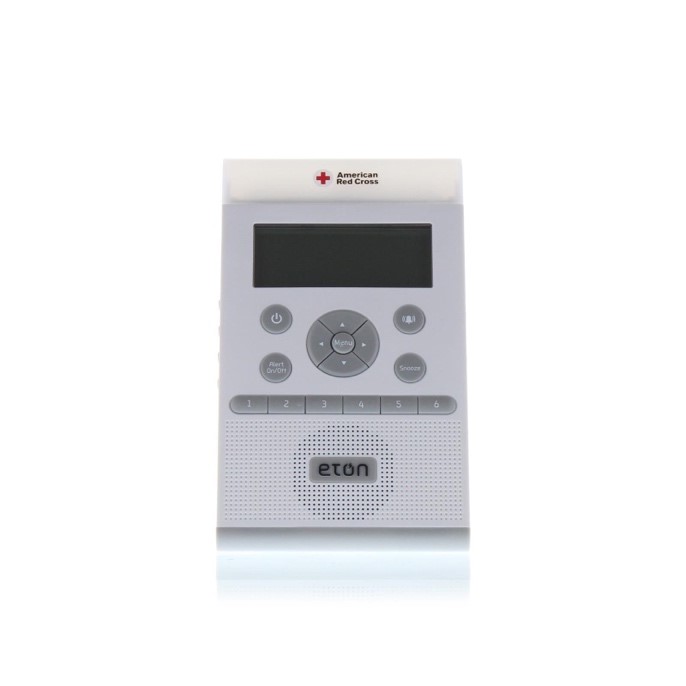 The FRX2 Compact AM/FM/NOAA Weather Radio features a bright LED flashlight and 1,000mAh Li-Ion battery that is rechargeable by built-in solar panel, hand crank, or included mini USB cable. The built-in USB charger also serves as a renewable power source for your smartphone or other devices.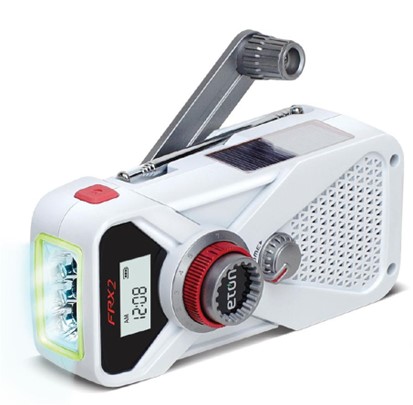 The FRX3+ AM/FM/NOAA Weather Radio features a more powerful 7V 2,600mAh battery plus:
Digital Tuning
Alert Function Broadcasts in Emergency Weather Alerts
Hand Crank and Solar Power Charging
USB Smartphone Charging
LED Flashlight
Red LED Flashing Beacon
Alarm Clock Function
Glow in the Dark Locator
Headphone Jack
Aux-In Jack
Look for more useful preparedness items available at DXEngineering.com in Part 2 of this series later this month.