In a few weeks, boys and girls from around the world will be celebrating a Ham Radio event that has captured the imaginations of countless youth for 61 years—Jamboree-on-the-Air (JOTA).
JOTA provides Scouts with an amazing opportunity to learn about Ham Radio and be part of the spirit of international goodwill so engrained in the hobby. Established in 1958, it is the largest Scouting event in the world. In past years, more than 1.5 million Scouts from 160-plus countries have participated by getting on the air and contacting fellow Scouts, sometimes creating bonds that extend well beyond the initial contact. The 2019 Jamboree-on-the-Air will take place October 18-20. From existing or temporary stations, Scouts will be exchanging information such as name, location, Scouting rank, age and hobbies. Scouts of any age can participate.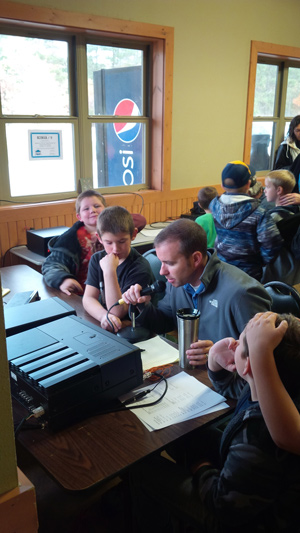 The link between Scouting and Ham Radio remains strong. For many boys and girls, Ham Radio Scouting programs provide the spark that leads them to pursue their Amateur Radio licenses. Here is a link to the Girl Scouts' ARRL Radio and Wireless Technology Patch program. From the ARRL website:
Girl Scouts can learn fundamentals of radio communication and wireless technology and take action in their communities to apply communications to connect people, provide safety, and explore related careers.
Learn the fundamentals of wireless communication
Explore radio science through hands-on learning with Amateur Radio
Use radio communication to talk around the world and for public service and safety
Learn how wireless technology is used in everyday life and in careers
DX Engineering, a longtime supporter of Scouting's participation in Amateur Radio, looks forward to another successful year of JOTA—a good sign that the future of Ham Radio is bright.
"It is always exciting to see so many young people discover the fun and usefulness of Ham Radio," says Tim Duffy, K3LR, DX Engineering Chief Operating Officer. "JOTA gives participants—tomorrow's enthusiasts and EMCOMM operators—their first taste of Ham Radio. For many, the magic of making those initial contacts will instill a lifelong love of the hobby."
DX Engineering was a proud supporter of the NA1WJ 2019 World Scout Jamboree Amateur Radio operation July 22 to August 2, hosted by representatives from Canada, Mexico and the U.S. It was part of the 24th annual World Scout Jamboree in West Virginia, the first time the annual gathering was held in North America since 1983.
The event included youngsters from Australia, Canada, Chile, Finland, Germany, Japan, Liechtenstein, Malaysia, Netherlands, Norway, Switzerland, Taiwan, United Kingdom, U.S., and Zimbabwe. Scouts participating in the NA1WJ operation, from the Summit Bechtel Scout Reserve, logged 4,163 contacts, reached 86 DXCC countries, executed more than 3,000 Ham Radio demonstrations, participated in three balloon launches, and made multiple contacts with the International Space Station.
NA1WJ's demonstration station used equipment previously provided by DX Engineering, including HEXX beam antennas, vertical antennas, coaxial cable connectors, triplexers, and bandpass filters.
For complete details about JOTA 2019, visit the official Jamboree-on-the-Air website.