From February 11-27, 2008, 13 experienced Hams operated seven stations on Ducie Island, recording a whopping 183,584 QSOs on CW, SSB, and Digital. VP6DX's 38,754 unique calls signs ranks as the third-most ever recorded on a single DXpedition, behind Eastern Kiribati 2011, T32C, 30 days of operation, 41 operators (48,966); and Malpelo Island 2012, HK0NA, 37 days of operation, 20 operators (43,159).
Such an epic DXpedition deserved an equally impressive QSL card, and the VP6DX team did not disappoint. DX Engineering customer/technical support specialist George, K3GP, joined thousands of DXers around the world by earning this QSL card from this uninhabited atoll in the Pitcairn Islands.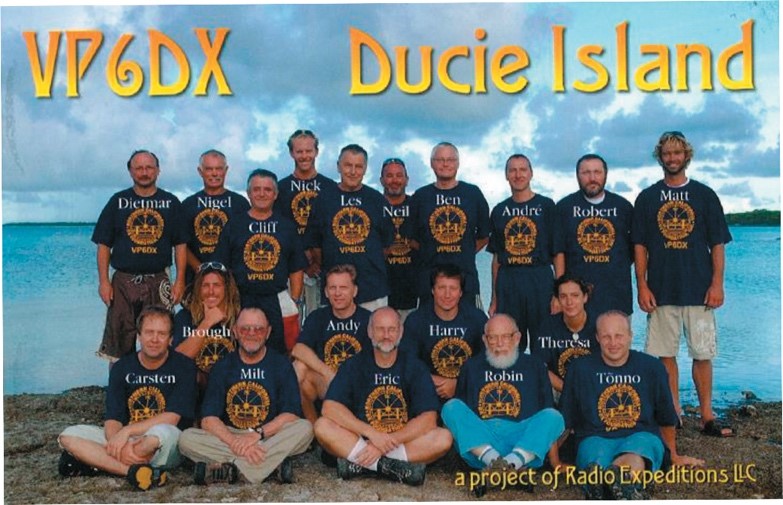 "Their QSL 'card' is a 32-page booklet loaded with photographs and details of this DXpedition, the location, the equipment, and the operators," George, K3GP, wrote. "In the booklet is the statement, 'DX Engineering receive antenna hardware and coax formed the heart of the best low-band receive antenna system the operators have ever used on an expedition'. I was able to contact them on eight different bands, including 160 meters."
DX Engineering is highlighted on page 11 of the booklet:
"DX Engineering RBS-1P reversible beverage hardware turned copper-clad steel ladder line into beverage antennas. Two directions of low-band signals from each beverage passed through RFCC-1 coax shield current chokes on their way to the central hub. RPA-1 preamps at this band-splitting and switching hub delivered the signals from each low-band operator's selected antenna through 600m of RG-6 coax. Each pre-amp received its DC power through the same coax. Power was removed while the operator transmitted, and custom filters protected the pre-amps from transmissions on other bands."
DX Engineering was also proud to support the next DXpedition to Ducie Island, VP6D 2018, by getting on the air to log the infrequently activated entity and by providing an array of mission-critical gear, including:
COM-ACB-40-A—COMTEK ACB-4 Hybrid Four-Square System, with Four-Square Switch Relay Unit for 40 Meters and Four-Square Control Console

DXE-Q75-40-4P—DX Engineering Phased Array Quarter Wave Tuned Cables

DXE-AT1205—DX Engineering Aluminum Tubing

DXE-GR-5P—DX Engineering Guy Rings

DXE-ANTW-500—DX Engineering Premium Antenna Wire

DXE-FT0750-8—DX Engineering Fiberglass Tubing

DXE-8U-1000—DX Engineering RG-8/U 50-ohm Bulk Coaxial Cable

DXE-PL259CS8U-24—DX Engineering Next Generation Crimp/Solder 8U PL-259 Connectors

DXE-8XDX025—DX Engineering RG-8X PL-259 Low-Loss 50-ohm Coax Cable Assemblies

DXE-RADW-65RT—DX Engineering Pre-Assembled Radial Wire Kits

DXE-EA15—DX Engineering Rope Guying Earth Anchors

DXE-FS-001—DX Engineering Foot Switches
Want to upgrade your DXing capabilities? The Elmers at DX Engineering are here to lend an ear. Reach out to them at Elmer@DXEngineering.com. Find everything you need at DXEngineering.com to up your game, including transceivers, antennas, amplifiers, headsets, and more.
Editor's Note: Every month, DX Engineering features QSL cards from our team members' personal collections. Usually we showcase ones from entities that are currently active or will soon be QRV. However, with so many DXers homebound these days and the number of DXpeditions reaching all-time lows, we've altered the rules. Until things change, you can expect a bit of everything from our stockpiles of QSL cards, including the rarest of the rare, personal favorites, and recent QSLs of historical significance.