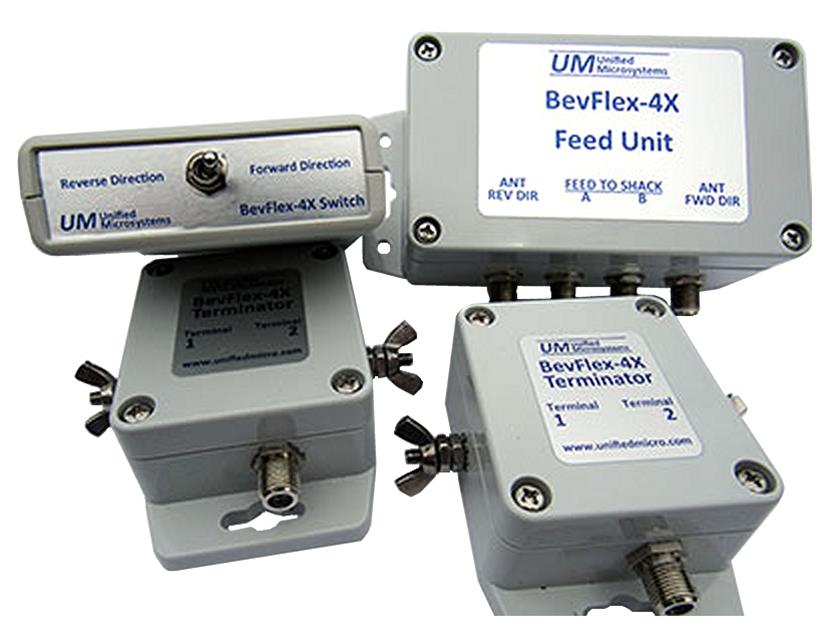 Take advantage of Unified Microsystems' versatile BevFlex-4X Reversible Receive Antenna System to enjoy the exceptional performance of a two-direction, low-noise, low-band receiving antenna that's perfect for Hams facing property size limitations.
The BevFlex-4X is W8GNM's updated and improved version of his antenna design that uses low-cost, low-loss RG-6 coaxial cable for the elements and the feedline of a Reversible Elevated Beverage, Reversible Beverage-on-Ground (BOG), EWE, Flag or VE3DO loop antenna.
The BevFlex-4X allows Hams to place the feedpoint unit anywhere along the length of an Elevated Beverage or BOG antenna rather than only at one end or the other. This flexibility allows an operator to position the feed at a more optimal location, such as closer to the shack.
Operators can install two BevFlex-4X systems at right angles to cover all four quadrants of the compass. The antenna enables operators to instantly switch to the reverse direction regardless of the configuration.
The system includes:
One feed unit
Two terminator units
One control switch unit
The feed and terminal units are housed in NEMA-rated enclosures and use stainless steel hardware for maximum weather protection. RG-6 coaxial cables and two required ground rods (per setup), sold separately, are available at DX Engineering. Click here for suggested related installation tools and performance-enhancing equipment from DX Engineering.
For operators who want to be active on the low bands during the winter, now's a great time to install this system before the first snowflake falls. Read more about Unified Microsystems' BevFlex-4X Reversible Receive Antenna System at DX Engineering.com or find more details about using it to configure a Beverage/BOG, Flag and VE3DO loop antenna from Unified Microsystems.