Place your order today for Yaesu's latest rig—the FTM-500DR 50W C4FM/FM 144/430MHz Dual Band Digital Mobile Transceiver. DX Engineering is proud to carry this stellar addition to the Yaesu lineup. Weighing a little more than three pounds, the FTM-500DR boasts easy operation, outstanding audio, C4FM digital technology, and enhanced functionality that makes it stand out from its Yaesu mobile radio predecessors.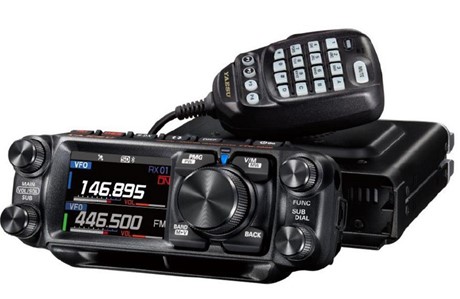 Here's an overview of its features and benefits:
Front speaker with Acoustic Enhanced Speaker System (AESS). This dual speaker system produces 9W of clear and powerful high-fidelity audio, delivered by the front panel (6W) and internal speakers (3W).
Innovative, Smart Operating System with TOUCH & GO/SEARCH & GO/Primary Memory Group (PMG) monitor functions
144MHz, 430MHz C4FM Digital/FM/AM (Air Band Receive)
True dual-band operation, C4FM/C4FM Digital D-D Dual Receive
Advanced C4FM Digital Mode with AMS (Automatic Mode Select)
Wide-band reception
DG-ID feature and Smart Navigation
VFO Band Skip Function—Recall only the bands you use
Customized Function List—Register up to eight frequently used functions for easy access
Quick Back Function—Easily return to the previous operating frequency
2.4-inch high-resolution full-color touch-panel display and demountable front-panel controller
Swing-head adaptable front panel improves display visibility
Single-touch spectrum scope function
High-speed band scope function
Smart Navigation with color compass display
Hands-free Bluetooth® operation
Illuminated keyboard
Built-in 66ch high-precision GPS receiver and external GPS device connectivity
1200/9600 bps APRS data communication
Wireless operation capability with the Bluetooth headset
The FTM-500DR comes with:
Radio Unit Mounting Bracket
Control Cable for operation with adjustable front-panel mounting
DC Power Cable
Operating Manual
Also, check out the Yaesu FT-710 AESS HF/50 MHz Base/Portable Transceiver with SP-40 Speaker available at DXEngineering.com.