OnAllBands has devoted a fair amount of space to the antenna analyzer—and for good reason. This handy, versatile tool is a Swiss army knife in a ham's toolbox, performing a range of functions that pinpoint problems, improve efficiency, and, ultimately, make operating a whole lot more productive and enjoyable. Even better, all this can be accomplished without the need for a heavy, cumbersome device that has to be lugged around in the field. Nowhere is this more evident than with RigExpert's family of compact and powerful "Stick" antenna analyzers, including the STICK-PRO (0.1-600 MHz) and STICK-230 (100 kHz-230 MHz).
For an incisive look at the STICK-230, watch this video review by Randy, K7AGE:
The latest addition to this growing family of antenna analyzers is the STICK-500 (100 kHz-500 MHz). Like its highly respected siblings, the Ukraine-made 500 model boasts versatile functionality, accurate measurements, ease of use, reliable performance regardless of the weather, convenience (it operates for a continuous 16 hours without battery recharging), and compact size. At 7.3″ x 1.6″ x 1.3″ and weighing only 6.5 ounces with battery, the 500 is even stealthier than some TV remotes—and less likely to get hopelessly lost in the sofa cushions. The device measures SWR and return loss, amplitude, and phase angle, as well as the value of active (R) and reactive (X) resistance, including sign, inductance (L) and capacitance (C) in parallel and series modes of antennas, cables, lines, filters, and other systems.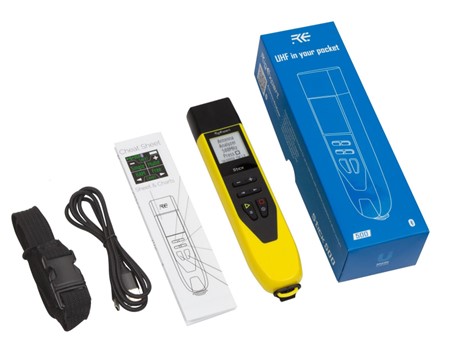 Other features include:
Bluetooth: v.4.2 BLE Single Mode, Class B
Measurements for 25, 50, 75, 100, 150, 200, 300, 450, and 600 ohm systems
SWR measurement range from 1 to 100 in digital mode and 1 to 10 in graph modes
SWR chart mode, 100 points
Mode for quick testing of a multiband antenna
High-contrast E Ink display with a pixel size of 200 × 200
Waterproof keyboard
Output power of -10 dBm (at a load of 50 ohms)
Two-year warranty
What do hams say about the STICK-500?
Five Stars: "On my first use of this new analyzer, I learned valuable insights about my two main antennas. The new RigExpert Stick 500 is an excellent antenna analyzer option, especially for amateur radio. At a reasonable price, this analyzer offers single frequency, multi-frequency (e.g., HF, VHF and UHF ham bands from 160m to 70cm), and it also includes the additional menu for cable length/velocity, 1/4 and 1/2 wave stubs, impedance vs. frequency, and cable loss vs. frequency. This is an incredible tool and is compact enough for easy base, portable, and mobile use. I am highly impressed and very glad to have purchased it. In addition, I am always delighted with DX Engineering ordering, shipping, and support. They are truly outstanding in every way."
For the complete lineup of RigExpert antenna analyzers and other gear (USB transceiver interfaces, interface cables, power consumption logger, project boards, and more), visit DXEngineering.com.