The DX Engineering 2022 catalog is only a few weeks away from arriving in mailboxes and appearing digitally at DXEngineering.com. In the days leading up to the catalog's official release, we've been giving sneak peeks at some of the new gear you'll find inside. Of course, if you can't wait for the catalog, you can find everything you need at DXEngineering.com, including this new offering: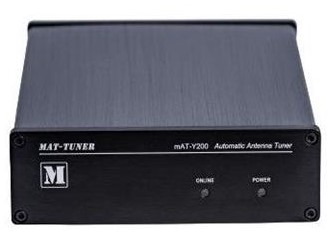 mAT-TUNER Antenna Tuner for Yaesu Transceivers
A proud member of the venerable Vibroplex family of amateur radio products, mAT-TUNER from INRAD offers a line of antenna tuners recognized for their sturdy construction, ease of use, and exceptional performance. Features include machined black oxidized aluminum cases; quality multi-level PC boards; control direct from transceiver front panel for Icom, Kenwood and Yaesu transceivers (some models); up to 200W power handling capabilities; models for QRP and outdoor operation; 5-1,500-ohm matching range; and 16,000 frequency memories (some models). Tuners come with a two-year parts/labor warranty. They make a reliable choice for tuning dipoles, verticals, Yagis, long-wire or virtually any other coax-fed antenna.
Visit DXEngineering.com for all mAT-TUNER tuners, including the 1.8 MHz to 54 MHz Automatic Antenna Tuner for the Icom IC-705 (MTU-MAT-705PLUS) and coaxial cable.
What do hams say about the MAT-705PLUS?
Five Stars: "This is a solidly built tuner that is a perfect match to the Icom IC-705. It is definitely intended for portable operations due to its compact size, and it fits into the Icom backpack with room to spare. This is a must-have accessory."
New from mAT-TUNER: Automatic Antenna Tuner for Yaesu Transceivers
The MAT-Y200 Automatic Antenna Tuner (1.8 MHz-54 MHz, 200W PEP, 50W Digital) works with Yaesu transceivers that support FC-30, FC-40, FC-50 Yaesu external tuners. A partial list includes the FT-100D, FT-857/D, FT-897/D, FT-450/D, FT-891, FT-950, FT-991, FT-991-A, FTDX-1200, FTDX-3000, FTDX10, FTDX-101D, FTDX-101MP. The included interface cable connects the radio to the tuner, which provides band data and 12V DC power. Features include:
0.1 to 200 watts SSB and CW, 100 watts max. Digital modes on HF 1.8-30 MHz; 100 watts SSB and CW, 50W Digital on 50-54 MHz
1.8-54 MHz continuous coverage
16,000 frequency memories
5 -1,500 ohms matching range
Tuning time 0.1 to 5 seconds for full tuning cycle, 0.1 second to return to previous memory setting
Control from Yaesu transceivers that have FC-30, FC-40, FC-50 interface capability via supplied cable
Also visit DXEngineering.com for the new HA8DU DU4000AL 4kW, 1.8-30 MHz Automatic Antenna Tuner, and the LDG Z-100A-DXE Automatic Antenna Tuner and Interface Cable Package, which includes the 160-6M, 0.1 to 125W SSB/CW, 30W Digital Z-100A tuner, DC cable and six interface cables covering many popular transceivers.