With more than 30,000 amateur radio goodies for sale, you might think that the team at DX Engineering would be content with their already industry-leading stable of products, everything a ham could want from A to Z (antennas to zoom-style analyzers).
But you'd be wrong.
In fact, DX Engineering is vigilant in its pursuit of locating unique gear to add to its offerings. This includes products from around the world, many of which are exclusively stocked, sold, and conveniently shipped to stations in North America from DX Engineering. So this summer, when WiMo of Herxeim, Germany, on behalf of InnovAntennas Limited UK, selected DX Engineering as the sole North American distributor of the range of antenna products by InnovAntennas, it was a partnership that made sense for all parties involved. As Carsten Esch, DL6LAU, WiMo sales manager explained:
"We are pleased that we could win DX Engineering as a partner again," he said. "DXE has been distributing many of our products in the U.S. for some time now, and we are already delivering larger quantities of goods from our portfolio via DXE to the U.S. We have been producing InnovAntennas as an OEM in Herxheim for more than two years and have a lot of experience with the antennas. Our production team is well prepared."
Currently, several models of internationally popular InnovAntennas are now available at DX Engineering. For this post, we'll be looking at the DXR Series Multiband HF Beams.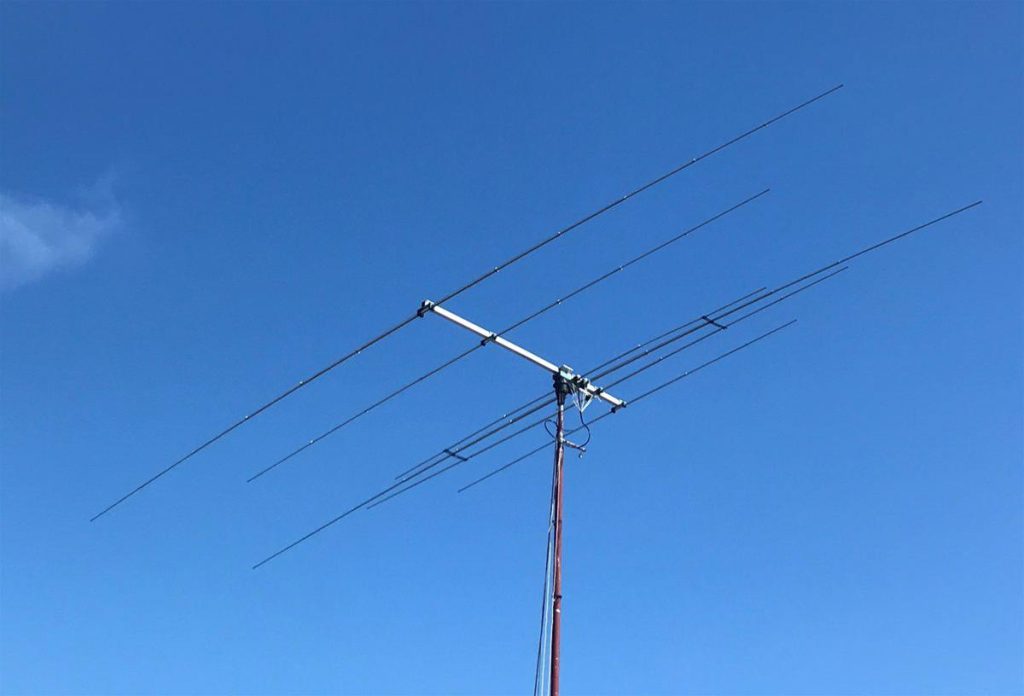 Customers can choose from nine models of InnovAntennas DXR series Yagi antennas, featuring short booms (10.2 to 12 feet) with full-size elements or capacity-loaded shortened elements—all boasting excellent performance, low maintenance with no movable electrical parts, and durability. Many years of work by Justin Johnson, G0KSC, founder of InnovAntennas, went into optimizing these antennas to achieve the best balance between size and performance.
Other standout features include:
No traps, matching links, or hairpins are needed: This means transmit power is only limited by the coaxial cable and connectors.
Only one feed line for all bands is connected directly to the solid distribution rails of the fed elements. This makes installation on a mast with a rotor easy. It's also a benefit when used with modern SDR transceivers, which allow the observation of several bands at the same time.
Careful selection of materials without regard to cost
Robust construction with manageable package size: Antennas have a 1.97″ x 1.97″ square boom with 0.078″ wall thickness that requires no bracing. A square boom has the advantage of the elements not twisting in the plane.
The longest elements are 1.378″ diameter in the middle and taper relatively quickly to achieve a good compromise between weight and strength. This construction also helps avoid constant vibration even in light winds.
Care has been taken to ensure that there are never more than the elements of three bands nested within each other. This is because each additional element for one band can cause interference on another band. The result is the best possible matching over a wider band range than other antenna designs. In most cases, no tuner is necessary; the SWR minimum can be precisely set by adjusting the element lengths.
Insulators are UV-resistant and designed for a wide temperature range. The mounting hardware uses sea-water-resistant stainless steel and the aluminum is type T6 6066/6082, which is also used in aviation.
"Super-compact" models (DXR7C 14 Element 7 Band Yagi, DXR6C-MKII 11 Element 6 Band Yagi, DXR5C-MKII 9 Element 5 Band Yagi, and DXR4C-MKII 8 Element 4 Band Yagi) have the longest element shortened by a capacity hat, resulting in a reduced turning radius that makes these antennas an ideal choice when limited space is a concern.
Other DXR Series models available at DX Engineering include:
·       DXR3-MKII 6 Element Tri-Band Yagi 20/15/10m
·       DXR5-MKII 9 Element 5 Band Compact Yagi
·       DXR6-MKII 11 Element 6 Band Compact Yagi
·       DXR7 14 Element 7 Band Compact Yagi
Look for future posts on other InnovAntennas models. Check out all that's available at DXEngineering.com, including a 40M rotatable dipole, 13 element HF log periodic dipole array, 1o element HF band optimized log periodic antenna, and compact 6/4M dual-band Yagi.