For all you QRP enthusiasts out there, here's some exciting news that's sure to quench your thirst for low-power action!
DX Engineering is currently taking reservations for Icom's latest rig—the IC-905, an all-mode transceiver covering 144/1430/1200/2400/5600MHz and 10GHz, including the D-STAR DV/DD mode and FM ATV (analog Amateur Television) with included AV input/output ports.
On display for the 35,000 attendees at Ham Fair 2022 in Tokyo, August 20-21, the base/mobile IC-905 is the first in the industry to offer the capability of operating up to 10 GHz with the optional CX-10G Transverter (sold separately). Output power for the IC-905 is 10W on 144/430/1200 MHz, 2W on 2400/5600 MHz, and 0.5W with the optional 10 GHz module.
Note: SHF stands for Super High Frequency, ranging between 3 and 30GHz. As noted by Icom Japan in 2021, Icom engineers were researching and developing technologies to "clear the particular challenges within the SHF band, such as large cable loss and higher-frequency stability requirements." The goal was to bring a "ground-breaking SHF band amateur radio to market that no one has ever achieved."
The new radio offers a great opportunity for hams to get involved in annual SHF contests, including ARRL's 222 MHz and Up Distance Contest, the 10 GHz and Up Contest (which has a "10 GHz only" category), and the IARU Region 1 UHF/SHF Microwave Contest, held earlier this month.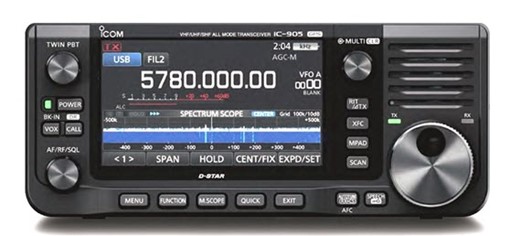 The compact and lightweight transceiver features a separate controller and RF module configuration that allows for the installation of the weatherproof RF module near the antennas.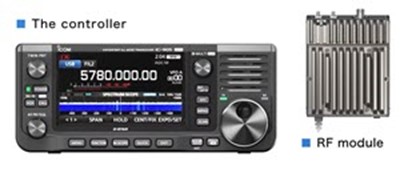 A LAN cable makes the connection between the controller and the RF module, significantly reducing power loss. PoE (Power over Ethernet) technology provides flexibility and simplifies the installation of the RF module.
Other features include:
Large 4.3-inch touchscreen color LCD display
Real-time, high-speed spectrum scope and waterfall display
Easy digital-mode settings
Supplied high-performance GPS antenna
Ports to connect external accessories such as a microphone, external speaker/speaker microphone, headphones, AV input/outputs, CW key, SD card slot, USB-C, and two LAN ports—one for the RF module and one for wired Ethernet and a DC power connector
Check out this introductory video on the IC-905:
Visit DXEngineering.com for more details and to place your IC-905 reservation today!
This IC-905 has not been approved by the Federal Communications Commission. This device may not be sold or leased, or be offered for sale or lease, until approval of the FCC has been obtained.