Can't wait for the 2022 DX Engineering Catalog to arrive in your mailbox? For those who are chomping at the bit to get their hands on 132 pages of ham radio heaven, including a bunch of new products from top manufacturers, OnAllBands is providing a preview of some of the latest items you'll find inside. Today we'll be highlighting a powerful new automatic antenna tuner from HA8DU Products, a company widely recognized throughout Europe for its well-built automatic and manual tuners.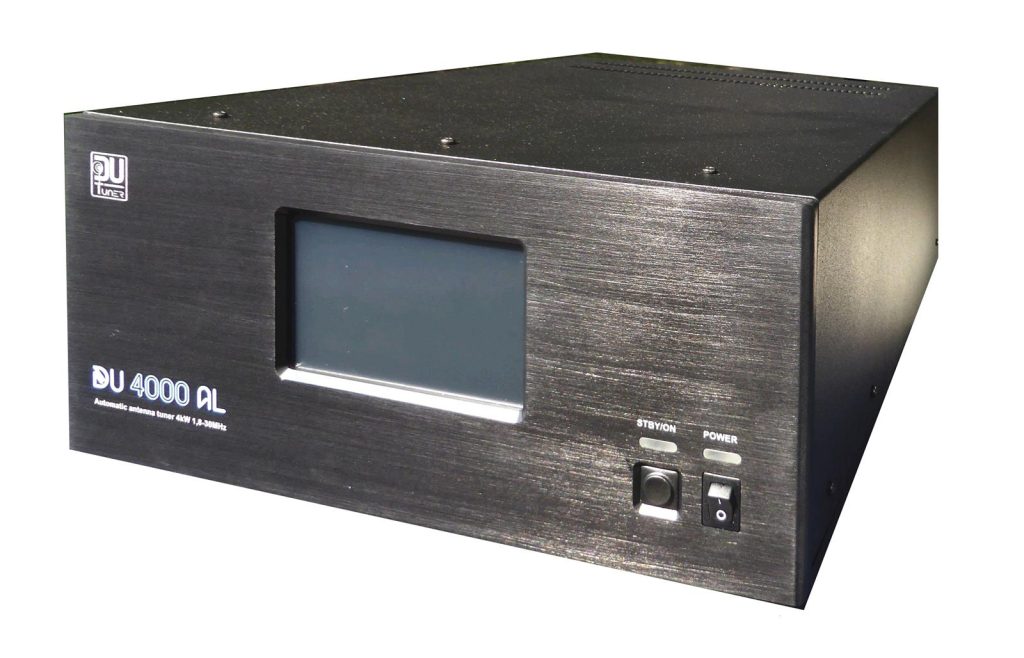 The DU4000AL, available right now at DXEngineering.com, offers advanced automation and display features that are truly unique for a 4kW HF antenna tuner, making this unit the modern-day station command center for automatic band, antenna, and memorized tuning selections. It comes with 1.8 to 30 MHz coverage; maximum 4kW RF input power at antenna SWR below 3:1; an intuitive-to-operate 5-color, 5-inch touch screen that provides control, status, and metering functionality for all station operations; and complete tuning memorization of four rear panel antenna ports as well as direct voltage control of an external 8-port antenna switch and stack match switching. A 50 watt minimum to 150 watt maximum RF input power is required during tuning.
The DU4000AL interfaces with all types of transceivers; an RS-232 interface can be used in-line between specific Yaesu, Kenwood, or Elecraft transceivers and the PC, or you can use the tuner's direct Icom "remote" CI-V input while connecting the transceiver to the PC by USB. Remote operation is available over the Internet via LAN-Ethernet, supported by a Windows application.

The DU4000AL is an automatic memory tuner that you initially program for each antenna and every applicable band segment. Subsequent operations on any preprogrammed frequency range, detected continuously by the transceiver interface, will automatically switch to the correct antenna switch position and tuning values, without transmitting, within 1 to 1.5 seconds, making this tuner truly contest- and DX-ready.

Menu Settings:
CAT
Antenna Switch
Display
Network
Clear User Settings: Current Band
Clear User Setting: All Bands
Antenna Autoset: On/Off
Blower Set: Temperature, PTT, or Always On
In addition to the DU4000AL model, DX Engineering carries the HA8DU 1,500W T-Type DU1500T manual tuner, featuring 1.8 to 30 MHz coverage, switching for tuned or direct connection to multiple antenna ports, a bypass connector for an external dummy load, cross-needle power, and heavy-gauge coated steel enclosure for an extra-sturdy chassis.
What do hams say about the DU1500T?
Five Stars: "The DU1500T is able to tune my Windom perfectly in 80 meters when otherwise it would require a crank inductor. I'm not into cranks; there's enough in the shack these days without a crank in the shack. It does this by adding a 2 MHz and a 4 MHz to the hard tap inductor switch."  Check out all the antenna tuners available at DXEngineering.com, including models from Acom, Alinco, Icom, LDG, mAT-TUNER, MFJ, Palstar, and