DX Engineering is excited to welcome Chelegance/JNCRadio to its impressive stable of amateur radio equipment providers. You'll find some of their latest products featured in the upcoming DX Engineering 2022 Catalog (don't look in your mailbox yet, it won't be out until May). In the meantime, here's a sneak preview of Chelegance/JNCRadio gear you'll find in the catalog. Better yet, the items below—and more than 30,000 amateur radio products—are available for purchase right now at DXEngineering.com.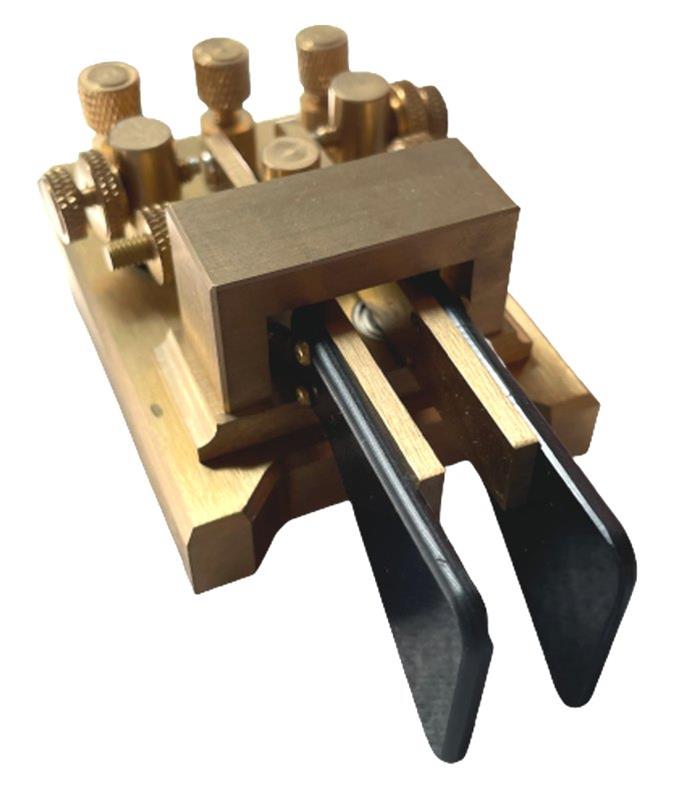 Perfect for portable ops or in the shack for CW contesting, the lightweight (1.5 lbs.) and compact JNCRadio K-1 Golden Brass Iambic Double Paddle Key from Chelegance features black plastic finger pieces attached to brass arms that pivot on stainless steel aircraft bearings with brass thumb-screw spring tension and contact spacing adjustments. Three all-brass thumbscrew binding posts provide the connections for a user-supplied cable for your electronic keyer or transceiver. With silver-plated contacts, this rugged paddle will provide years of enjoyable CW action.
Beautifully finished in double electroplated chrome on a heavy, stylish oval steel base that weighs over 2 lbs. 6 oz., this manual straight key features high-quality hardware; a mini-Navy knob with separate adjustments for height, contact spacing and return spring tension; and thumbscrew binding posts for a key cable (sold separately).
The NANOVNA-F provides exceptional 3 GHz coverage and tons of functionality in a small package. It has an S21 dynamic range that's greater than 70dB at 50kHz-1.5GHz and greater than 60dB at 1.5GHz-3GHz; the ability to function up to a continuous 7 hours due to its low-power design and 5000mAh rechargeable internal battery; sturdy metal enclosure; and easy firmware upgrades. It comes with Open-Short-Load Calibration Kit, RG405 cable, stylus, SMA adapters, and USB Type-C cable.
Following up on the well-respected heels of the NANOVNA-F, the VNA 3 GHz Portable Vector Network Analyzer offers an impressive coverage range (50 kHz through 3 GHz), with an improved sweep speed of 400 points/sec—four times faster than the NANOVNA-F. It features an upgraded and optimized user interface for maximum convenience and efficiency when performing a range of measurements, plus loads of ham-friendly perks, such as its 4.3″ IPS touch screen and a 5000mA rechargeable internal battery housed in an aluminum case with SMA connectors. The unit can be used for measuring SWR, impedance, reactance, phase, delay, and Q factor of RF circuits, filters, duplexers, amplifier strip lines, cables, antennas, and many other applications. It has a dynamic range of 70dB for S21 and 50dB for S11. Displaying in linear, polar and Smith Chart plots, the CE-, FCC- and RoHS-compliant device comes with an SMA Open-Short-Load Calibration Kit, RG405 cable, stylus, SMA adapters, and USB Type-C cable.
This 3.9 x 3.9 inch PCB test board and learning tool for use with Vector Network Analyzers, such as the Chelegance models, includes two 6.8 inch RG178 coaxial cables with IPX to SMA male connectors to connect to one of the sample circuits on the test board to your VNA. It features 18 RF circuits to demonstrate how each appears on the display when using a VNA, including RLC, RC and LC circuits; 33 and 75 ohm resistance, SWR 1.5; single capacitance and single inductance; 50-ohm circuit; short and open circuits; 10dB and 3dB attenuation circuits; and more.
Add viewing versatility and convenience to your Yaesu mobile transceiver with this retractable Tilt Stand Bracket Kit for FT-817/FT-818. The kit features two stainless steel legs with rubber protection tips and mounting hardware.
Find available Chelegance/JNCRadio equipment at DXEngineering.com.