Whether you're into long-distance AM broadcast listening, medium wave, shortwave, low-frequency amateur bands, DXing, contesting, or just day-to-day HF operations, DX Engineering's upgraded Receive Short Element Active Vertical Antennas (RSEAV) make a smart choice for more productive and enjoyable operating.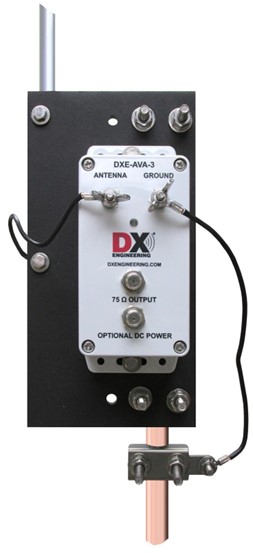 If you've relied on previous RSEAV models, you already know how effectively they deliver low-noise frequency reception from 40 kHz to 30 MHz. If you're planning on adding these antennas to your station, you'll further benefit from the included and completely new Active Matching Unit (DXE-AVA-3)—more about that below.
These stealthy antennas come with a high-quality three-section 8.5-foot aluminum tubing whip; insulated mounting plate; pair of element connection wires, with ring and fork terminals; and the Active Matching Unit. When deployed properly (mounted to a ground rod at ground level in a clear area away from all metal, towers, and other antennas) hams can expect superb weak-signal reception with reduced noise and lower spurious signal interference. Other benefits include stainless steel mounting clamps and hardware for strength and longer life, low visual and environmental impact, easy transport for portable ops and DXpeditions, and worry-free installation thanks to its pre-drilled mounting plate.
The newly designed DXE-AVA-3 Active Matching Unit is the key to the antenna's success, serving as a high-impedance buffer for the connection between a short element and RG6U 75-ohm coax. It provides high third-order intercept performance of +39 dBm for superior strong signal handling equal to top transceivers; consistent unit-to-unit gain and phase for greatly improved array performance; virtually flat gain (+/-0.4 dBm) across the entire frequency range; and internally settable gain (default -6, 0, or +6 dBm) for different ambient noise locations and element sizes. This setting allows the greatest signal-to-noise improvement for all signals, especially weak signals.
DX Engineering Receive Short Element Active Vertical Antennas are sold individually (DXE-RSEAV-1), as a single unit with a bias tee (DXE-RSEAV-1FVI), or in sets of 2, 4, and 8 elements for use in phased array systems (DXE-RSEAV-2, DXE-RSEAV-4, and DXE-RSEAV-8).
A quality RG6U 75-ohm feedline cable is recommended for use for the RSEAV antennas. DXE-RG6UFQ Flooded 75-ohm Quad Shield Coaxial Cable offer improved shielding, with the distinct advantage of automatically sealing small accidental cuts or lacerations of the jacket. This type of cable also prevents shield contamination and has a gummy liquid inside that seals cuts or nicks, displaces water, and can be direct buried.
For many more details regarding location considerations, use as a four-square or circle array, configuring internal jumper settings for RF gain, assembly, providing a good RF ground, troubleshooting, and maintenance, read the detailed instruction manual here.