DX Engineering's HEXX Beam Antenna may look like an oddity in the ham world, but owners of this unusually shaped, lightweight directional antenna—similar to an inverted umbrella frame—aren't shy about expressing their admiration for its many performance attributes: better gain and improved front-to-back performance; lower SWR; full-length elements and no lossy coils or traps; less noise than typical beams; and the ability to work DX at a reasonable cost.
Thanks to the hams at DX Engineering, HEXX Beam fans can now add another benefit: the ability to easily install a permanent, high-performance balun and wire connection to the top of the HEXX Beam, replacing their old-style, split coaxial cable connection.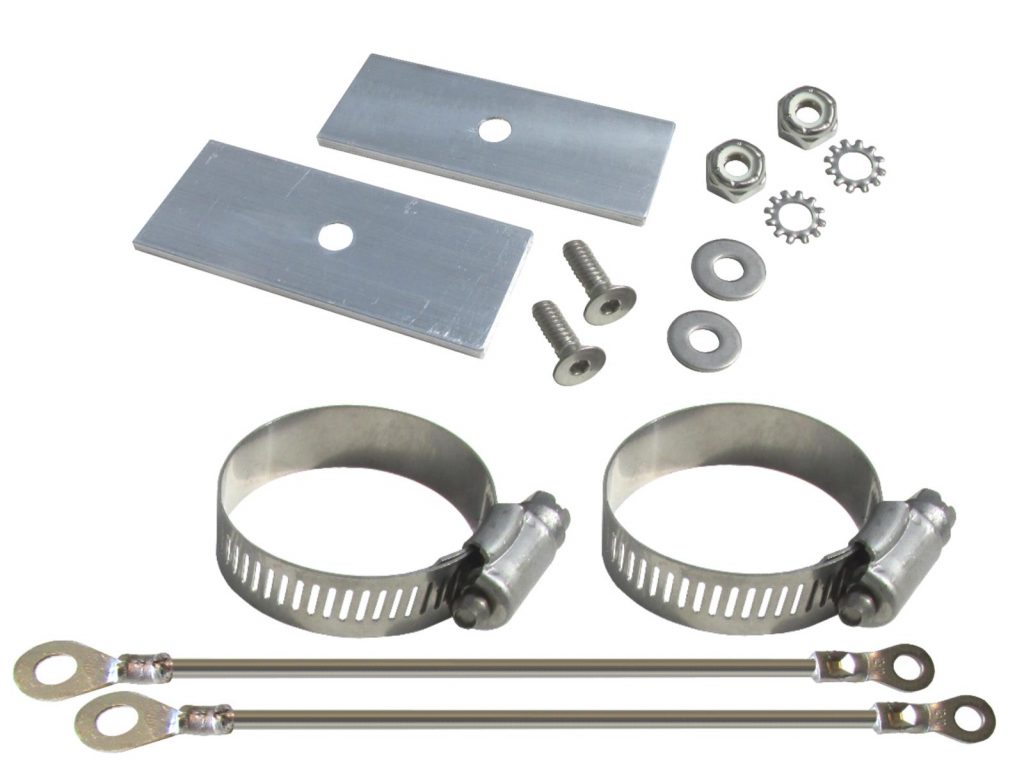 The Balun Mounting Bracket Adapter Kit, DXE-HEXX-BAL-K1, includes two pieces of specially drilled aluminum plus stainless steel hardware and clamps for mounting a DX Engineering Maxi-Core 20® 1:1 Balun and Feedline Choke to the top of the 1.250″ OD center post of a DX Engineering HEXX Beam Antenna. The bracket adapter kit is used with the DX Engineering DXE-BMB-4P Maxi-Core 20 mounting bracket.
The kit can adapt the DXE-BMB-4 and a Maxi-Core 20 balun, a legacy Comtek, or other 4 inch square NEMA box balun or feedline choke, to a boom, mast, or pipe up to 1.750″ OD. Optional element clamps are required for larger booms or masts. Don't have a Maxi-Core 20 balun? No problem. It may also be used to mount a legacy metal case DX Engineering Balun and Feedline Choke on a boom, mast, or pipe.
For an all-in-one solution, choose the DXE-HEXX-BAL-KIT, which includes:
More About the DX Engineering HEXX Beam
DX Engineering offers two 2,500W HEXX Beam Antenna Kits: a pre-cut version for 20 meters (it can be shortened for operation on 17, 15, 12, or 10) and a 5-band model covering 20/17/15/12/10 meters. Kits include balanced feeder (for 5-band version); cast aluminum HEXX hub; insulated 14 AWG element wires pre-cut and terminated; and center post and spreaders made from sealed fiberglass tubing. Individual parts can be purchased separately.
What do hams say about the DX Engineering HEXX Beam?
Five Stars: "This antenna never fails to amaze me. Of course it is not a big gun array. But you just cannot believe how well this two-element, multi-band, upside down umbrella works. You're not pencil pointing at a target. You're not rejecting off side or rear signals as well as a multi-element beam. And yet the performance over many other types of antennas is very, very good. Mine is mounted on a homebrew, tilt-over mast up 35 feet total, using a G450A Yaesu lighter-duty rotator. The components that make up this antenna are quality and numerous. Instructions are excellent. While it will take some time to put together, it is easy to do and the rewards are well worth it."
Five Stars: "Best ham radio purchase ever. If you're currently working a long wire or a vertical, or if you have a lot of noise, you cannot go wrong with this kit. Quality throughout and very well written and detailed instructions."