A couple of years ago DX Engineering introduced hams worldwide to its Copper Radio RF Ground Plane Kits. It was a new concept designed to thwart an old nemesis—RF interference that can diminish transmitted and received signal quality. Hams who purchased the kit soon found that it offered an effective solution to this common problem by reducing stray RF pickup from indoor radio equipment and interconnecting cables.

What do hams say?
As one customer wrote in his five-star review, "I purchased nine of these ground planes to outfit three HF stations located in my shack. All of my equipment (transceivers, tuners, amplifiers, meters, computers, and power supplies) are grounded to a 4″ copper strap common node within the shack. The ground system continues outside to an extensive CAD-welded grounding grid that bonds the AC main to the shack's equipment and tower. I have noticed a drop in noise due to adding the ground system. Each grounding plate provides four 1/4″ lugs per copper sheet to serve as a common connection node. I also use 1″ tinned braid to connect the copper sheets to the common ground bus. The grounding system works very well. Copper is expensive, but the quality is outstanding. The ground planes will last a lifetime if used indoors."
For hams who may have been on the fence about the cost of the copper kits, DX Engineering now offers a less expensive but still effective solution. A new aluminum version of the Radio RF Ground Plane Kits has also proved effective in reducing stray RF pickup by indoor radio equipment and interconnecting cables. Like its copper-made cousin, the aluminum kits include a pre-drilled 1/16-inch-thick aluminum sheet available in three sizes (13″ x 10″, 16″ x 16″, or 20″ x 20″) that is placed under your HF radios, microphones, and other devices, and connected to your existing grounding bus.
The large surface area of metal improves upon the single-conductor grounding bus by equalizing the RF electric field around equipment and attached cables. This reduces voltage differences between pieces of equipment and the associated currents that cause RF interference to transceivers, microphones, tuners, amplifiers, computers, and other electronic equipment.
You can read more about this and a range of other topics in ARRL's Grounding and Bonding for the Radio Amateur, Second Edition, by Ward Silver, N0AX. As used by top contesters and DXers alike, this type of flat metal sheet placed under equipment, along with physically short grounding braids, wires and interconnection cables can significantly reduce the RF voltage differences between cables and equipment. Simply put, the chance of RF trouble in your equipment is reduced by installing DX Engineering Radio RF Ground Plane Kits in your station.
Both the aluminum and copper kits are available with or without an MDF mounting board. Radio RF Ground Planes are intended for indoor use only and are not to be confused with ground planes or radial systems used for vertical antennas. DX Engineering suggests these parts for use with the Radio RF Ground Plane Kit: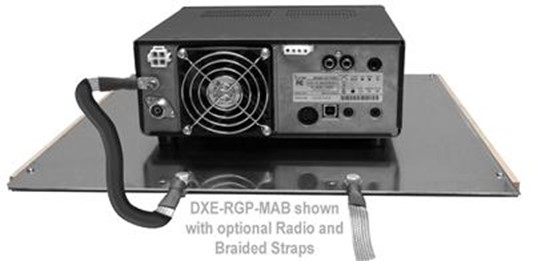 Read the instruction manual here for many more details.