For less adventurous eaters whose interest in fruits extends no further than apples and grapes, the red pitaya is likely one of those oddities you pass in the grocery store and say, "Now who eats those anyway?"
Sometimes referred to as red dragon fruit, Pitaya Rojo has red skin with green-tipped protrusions and red flesh inside. There is also a more common variety with red skin and white flesh. Native to Costa Rica and Nicaragua, they are grown in the United States in California and Florida. Red pitayas are high in fiber, and if you can get beyond their unusual appearance, you'll benefit from a fruit that's rich in protein, vitamin C, potassium, phosphorous, antioxidants, lycopene, and carotene.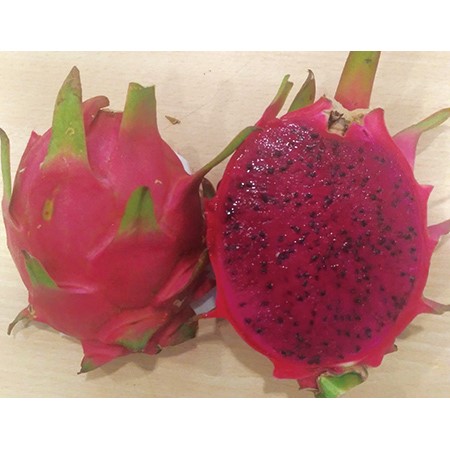 In short, lots of good stuff crammed into a small package.
So why all this talk about exotic produce in a Ham radio blog?
Because the company, Red Pitaya, offers small project development boards that—like the fruit that inspired its name—are loaded with features that would make any Ham's mouth water. It's why boards from the Slovenia-based manufacturer, established in 2013, are often called a Swiss Army Knife for engineers and experimenters, including Hams.
And here the best news: Two Red Pitaya boards are now available from DX Engineering.
STEMLab 125-14 Board SDR Kit
Coupled with an impedance board and free Power SDR STEMlab/HAMlab software, the STEMlab 125-14 becomes a fully functional SDR receiver with 0-60 MHz band coverage. It can also be used as a CW and RTTY Skimmer server (capturing all CW and RTTY spots on eight bands simultaneously); weak signal propagation reporter; oscilloscope; signal generator; bode analyzer; vector network analyzer; spectrum analyzer; and more. Better yet, add a transceiver module and free software to transform it into a fully function SDR transceiver with 160-10m band coverage and 10W of output power.
This "do-it-all' circuit board comes with a field programmable gate array, ARM processor, low power and high-speed dual-channel simultaneous sampling analog-to-digital converter and digital-to-analog converter, onboard RAM, SMA inputs and outputs, extension connectors, Ethernet and USB connectivity, and a micro SD slot for program operations.
Here's what you get:
Red Pitaya STEMlab 125-14 board
SD card (16GB, class 10)
ETH cable (1m)
Power supply (5V, 2A)
SDR LAB 122-16 Board Standard Kit
The SDR LAB 122-16 kit makes it easy to build an SDR transceiver and other useful devices. With a frequency range to 62.5 MHz and 16 bits of resolution, it represents a powerful and affordable core of the SDR radio that you build. The board offers these benefits:
Tailored for SDR and other RF applications: HF and 50MHz bands
No DC coupling. Minimum RF Input frequency (-3dB): 300kHz
Comes with two 16 bit ACDs 50 ohm inputs; 14 bit DACs 50 ohm outputs
Three times bigger dual core ARM Cortex A9 + Xilinx Zynq 7020 FPGA
Bigger FPGA provides more real-time processing capabilities
Hardware compatible with HPSDR
Improved distortions, dynamic range, sensitivity, noise, and crosstalk
Here's what you get:
Red Pitaya SDRlab 122-16 board
SD card (16GB, class 10)
ETH cable (1m)
Power supply (5V, 2A)
Find complete details of both the STEMlab 125-14 and SDRlab 122-16 at DXEngineering.com.
For October, our Word of the Day column will be focusing on new products that have become available since the 2020 DX Engineering catalog came out.