On a cool, foggy morning in early October, DX Engineering Operations Manager Cory Gibson, W3CDG, and fellow team members watched as a hard-hatted tower expert ascended near the top of the 80-foot ROHN which rises above the company's headquarters in Tallmadge, Ohio.
In his hands, the climber from Tri County Tower Services cradled the red and black prototype of DX Engineering's new RT4500HD Heavy-Duty Rotator—the culmination of months of effort and inspiration from Hams who work behind the scenes to shepherd along new Amateur Radio products from concept stage to stations around the world.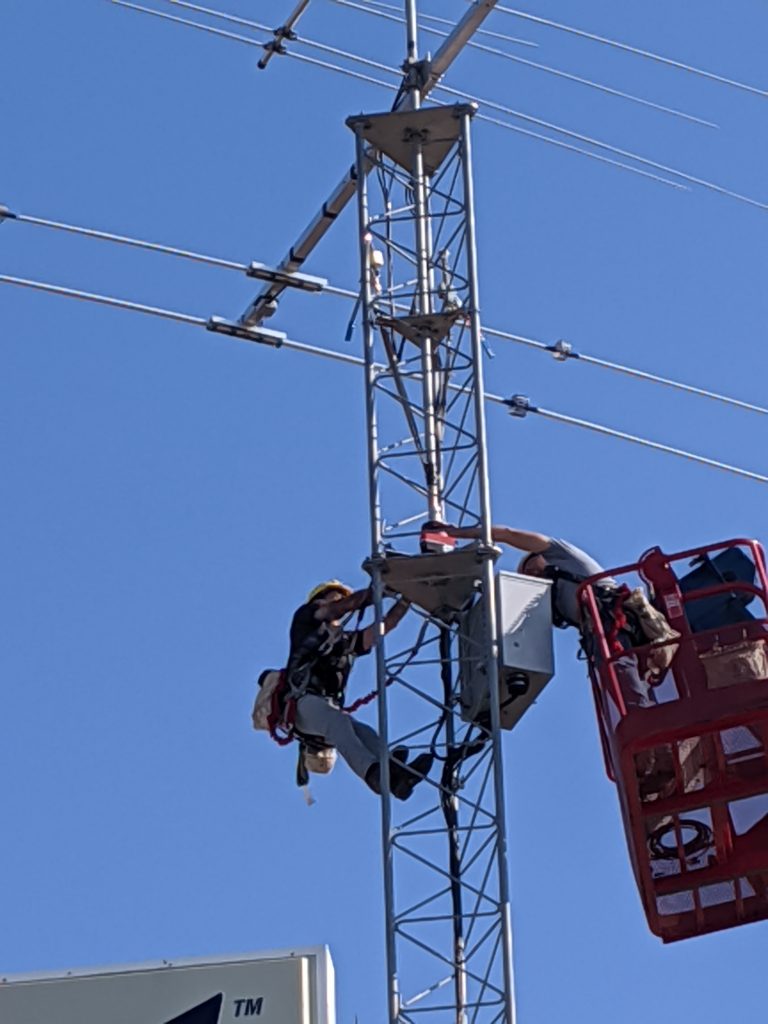 What does it take to bring a precision piece of equipment like the RT4500HD rotator to market? Here are a few of the steps and challenges:
Performing product research, including talking to active Hams to find out what they wanted in a rotator
Choosing a motor that would fit space constraints yet provide the amount of torque DX Engineering had in mind for the unit
Engineering a gear system that would fit the space, provide a speed of 1 RPM, build the desired output torque, and be strong enough to deliver that torque
Designing a case that could incorporate unique features of the rotator
Prototyping the rotator by working closely with local vendors to produce the casing and custom components, such as gears and pinion shafts
"The last steps in our design process have been the refinement and testing of the rotator to make sure we can deliver the best possible product to the market," said Chris Cummings, KD8JKO, DX Engineering Project Coordinator. "All of this has taken countless hours with our team."
As with all products designed and manufactured by DX Engineering, the rotator is being subjected to a battery of tests that far exceed normal customer use—the difference between, say, taking it for a jog around the park and enlisting it in Marine Corps boot camp. The idea behind such high-level scrutiny is simple but essential—if the rotator can withstand the rigors of operating under "Parris Island" conditions, imagine how well it will perform at our customers' stations.
Phase I Testing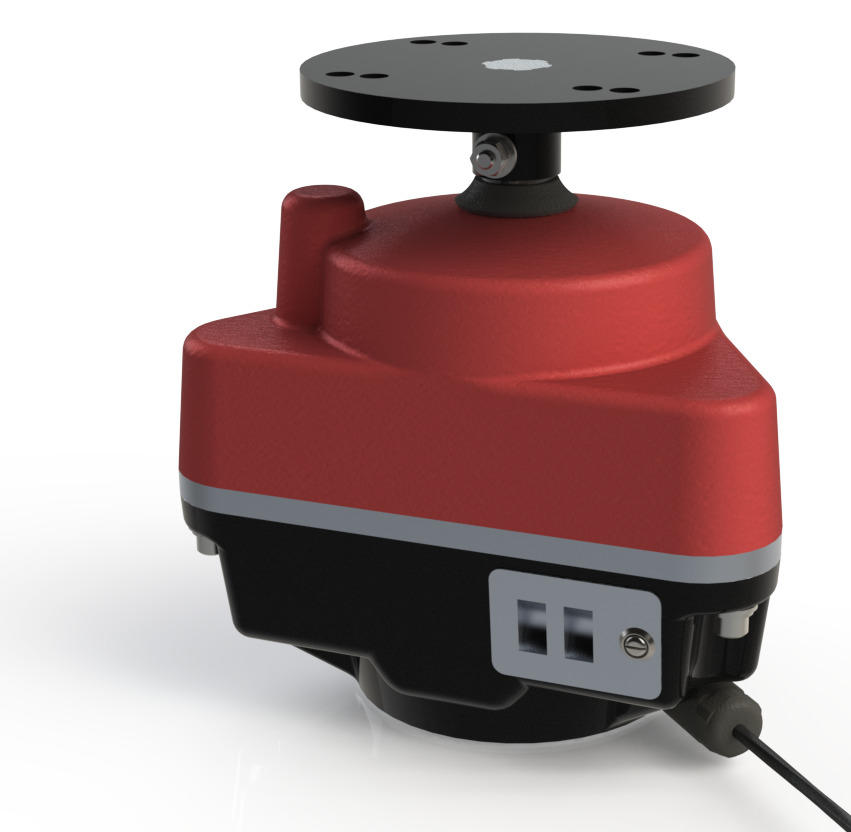 Once installed, it was finally time to take the RT4500HD rotator for a spin, or, rather, about 300,000 spins.
Mounted on one of the tower's accessory shelves, the rotator has been continually turning the antenna mast (holding three stacked Yagis) every day for nearly two months with only one coffee break—when the DX Engineering staff used it to work the 2019 VP6R Pitcairn Island DXpedition.
Customers who have observed the constantly shifting antennas have asked if the system had gone haywire. Our reply: "No, all in a day's work."
"Most people run their rotators a few minutes a day. The best way to see how a rotator can perform over the long term is to run it through many degrees of rotation," Gibson explained. "We randomly chose a heading for the rotator and sent the command to go to that heading. Once the rotation is finished, it's programmed to wait 15 seconds and start over again. This would be extreme service for a rotator like this, so it will help us determine how well it will handle harsh use."
The ultimate goal is to spare Hams the all-too-common drama of rotators that need frequent repairs or give up the ghost long before their time.
"This is a very important part of testing," Cummings said. "An 'endurance' test will show us any wear points or other issues that we may need to address before going into production and sending any rotators to our customers. We want to make sure that we stress our product beyond normal daily use to ensure that it will be operating for many years without issues."
The continuous operation simulates the wear the rotator will experience over longer periods of time, Cummings explained. It will also indicate how well the unit will handle the heavier workload common among DXing and contesting stations. Once removed from the tower, the rotator will be disassembled and analyzed in minute detail (look for those results in a future post).
"Rushing the finalization of a product just to get it in the hands of our customers is never an option," said Tim Duffy, K3LR, DX Engineering Chief Operating Officer. "Our customers depend on our equipment, and they expect products that will perform exceptionally well right out of the box as well as over the long haul. It's why we put such a heavy emphasis on testing everything that comes with the DX Engineering name on it."
Phase II Testing
Other prototypes of the rotator are being sent to independent labs to confirm DX Engineering calculations for specific performance figures:
Constant output torque: How large of an antenna under wind load can be turned without any reduction of the 1 RPM parameter
Stall torque: What is the greatest amount of torque the rotator will produce before the motor stalls
Braking power: How much force it takes to turn the rotator when it is off and being acted on by a force outside itself (this is anticipated to be a high number due to the gear reduction and worm drive system that makes up the rotator's drive train)
"We have mathematically calculated numbers for all of these, but we feel it is imperative that real-world testing be done so we have completely accurate numbers to pass on to our customers," Cummings added.
Prior to the product's expected release in Spring 2020, rotators will be tested on several off-site towers and undergo additional environmental testing to ensure their effectiveness and durability in a range of climatic conditions.
Well Worth the Wait
Pending testing results of the RT4500HD Heavy-Duty Rotator, here are some of the benefits customers can anticipate:
Greater Wind Load Capacity—More than 35 square feet
Improved Vertical Load Capacity—Needle thrust bearings handle up to 2,000 lbs.
Superior Torque and Braking—High ratio worm gear drive powered by a heavy-duty 24 VDC motor
Precision Movement—Accurate within +/-0.075 degrees with high resolution pulse counter
Easy Maintenance—Unique removeable panel allows access to pulse counter switch without removing rotator
Simple Reset—Because the rotator has no mechanical limit switches, users can set soft limits with the controller. If the antenna or mast ever slips, just reset the controller to the center of rotation and recalibrate the rotational range—no climbing or antenna mast repositioning is required
Built for Longer Life—Hardened steel gears welded onto hardened steel shafts prevent slippage and shearing of key pins; larger main gear provides increased strength
Weather-Protected—Sloped body sheds water; seals at the output shaft, intermediate plate and access panel keep moisture out; and weep holes make sure it stays dry
Worry-Free Installation—Four-bolt standard mount; it's ideally sized to fit inside ROHN 25G towers and will work with larger towers as well
Works with High-Quality Accessories—These include the optional DX Engineering Rotator Controller and Mast Clamp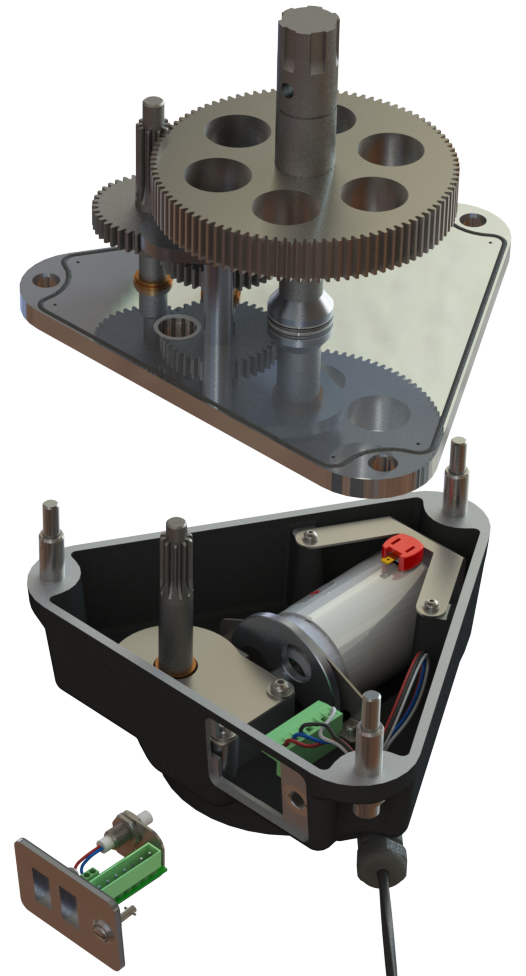 "DX Engineering products are designed for Hams by Hams," Gibson said. "Most of our products come out of a need that someone on our team has in their own shack. We are trying to solve the real problems we run into every day while we're enjoying our hobby. We are also very proud to use DX Engineering products in our own shacks!"
For more information on the DX Engineering RT4500HD Heavy-Duty Rotator and to place your reservation, visit DXEngineering.com.