We love to write about amplifiers at OnAllBands, especially when there's big news from one of our favorite manufacturers—ACOM. Check in at DXEngineering.com in the days ahead on the availability of the new ACOM Solid State 500S Linear Amplifier—a totally redesigned, smaller (11.5″ x 10.7″ x 6.2″), and lighter (17.2 pounds) amp that makes a DXpedition-friendly addition to portable stations. For the sake of comparison, the ACOM 700S weighs in at 26 pounds and measures 12.8″ x 5.6″ x 14.2″.
Stay tuned. We'll let you know when this well-built, solid state 160-4M amp is in stock and up on the website for sale.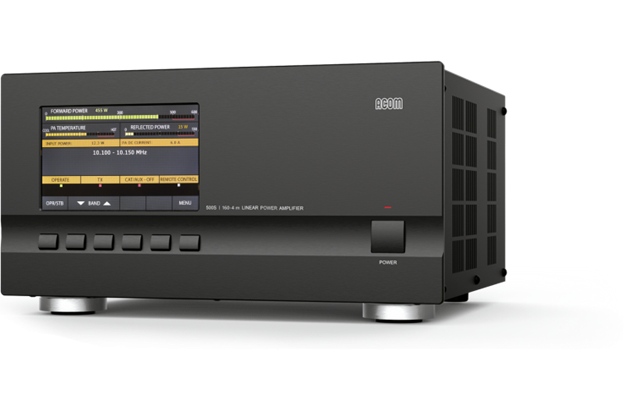 In the meantime, here are some of its features and benefits courtesy of ACOM:
Covers all amateur bands from 1.8 through 70.5 MHz
500W rated output power (PEP or digital)
Operating information is shown on a multi-function, high-resolution 5-inch 24-bit color display
Unit can be controlled by either the six front-panel buttons or remotely
Intuitive screen menus for easy operation—no special skills required from the operator when changing frequency
Compatible with all transceiver models available on the market. Does not need any special signals; "ground on transmit" and less than 25W of RF drive power is sufficient.
When connected to a transceiver with CAT capability, the amplifier tracks the operating frequency and changes bands accordingly. Even if not CAT connected, the amplifier monitors the input signal frequency through the built-in frequency counter and automatically switches bands.
The 500S uses a rugged LDMOS transistor.
Broadband input circuit, providing transceiver load with SWR below 1.5 without retuning throughout the whole frequency range.
Includes continuously working protection circuits in all modes.
Detailed data about each of the last hard-fault protection trips is stored in the amplifier's non-volatile memory.
Built-in switching-mode power supply that operates with extended mains voltage range of 100-240 VAC, with no internal switch over.
Perfect electromagnetic compatibility with both highly sensitive devices and the powerful devices in the radio station (receivers, computers, other amplifiers) exceeds the standard EMC requirements due to the use of built-in radio-frequency filters.
Find the full range of ACOM amplifiers at DXEngineering.com, including the new 1,500W HF+6M Linear 2020S model featured in the just-released 2023 DX Engineering Amateur Radio Products Catalog.