When operating outdoors from a park or atop a local summit, comfort is of the utmost importance. Nothing can truncate a promising on-air session like an October wind chilling your bones. This year, you can be prepared for autumnal temperature dips—and look outstanding in the process—with these durable, finely made DX Engineering-logoed sweatshirts, hoodies, and jackets (also sure-fire early holiday gifts for all the hams in your life). They also make the perfect complement for your DX Engineering ballcap or logo knit cap.
Sweatshirts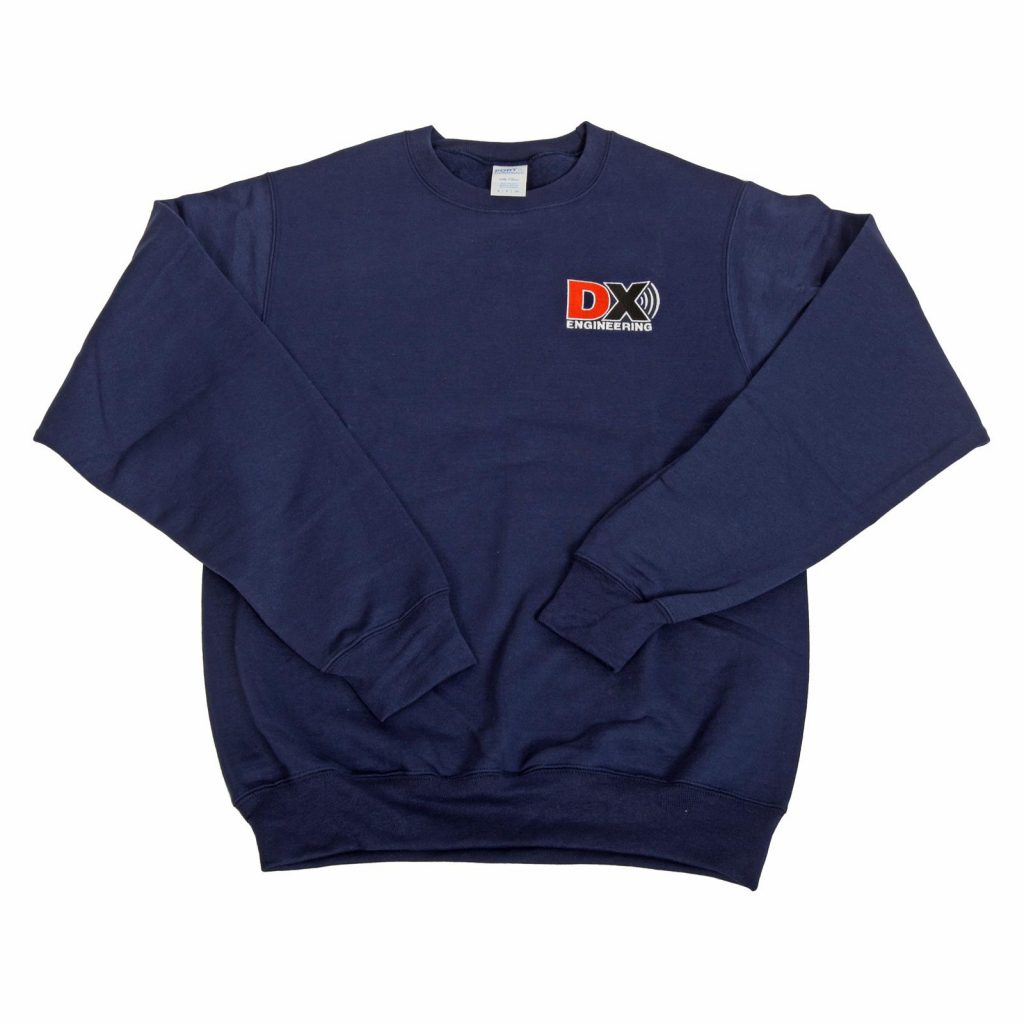 When the weather's on the chilly side and you've got connector weather-proofing on your to-do list, slip on this sweatshirt and you'll soon be thinking warm thoughts about the hobby you love. Made from ultra-comfortable cotton/poly fleece, this high-quality long-sleeve garment features an embroidered DX Engineering logo that's durable and won't fade in the wash. Choose from navy blue, gray, light gray, and green in men's small to 4X-large sizes.
Five Stars: "Just received my sweatshirt. I like the material as it is very soft and feels great. I also like the weight of the material. It isn't like the heavyweight sweats I remember from years ago. The logo placement makes the sweatshirt look very nice."
Five Stars: "This is a nice sweatshirt. It holds up well to multiple washings, too."
Hooded Sweatshirts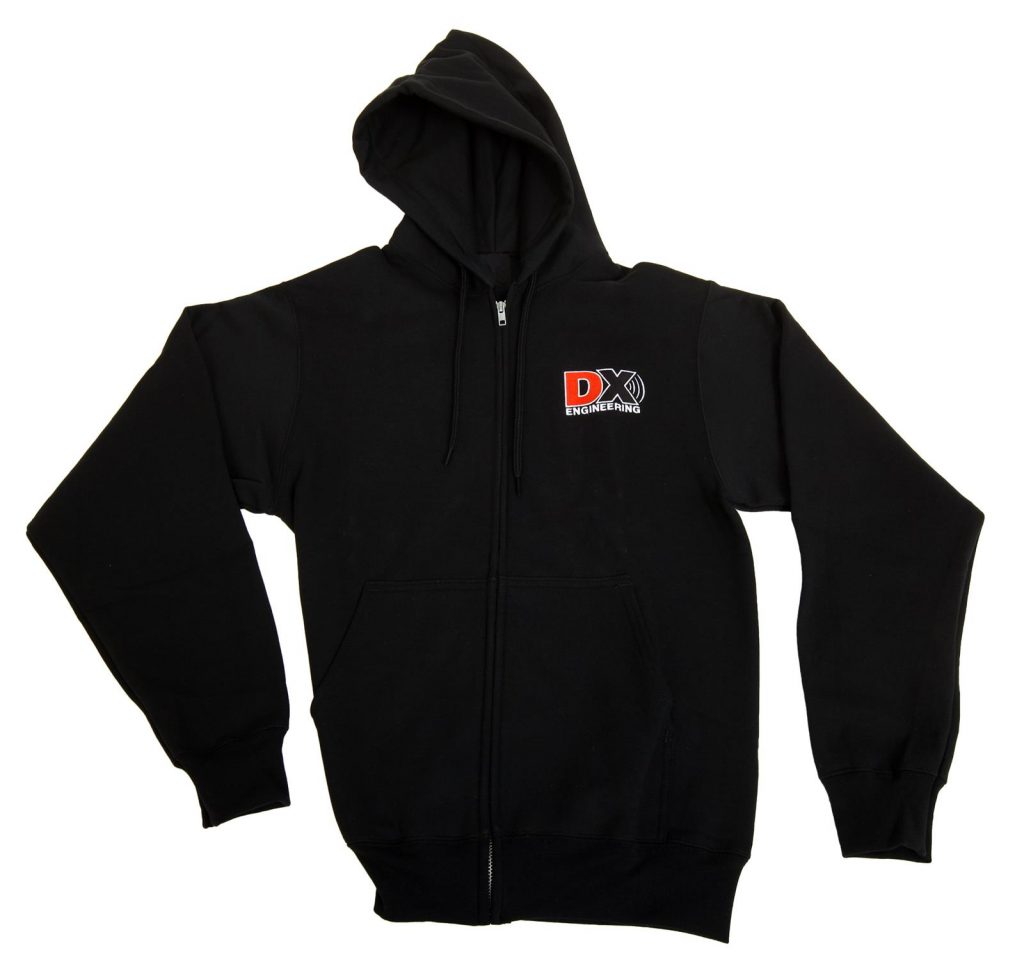 This cotton/poly fleece hoodie, featuring a color-fast embroidered DX Engineering logo, is the kind of apparel you can put on in the morning and wear all day without thinking twice. Heck, go ahead and sleep in it if you'd like—it's that comfortable! It comes with a full zipper closure, front pockets for stashing trail mix and small tools, and draw cords to pull the hood tight. Choose from royal blue, charcoal or black in small to men's 4X-large sizes.
Five Stars: "Great quality. Very well made. Looks great. Very warm for those cool days and evenings. Great price. Super nice crest. Will last for years."
Jackets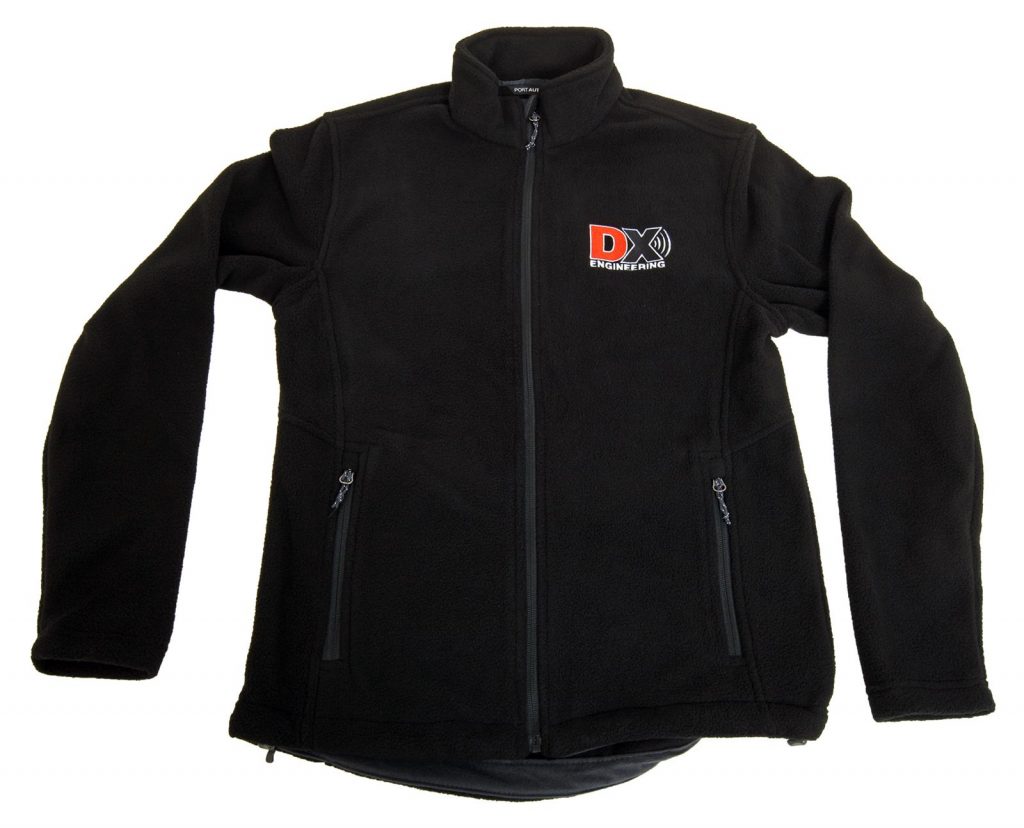 Round out your DX Engineering-themed wardrobe with this warm, comfy, and stylish full-zippered fleece/polyester jacket, available in red or black with embroidered DX Engineering logo sewn right into the jacket's front. Add in two zippered front pockets and you've found yourself (or a lucky gift recipient…hint, hint) the perfect go-to outfit for fall and winter ham events. Available in men's small to 4X-large sizes.
Five Stars: "Very comfortable and warm. It will be great for mornings when it's cool out and for early outings like contesting portable, POTA, and hitting hamfests in early spring."
You'll also find DX Engineering face masks, T-shirts, polo shirts, tote bags, cinch bags, sport bags, mugs, umbrellas, folding chairs, and more at DXEngineering.com.