One of our favorite subjects at OnAllBands is tools. We get excited about anything that makes tough jobs around the shack safer, easier, and more convenient. So when a tool (or in this case, multiple tools) comes along that really grabs our attention, we can't help ourselves but to talk about it. Such is the case with Leatherman.
If you're wondering, Leatherman tools aren't so-called because of leather grips (they don't have them or need them). The name comes from mechanical engineer Timothy Leatherman, who co-founded the company in 1983 with Steve Berliner. Their goal was to produce easily portable, durable hand tools with numerous functions. After selling many millions of Leatherman products, you could say they achieved their goal in spades; ironically, not one of the tools they sell.
DX Engineering is pleased to carry the same kind of high-quality Multi-Tools that helped launch Leatherman 37 years ago. Choose from more than 30 stainless steel tools that fit nicely in the palm of your hand or even on your wrist for emergency repairs anywhere. They're great for general Ham work, portable ops, Go-Kits, or any odd jobs you may have in the house or on the road. Here are a few Leatherman Multi-Tools available from DX Engineering.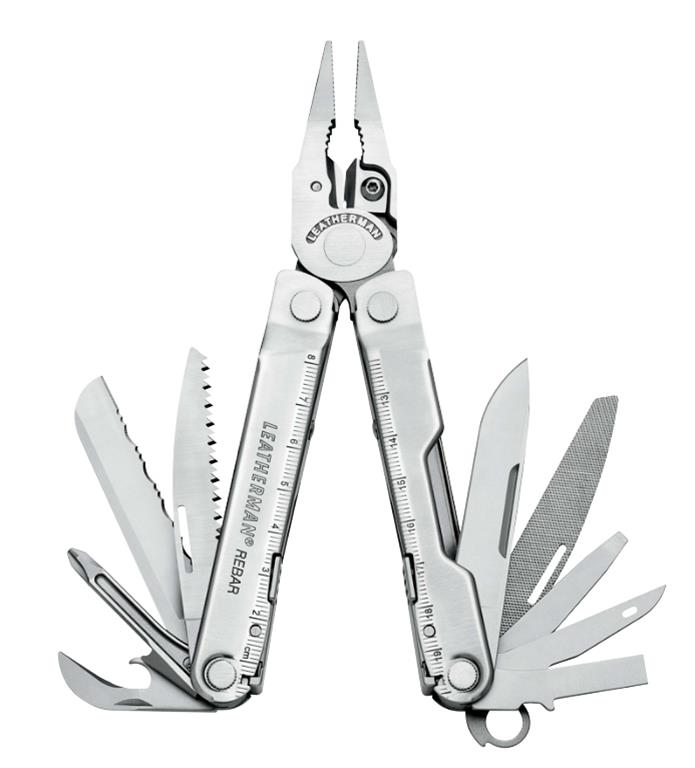 The Rebar Multi-Tool features pliers that have been optimized for strength. This model comes with replaceable wire/hard-wire cutters—a first for a 4-inch tool from Leatherman. The tool includes:
Awl
Bottle Opener
Can Opener
Crimper
File
Flathead Screwdriver
Knife
Phillips Screwdriver
Pliers
Ruler
Saw
Serrated Blade
Wire Cutter
Wire Stripper
The Tread Multi-Tool makes a great Field Day fashion accessory. Every removeable link in this ingenious stainless steel bracelet (yes, it's made to be worn) is an actual usable tool. More than a conversation piece, the stainless steel bracelet is adjustable to fit any wrist size and features a bottle opener, box end wrench, cutting hook, flathead screwdriver, glass breaker, hex drive, oxygen tank wrench, Phillips screwdriver, socket adapter, and square drive. Available in black or natural finish.
The Super Tool 300 Multi-Tool has 19 tools in one, including larger pliers with a sloped design for maneuvering into tight spaces; stranded, hard, and regular wire cutters; and a bunch more.
DX Engineering also carries versatile stainless steel Leatherman Skeletool KB Knives that are perfect for both heavy-duty cutting and everyday chores. Click here for the full lineup of Leatherman products at DXEngineering.com.