Editor's Note: Every month, DX Engineering features QSL cards from our team members' personal collections. To highlight upcoming DXpeditions, we'll be displaying a few of our favorite cards along with details about what it took to make these contacts. We're excited to share some of the special cards pulled from the thousands we've received over the years. We look forward to seeing your cards as well!
Antigua and Barbuda QRV in March/April
The EIDX Group from Ireland is scheduled to be operating from Antigua and Barbuda from March 24-April 2. The V26EI DXpedition from the island of Antigua will be on the HF bands in SSB, CW, and Digital. This sovereign country in the West Indies, which lies at the juncture of the Caribbean Sea and the Atlantic Ocean, is made up of two major islands (Antigua and Barbuda) and several smaller islands, several of which are privately owned.
About Antigua and Barbuda
Ranked as the 183rd  Most-Wanted DXCC Entity per Clublog as of February, Antigua and Barbuda has an estimated population of around 100,000, with only about 1,600 people living on 62-square-mile Barbuda—mostly in the town of Cordington. The country's capital and commercial center is St. John's, which is located on Antigua and has a population of over 22,000. The islands of Antigua and Barbuda are part of a group of islands in the Caribbean known as the Lesser Antilles, which leads us to the OnAllBands Geography Question of the Day—and it's a hard one. Can you name the most populated island in the Lesser Antilles? A hint: It currently ranks as the 250th most-wanted DXCC entity, and if you're into alliteration, guessing the answer should be a piece of pie.
In September 2017, about 95% of Barbuda's buildings and infrastructure were destroyed by Hurricane Irma, forcing the island's inhabitants to be evacuated to 108-square-mile Antigua. In a couple of years, 75% of those evacuated had returned to Barbuda.
In 1493, Christopher Columbus became the first European to visit Antigua. He subsequently named the land in honor of the "Virgin of the Old Cathedral," Le Virgen del la Antigua in Spanish. Today, both islands are largely dependent on tourism. In November 1981, Antigua and Barbuda gained full independence from Great Britain.
QSL Cards
The active hams at DX Engineering have had great success contacting Antigua and Barbuda over the years (a good reason to contact them for help with your gear if you'd like to do the same). Here are a few of the QSL cards from their collections.
Mark, W8BBQ, DX Engineering customer/technical support specialist, contacted V21ZG in February 2011 on 12M SSB.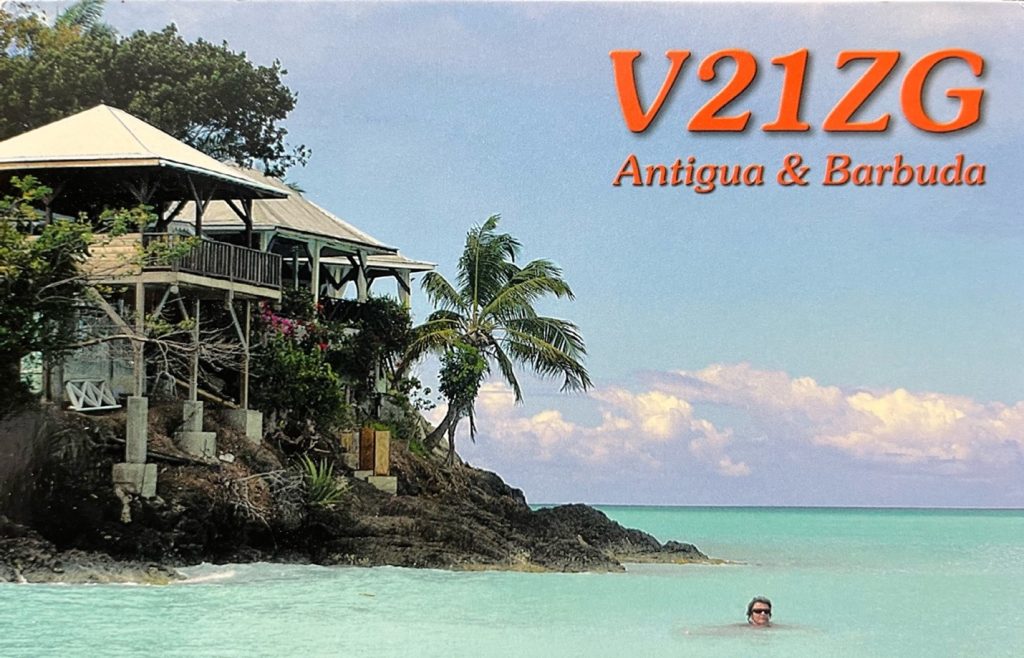 Tom, KB8UUZ, DX Engineering technical writer, has reached Antigua and Barbuda 31 times over more than two decades. Here are just a few of his many QSL cards from there: June 2003, V25XX (6M SSB); March 2018, V26K (40/20/15M SSB); and October 2010, V26B (80/20/10M SSB).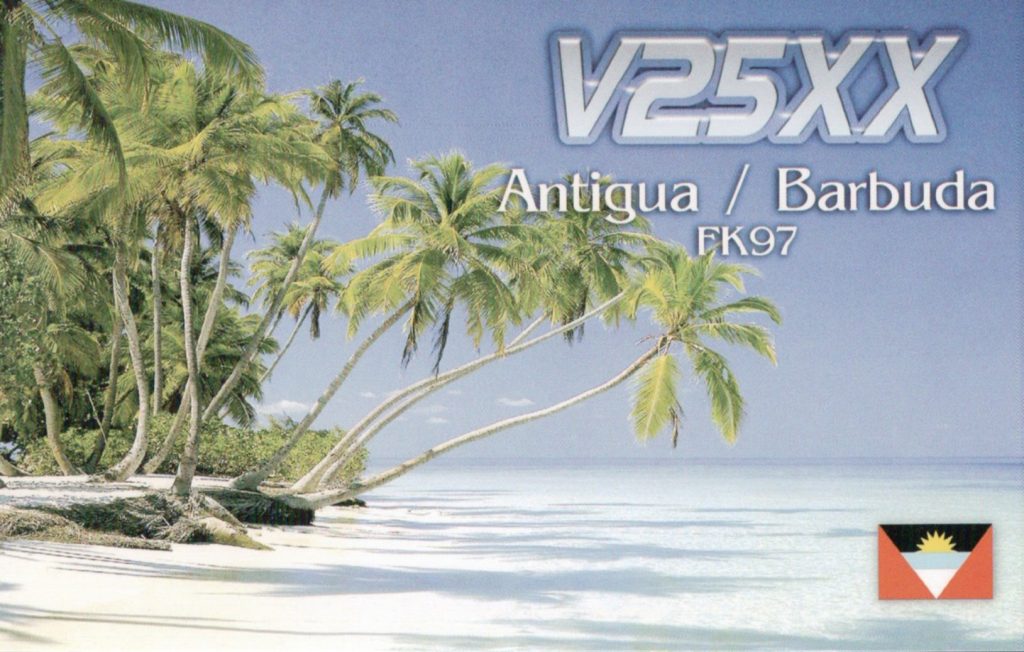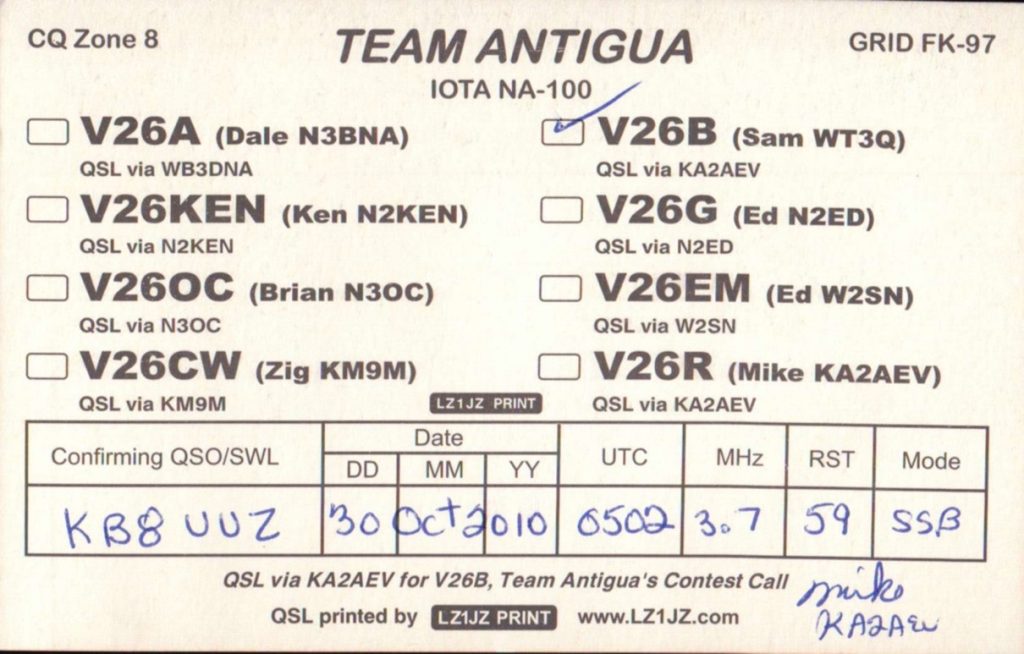 Wayne, K8FF, DX Engineering customer/technical support specialist, received this beautiful card from V26X.
Dave, K8DV, DX Engineering customer/technical support specialist, contributed three Antigua and Barbuda QSL cards to this month's article: V25OP March 2009 (40M SSB and 80/30/17M CW); V26M from March 2017 (160M SSB), and the V29JKV 6M DXpedition from July 2009 (6M CW).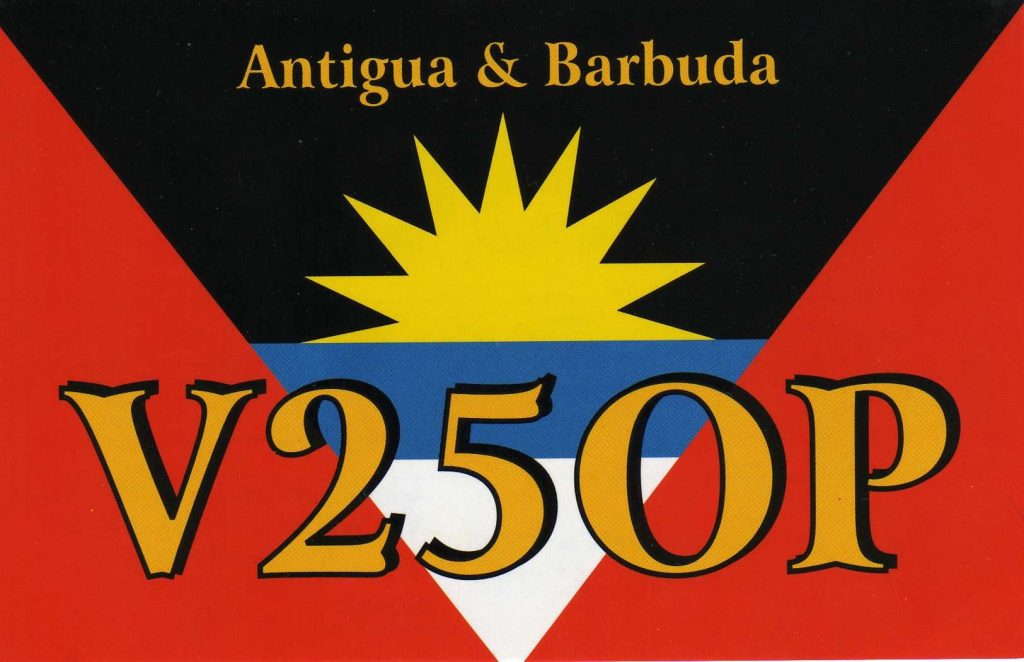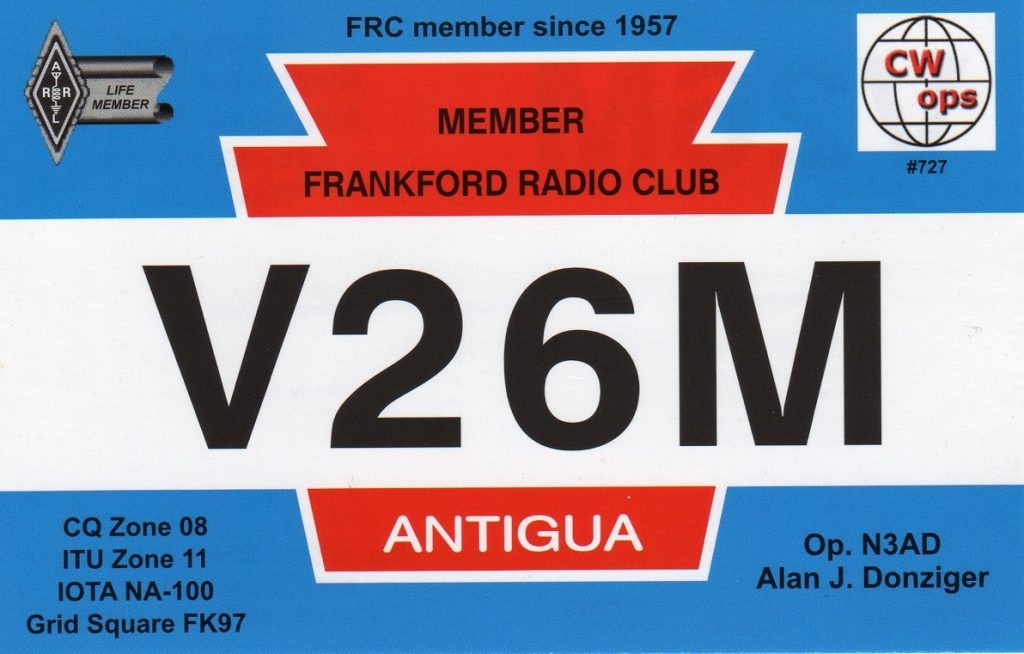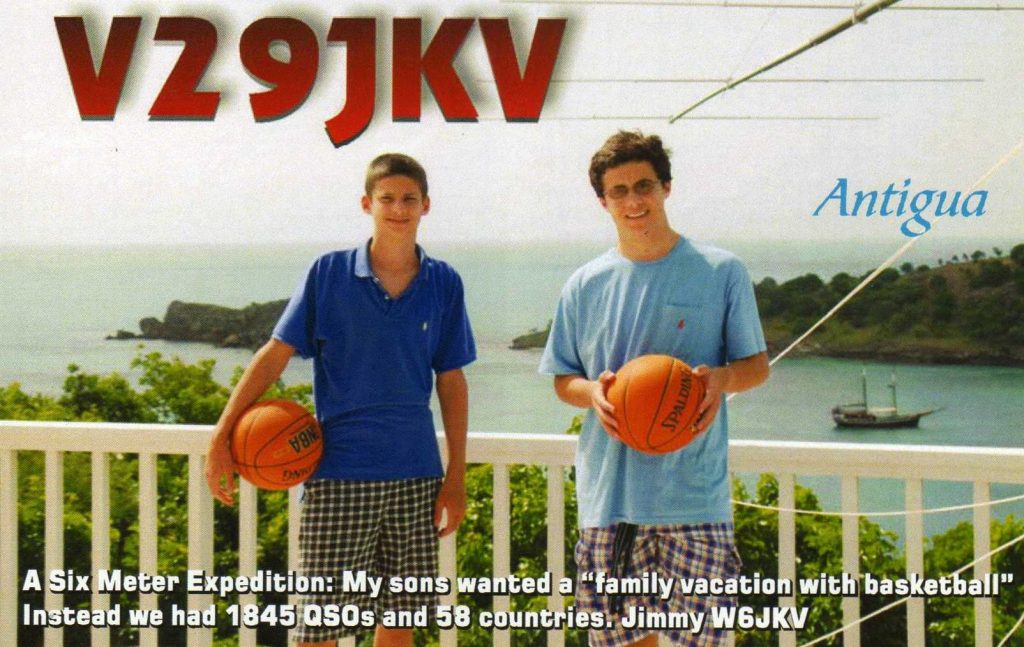 Scott, N3RA, DX Engineering sales manager, made a topband CW QSO with V26K in November 2018.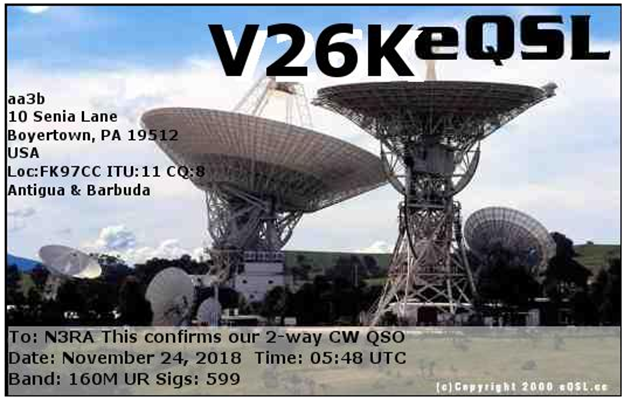 "I'll take the Lesser Antilles for $1,000, Mayim."
Back to our geography question. With a population of around 100,000, the islands of Antigua and Barbuda rank somewhere in the middle of the many sovereign and non-sovereign states and territories that make up the Lesser Antilles. Do you know what country sits at the top of the list in terms of population? If you said "Trinidad and Tobago," crown yourself geography king or queen for the month. With a population of 1.4 million, the islands of Trinidad and Tobago (441 miles south of Antigua) are by far the most populated entity in the Lesser Antilles.
Want to upgrade your DXing capabilities? The Elmers at DX Engineering are here to lend an ear. Reach out to them at Elmer@DXEngineering.com. Find everything you need at DXEngineering.com to up your game, including transceivers, antennas, amplifiers, headsets, and more.