Editor's Note: Every month, DX Engineering features QSL cards from our team members' personal collections. To highlight upcoming DXpeditions, we'll be displaying a few of our favorite cards along with details about what it took to make these contacts. We're excited to share some of the special cards pulled from the thousands we've received over the years. We look forward to seeing your cards as well!
Agalega and St. Brandon Islands QRV in February/March
The 3B7M DXpedition from the Indian Ocean archipelago of St. Brandon Islands (IOTA AF-015), also known as Cargados Carajos Shoals, is scheduled to run from February 24 to March 5. The team of operators (Lubo, OM5ZW; David, OK6DJ; Rudy, OM3PC; Joe, OM4MW; Ruda, OK2ZA; Miro, OM5RW; Sylvia, OM4AYL; and Martin, OM4MM) will be on 160-6M in CW, SSB, FT8, and RTTY. Visit the 3B7M official website for updated information.
About Agalega and St. Brandon Islands
Positioned as the 54th Most-Wanted DXCC Entity per Clublog as of January, Agalega and St. Brandon's relatively rare ranking will likely take a precipitous fall as hams from around the world make ATNOs out of these sparsely populated territories of the Republic of Mauritius.
A collection of shoals, islets, and sandbanks about 270 miles northeast of Mauritius comprising about half a square mile, low-lying St. Brandon is known to be largely submerged during cyclones in the Mascarene Islands. Because of its proximity to Southeast Asian fishing lanes, the archipelago has been a frequent spot for shipwrecks. From stbrandon.com., St. Brandon has "a small transient population of Creole natives consisting mostly of fishermen, the majority of which living in Raphael village." A 2001 census placed the total population of St. Brandon at 63.
Agalega consists of two islands about 620 miles north of Mauritius Island—North Island, 7.8 miles long, .9 miles wide, and South Island, 4.3 miles long, 2.8 miles wide. For some perspective on Agalega's location, Mauritius sits 1,100 miles off the southeast coast of Africa. The population is estimated at 360. North Island is home to an airstrip, school, police station, weather station, telecommunications office, and health service. With no running water on the island, drinking water comes from collected rainwater. Electricity is provided by diesel-run generators. Thanks to its tropical climate, Agalega's primary industry is the production of coconuts (an abundance of coconut trees can be found on each islet). Over the years Agalega has supplied Mauritius with coconut oil and copra—the dried coconut kernels from which oil is obtained.
QSL Cards
The active hams at DX Engineering have had great success contacting Agalega and St. Brandon Islands over the years (a good reason to contact them for help with your gear if you'd like to do the same). Here are a few of the QSL cards from their collections.
Tom, KB8UUZ, DX Engineering technical writer, reached the DX Engineering-sponsored 3B7A 2018 St. Brandon DXpedition on 20M SSB. Dave, K8DV, DX Engineering customer/technical support specialist, made contact with 3B7A on 80 and 17M CW, 20M SSB, and 30M RTTY.
Over eleven days of operation from L'ile du Sud (South Island), the eight-member 3B7A team recorded more than 71,000 QSOs. It was the first activation of St. Brandon in a decade. At the time of the DXpedition, the entity ranked as the 28th most wanted. The effort was supported by a range of DX Engineering branded gear, including its Reversible Beverage System. L'ile du Sud is one of 13 islands of St. Brandon held under permanent grant by the Raphael Fishing Company.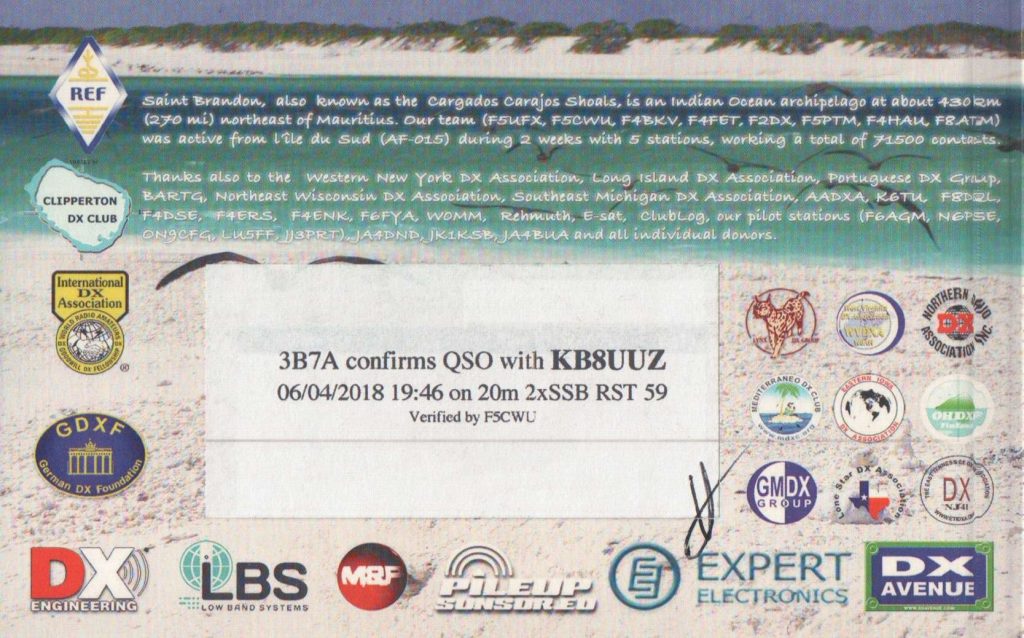 Wayne, K8FF, DX Engineering customer/technical support specialist, worked VQ8BFA in November 1965 with his previous call sign, K8WOT, on 20M SSB.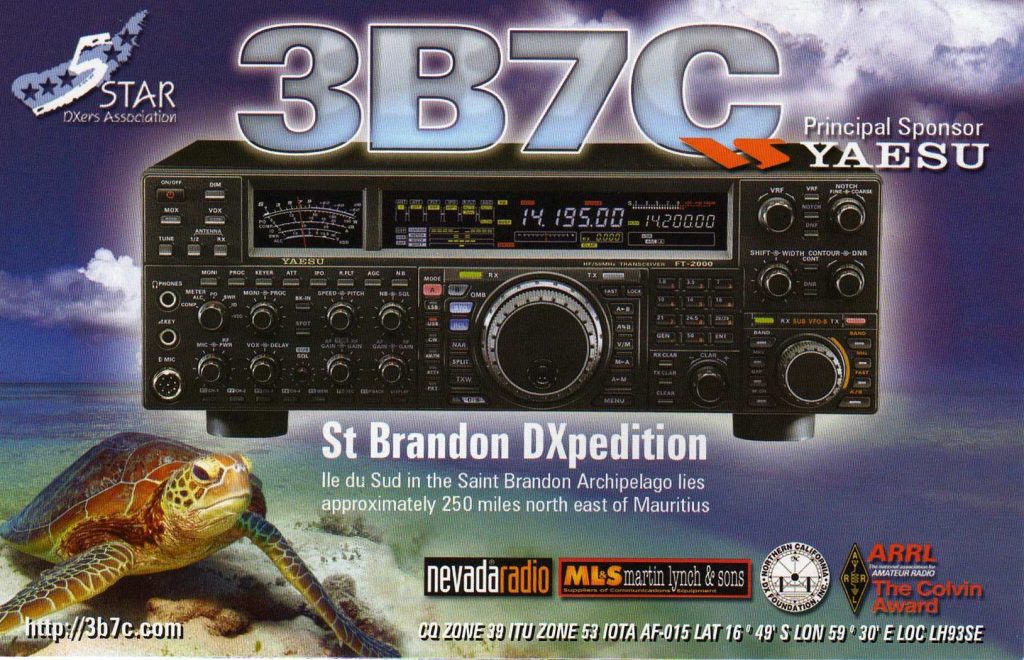 Dave, K8DV, contacted the 3B7C St. Brandon DXpedition on 40M CW. Scotty, KG9Z, DX Engineering customer/technical support specialist, reached 3B7C several times on CW. The multi-operator DXpedition made 137,492 QSOs in 17 and a half days.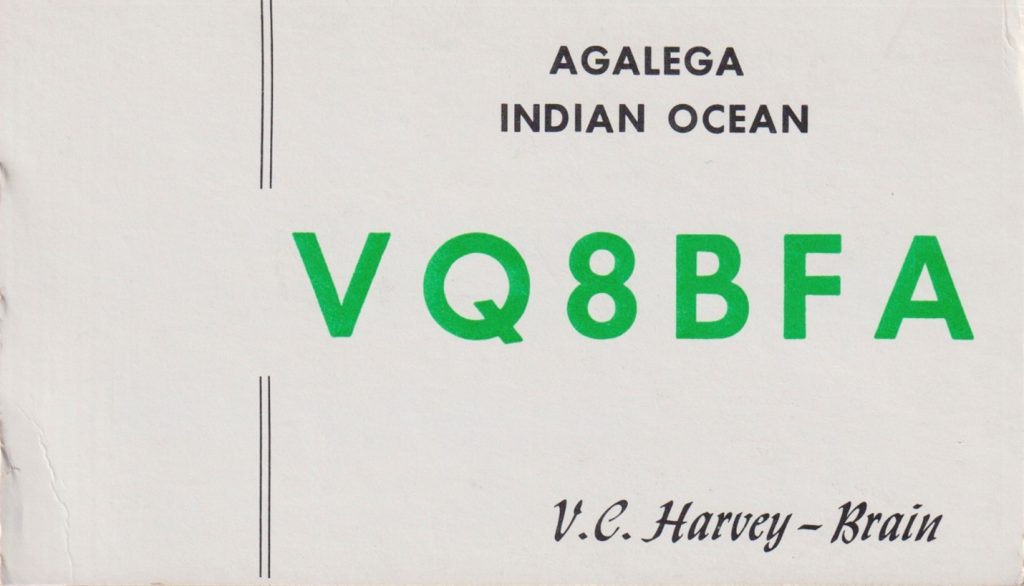 Want to upgrade your DXing capabilities? The Elmers at DX Engineering are here to lend an ear. Reach out to them at Elmer@DXEngineering.com. Find everything you need at DXEngineering.com to up your game, including transceivers, antennas, amplifiers, headsets, and more.