Editor's Note: Every month, DX Engineering features QSL cards from our team members' personal collections. To highlight upcoming DXpeditions, we'll be displaying a few of our favorite cards along with details about what it took to make these contacts. We're excited to share some of the special cards pulled from the thousands we've received over the years. We look forward to seeing your cards as well!
Swains Island
DXers hoping to put the fairly rare entity of Swains Island (IOTA: OC-200), also known as Olohega, in their log books are going to have to wait until fall for the chance to make it happen. Originally scheduled for March, the W8S DXpedition to the 34th most wanted DXCC entity per Clublog (as of February) is now scheduled for September 23 to October 6. The DXpedition was postponed due to travel restrictions put in place by the Department of Health of American Samoa over concerns about the coronavirus. The restrictions require that non-residents can only enter American Samoa after a 14-day quarantine in Hawaii. This proved unworkable for the W8S team.
"Everything is prepared for our DXpedition, and we are eager to go, but unfortunately the coronavirus outbreak is out of our control," the team said in a press release. "Although this is a disappointment for everyone, the W8S DXpedition is not cancelled, but just postponed for later this year!"
The 10-member international W8S DXpedition team plans to simultaneously run four 24-hour stations covering 160 through 10M on CW, SSB, RTTY, and FT8.
Located 200 miles north of American Samoa in the Tokelau chain in the southern Pacific Ocean, Swains Island (0.58 square miles) is a ring of sand and coral no more than 20 feet high in any spot. For updated information on the DXpedition and more about Swains Island, visit the W8S official website. For a taste of what the DXpeditioners will experience, check out this trailer for the documentary, Swains Island, One of the Last Jewels of the Planet.
Mark, W8BBQ, DX Engineering customer/technical support specialist, worked the highly successful DX Engineering-sponsored September 2112 NH8S DXpedition on 80/40/20/17/15/12/10M SSB and 40 through 10M CW. The 18-member NH8S team recorded 105,455 QSOs (26,010 unique) during its 13 days on the island.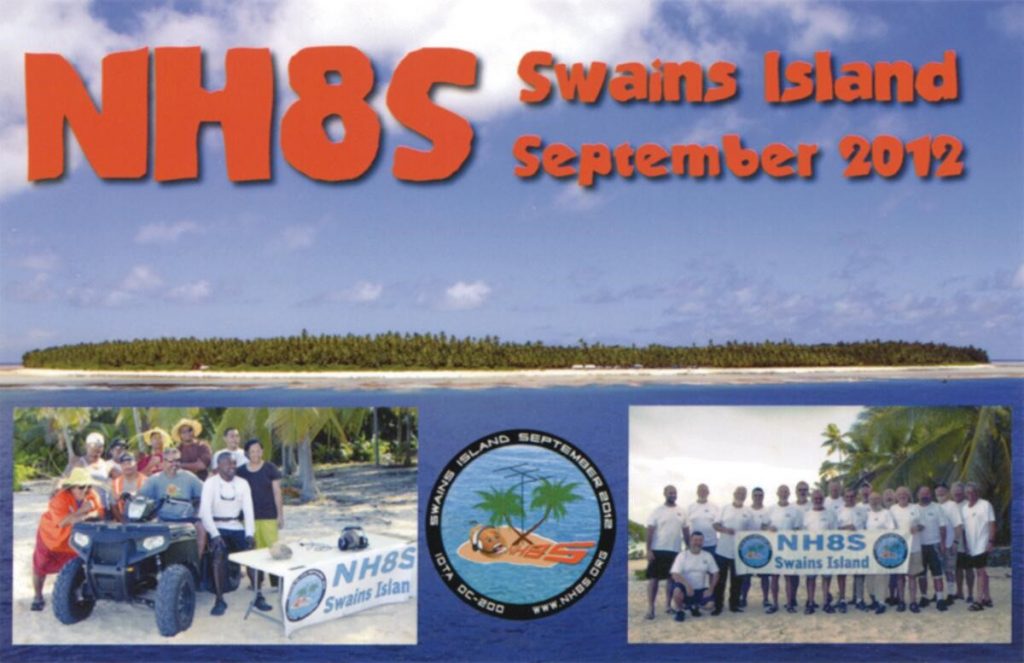 Want to upgrade your DXing capabilities? Find everything you need at DX Engineering, including transceivers, antennas, amplifiers, headsets, and more.