Editor's Note: Every month, DX Engineering features QSL cards from our team members' personal collections. To highlight upcoming DXpeditions, we'll be displaying a few of our favorite cards along with details about what it took to make these contacts. We're excited to share some of the special cards pulled from the thousands we've received over the years. We look forward to seeing your cards as well!
Seychelles QRV in August
Satellite enthusiasts will have a good chance this month to put the Republic of Seychelles in their logbooks thanks to EA3BT (as S79/EA3BT) and EA3WL (as S79/EA3WL), who will be active holiday-style until August 23 on amateur radio satellites (QO-100, RS-44 and others) from Praslin, La Digue, and Mahe Islands (AF-024) in SSB, CW, and FT8.
As of July, the Republic of Seychelles (consisting of 115 islands in the Somali Sea portion of the Indian Ocean, 860 miles east of Kenya) ranked as the 178th Most-Wanted DXCC Entity per Clublog. It is the least populated sovereign African nation (98,500) but ranks at the top of all African countries in terms of nominal per capita GDP. Only eight of Seychelles' islands are inhabited, with 90% of the population residing on the main island of Mahe. Praslin and La Digue rank second and third respectively in terms of population.
About Mahe Island: 60.7-square-mile Mahe has a population of around 77,000, including the 26,450 people who reside in Victoria, Seychelles' capital city. It is home to the Seychelles International Airport, the University of Seychelles, many types of unique orchids, and the endangered jellyfish tree—so-called because of the shape of its fruit. The existing population of the jellyfish tree on the Island of Mahe is protected within the Morne Seychellois National Park.
About Praslin Island: The popular tourist destination of Praslin—7.5 miles long and 2.86 miles wide—has a population of around 7,500. Its Vallee de Mai Nature Preserve is well-known for the Lodoicea Maldivica, a palm tree endemic to Praslin that produces the world's largest and heaviest nut known as the coco de mer, sea coconut, double coconut, or Seychelles nut. The tree has the heaviest seed, the largest female flowers of any palm, the longest male catkins, the largest sepals, and leaves with a possible lifespan of 24 years. The "double coconut" produced by the tree is said to resemble the human buttocks, earning it yet another nickname—the love nut (not featured on any of the QSL cards below).
About La Digue Island: 3.89-square-mile La Digue has a population of around 2,800 people. Its economy is largely supported by tourism, as visitors there enjoy its scenic beauty, underwater diving excursions (butterfly fish, sharks, and rays, oh my!), and a number of species endemic to La Digue: giant tortoises, Seychelles coconut crabs, and sheath-tailed bats.
QSL Cards
The active hams at DX Engineering have had great success contacting the Republic of Seychelles over the years (a good reason to contact them for help with your gear if you'd like to do the same). Here are a few of the QSL cards they pulled from their collections.
Mark, W8BBQ, DX Engineering customer/technical support specialist, made contact with S79SAL from Mahe Island in July 2010 on 20M SSB.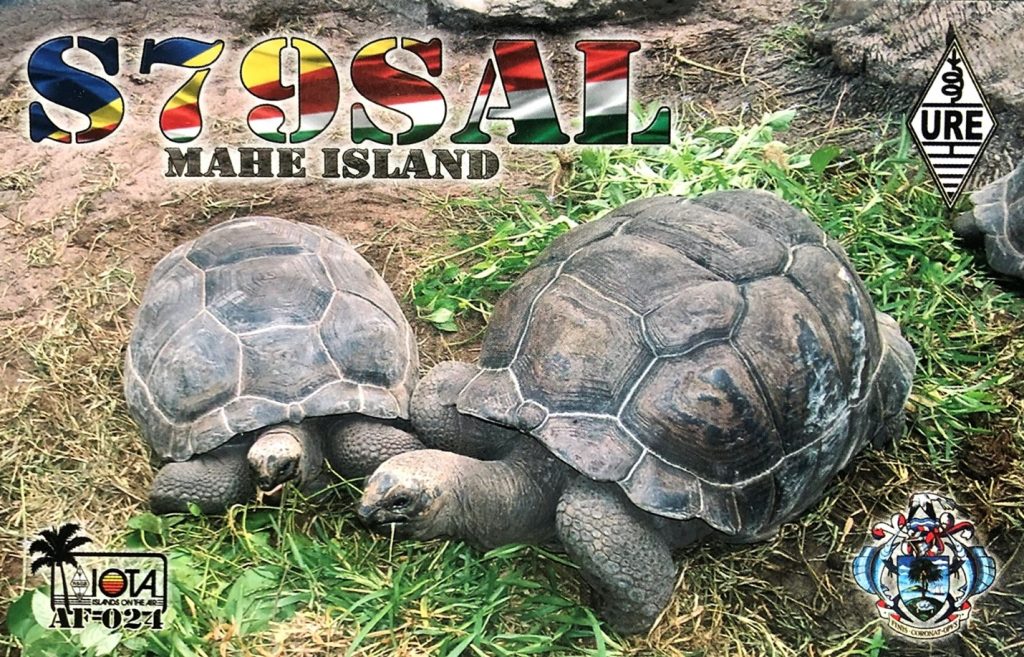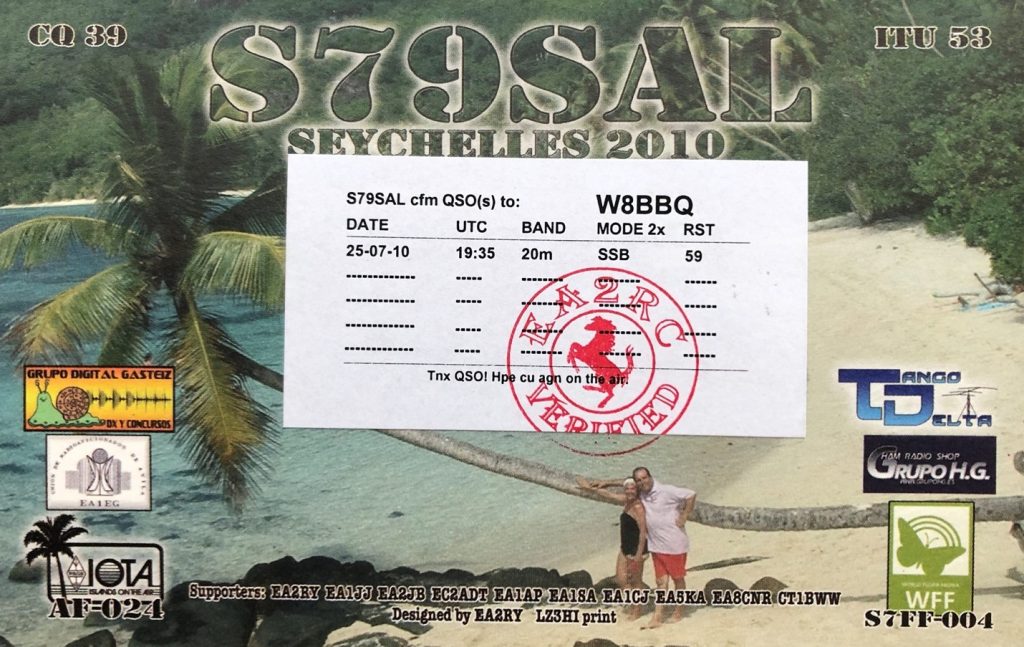 George, K3GP, DX Engineering customer/technical support specialist, reached S79SG in September 2006 and S79JAG in August 2005.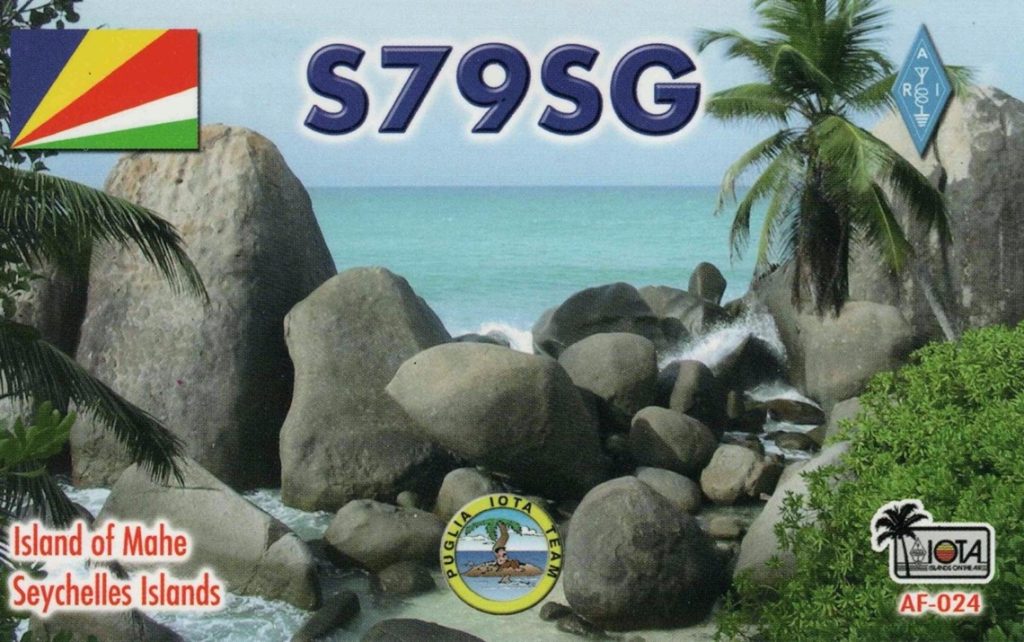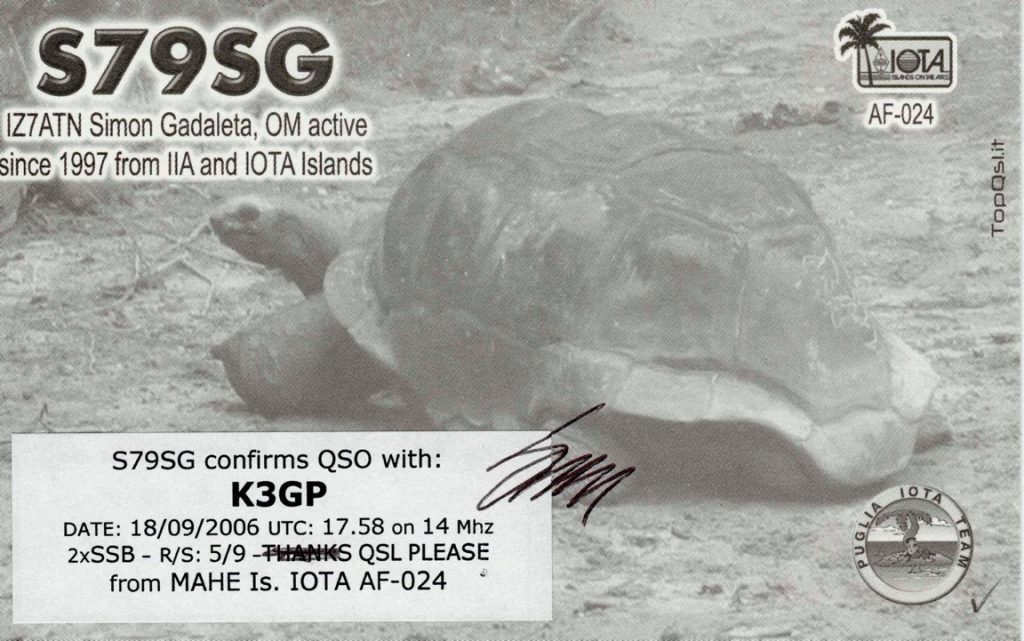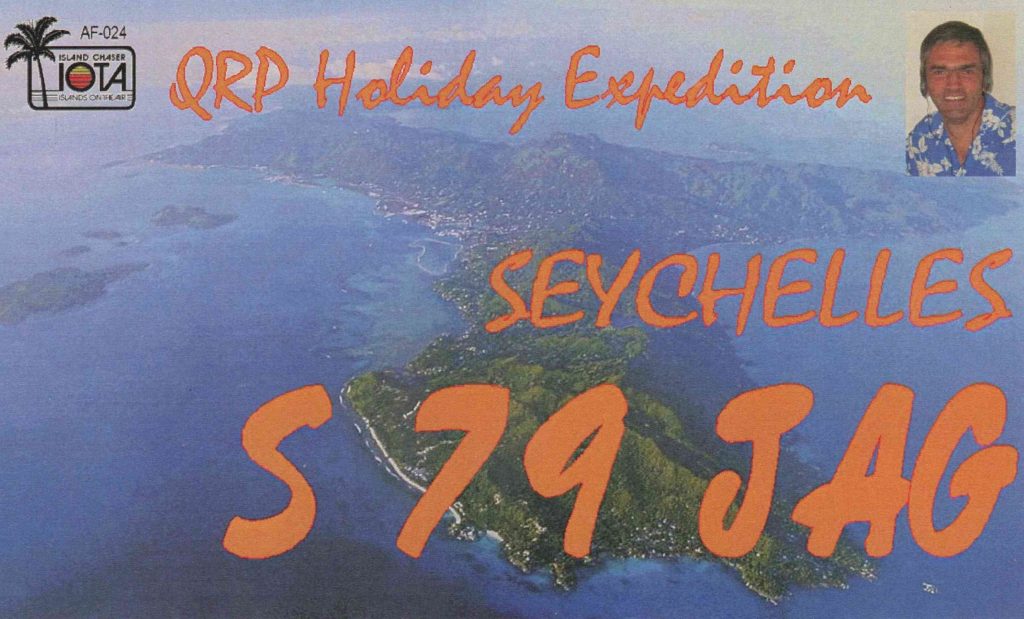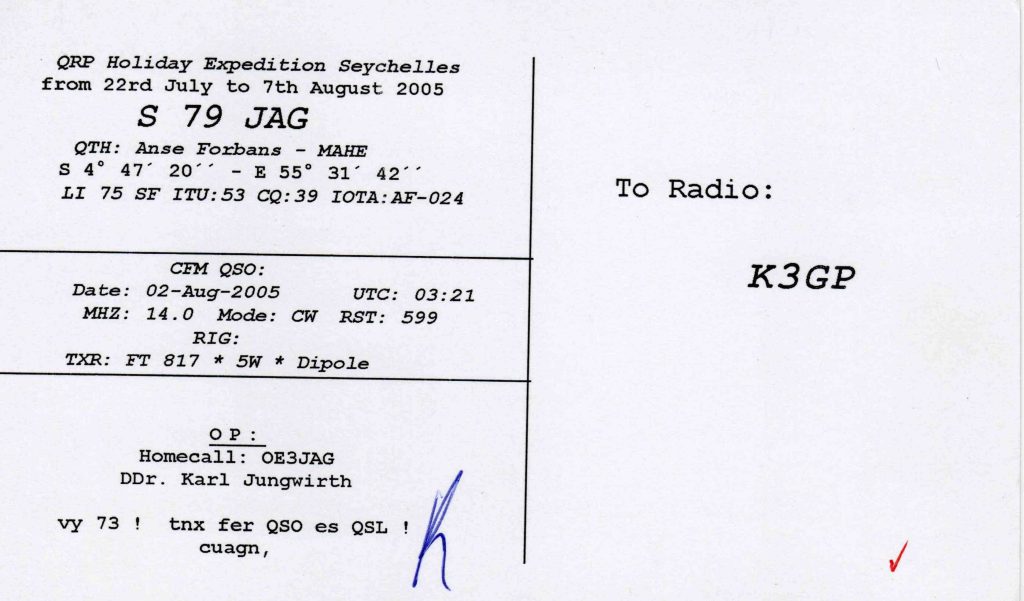 Dave, K8DV, DX Engineering customer/technical support specialist, earned these Seychelles QSL cards from S79NS (20M CW) from Praslin in November 2008; S79NS/P from Desroches Island (population of 100; part of the Amirante Islands) in November 2011 (17M CW); S79TF from La Digue in October 2008 (30M CW); and S79GM in March 2010 (80/40 CW).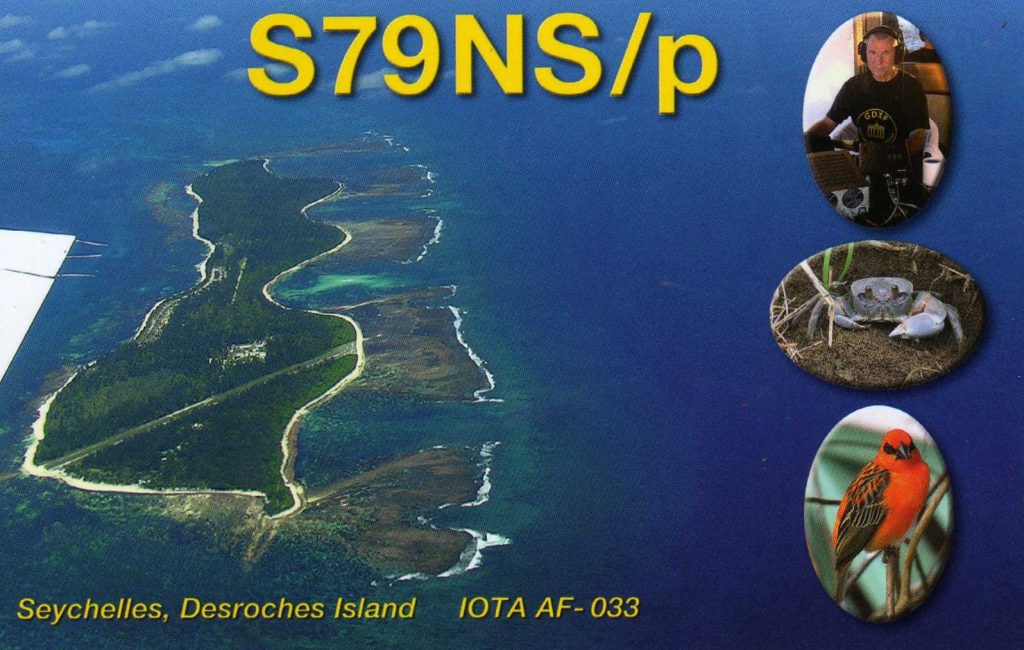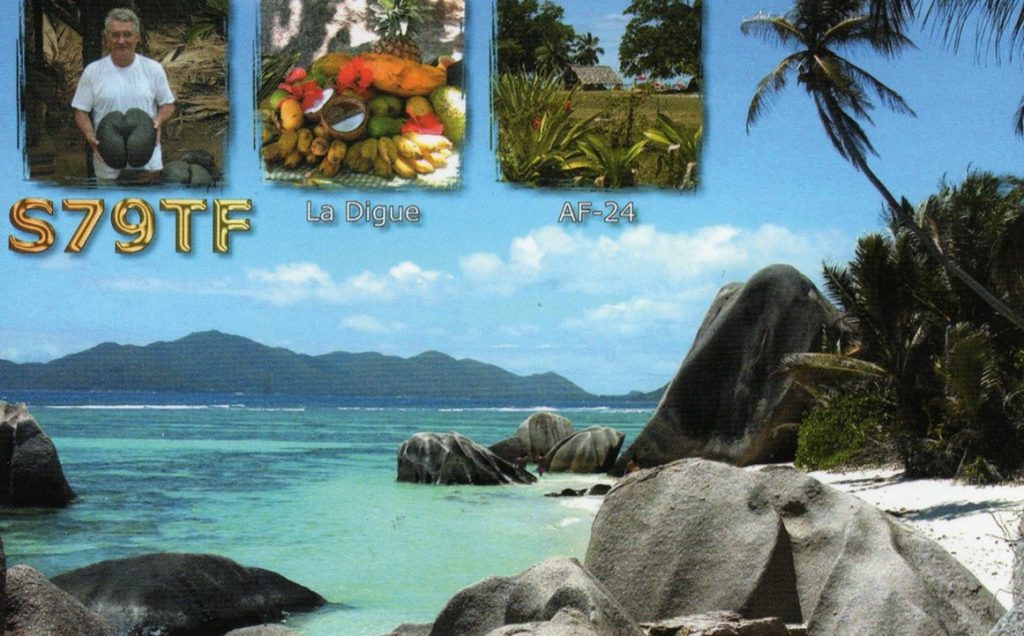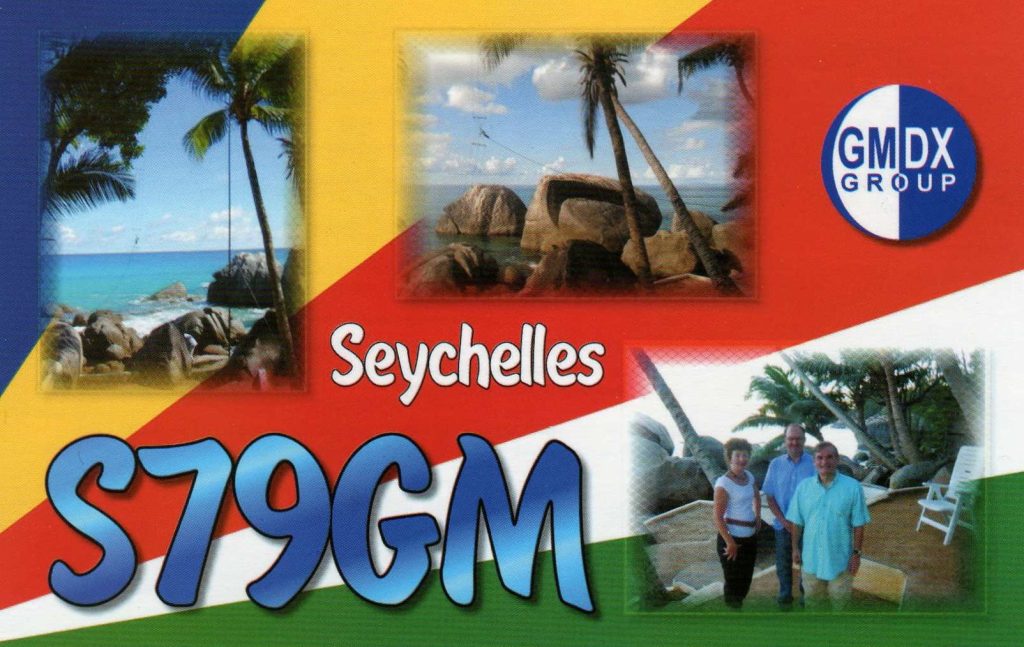 Scotty, KG9Z, DX Engineering customer/technical support specialist, made contact with S79 WHW operating from Mahe in 1985.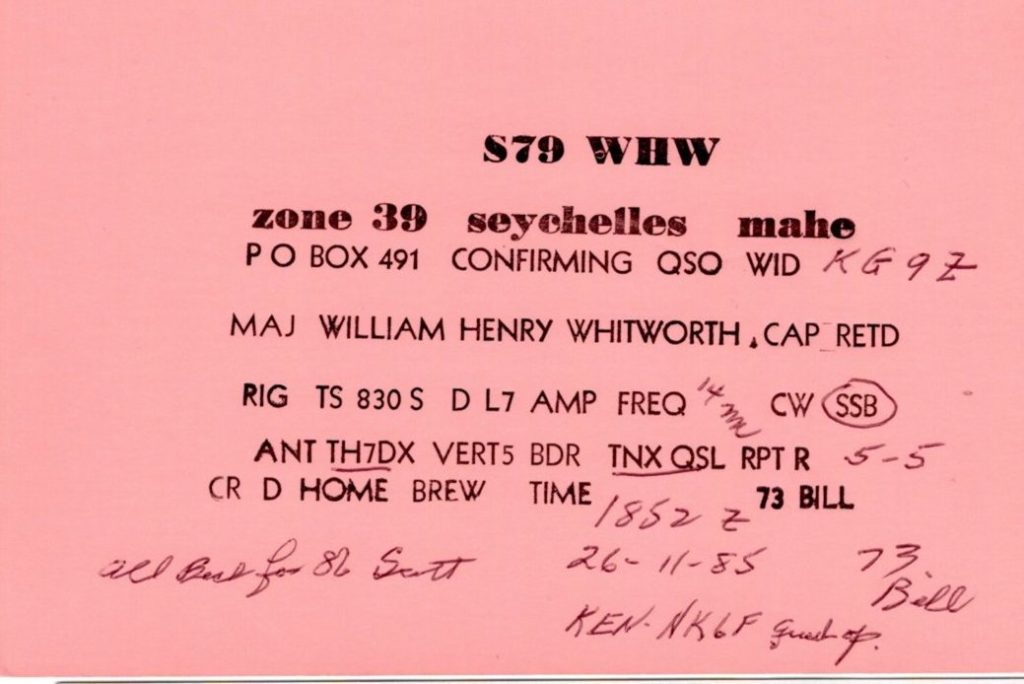 Want to upgrade your DXing capabilities? The Elmers at DX Engineering are here to lend an ear. Reach out to them at Elmer@DXEngineering.com. Find everything you need at DXEngineering.com to up your game, including transceivers, antennas, amplifiers, headsets, and more.