Editor's Note: Every month, DX Engineering features QSL cards from our team members' personal collections. To highlight upcoming DXpeditions, we'll be displaying a few of our favorite cards along with details about what it took to make these contacts. We're excited to share some of the special cards pulled from the thousands we've received over the years. We look forward to seeing your cards as well!
Galapagos Islands QRV in November
Mention the Galapagos Islands to the average individual and the first image that likely comes to mind are the giant tortoises that are native to seven main volcanic islands (out of 18) in this archipelago found in the eastern Pacific Ocean, part of the Republic of Ecuador. The islands, forever linked to Charles Darwin's observations made during his second voyage on the HMS Beagle, lie about 600 miles off the west coast of South America.
Say Galapagos Islands to a ham and another thought might jump out, especially this November—the chance to fill some bands or log an All-Time New One! The Galapagos Islands ranked as the 142nd Most Wanted DXCC Entity per Clublog as of October.
The 14-operator HD8R Galapagos Islands DXpedition is scheduled to continue until November 7. You can contact the highly experienced Cuadrilla de Tifariti Gang on 160-6M in CW, SSB, FT8, and RTTY. Past ventures from this group include TN5R Congo, 2018; 5U5R Republic of Niger, 2017; and ST0R South Sudan, 2011.
While you're thinking about lightning-quick CW to break through a pileup, here are a few facts about the Galapagos tortoise, something decidedly more slow-paced:
• It's true, Galapagos tortoises aren't very swift of foot, moving at about 0.16 MPH, compared to the average human walking at 2.8 MPH.
• They are the largest living species of tortoise, with some types weighing over 900 pounds.
• Within the archipelago, 12 species of Galapagos tortoises (out of 14-15 identified types) have survived but remain on the list of "threatened" animals despite conservation efforts that have seen their numbers grow since the 197os, when their population dwindled to a low of 3,000.
• In the wild, Galapagos tortoises can live past 100 years. In captivity, they have been known to live up to 177 years. Compare this to the longest-living vertebrate on earth, Greenland sharks, which scientists say live at least 250 years and may survive up to 500—or in human terms, likely long enough for one to eventually earn its DXCC award.
QSL Cards
Here are a few of the QSL cards from the Galapagos Islands collected by the active operators at DX Engineering over the years.
Mark, W8BBQ, DX Engineering customer/technical support specialist, earned this QSL card from the Isabela Island HC8ART DXpedition by making contact on 30 and 12M RTTY. At 1,771 square miles, Isabela is by far the largest of the Galapagos Islands. Located on the western edge of the archipelago and lying directly on the equator, Isabela's population of 1,750 mirrors its square mileage. It's home to a variety of wildlife (Darwin's finches, penguins, wild tortoises) and one of the most active volcanos in the world, Sierra Negra, most recently erupting in June of 2018, with other eruptions occurring in 1911, 1948, 1953, 1954, 1957, 1963, 1979, and 2005.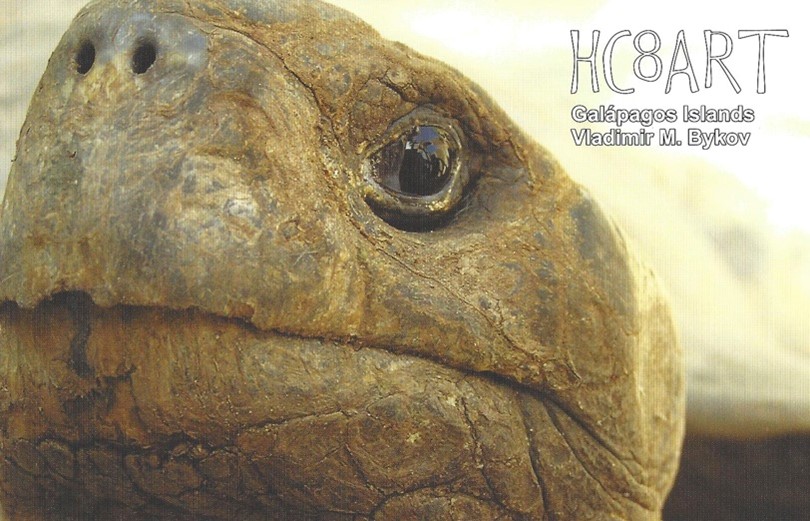 Tom, KB8UUZ, DX Engineering technical writer, contacted PA3GIO/HC8 operating from Santa Cruz Island, the second largest (381 square miles) of the Galapagos Islands behind Isabela. Its capital, Puerto Ayora, is the most populated urban center in the archipelago, with nearly 12,000 residents. Tourists visit the Charles Darwin Research Station there, where they can learn about the history of the island. In addition to Galapagos tortoises, Santa Cruz is home to sea lions, marine iguanas, brown pelicans, and blue-footed boobies.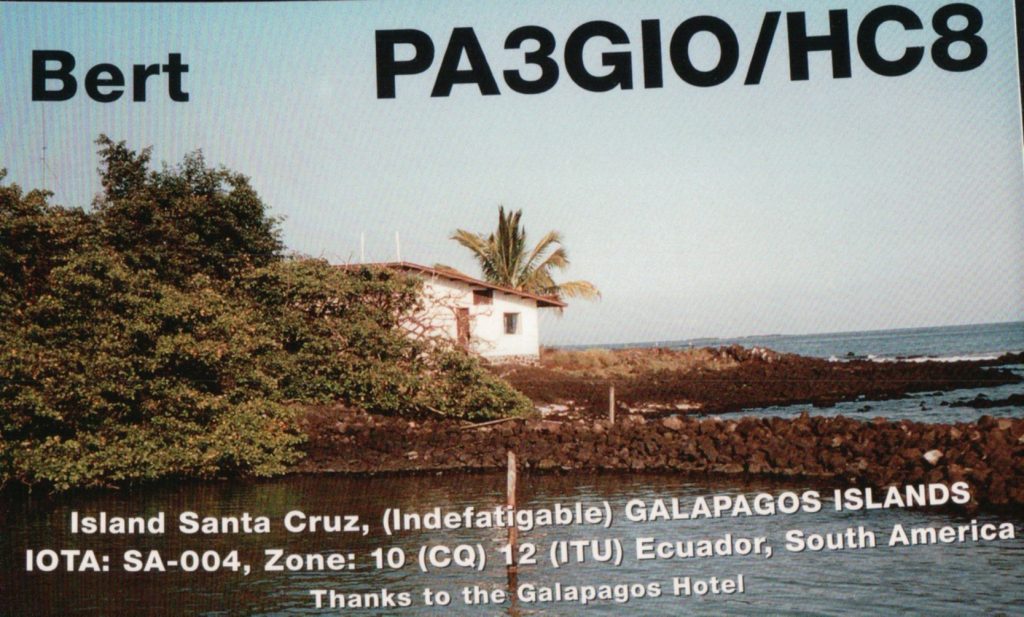 In March 201o, KB8UUZ reached HC8GR (15M SSB) from St. Cristobal Island, the easternmost Galapagos Island and the spot where Charles Darwin first went ashore in 1935. The former Ecuadoran penal colony has a population of around 6,000 and features a popular nesting site for blue-footed boobies (second image below):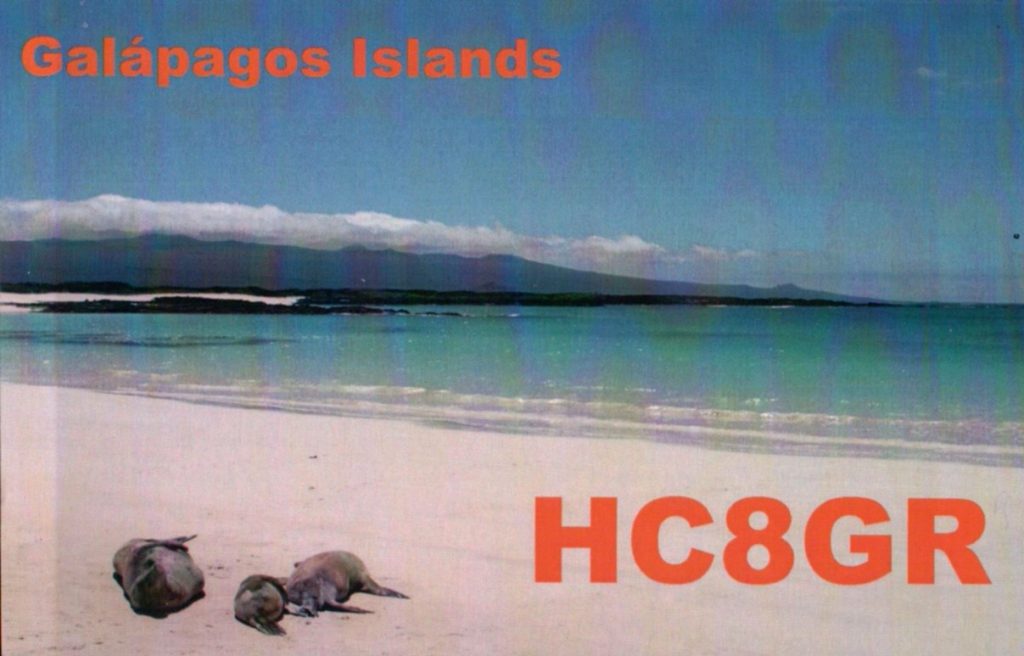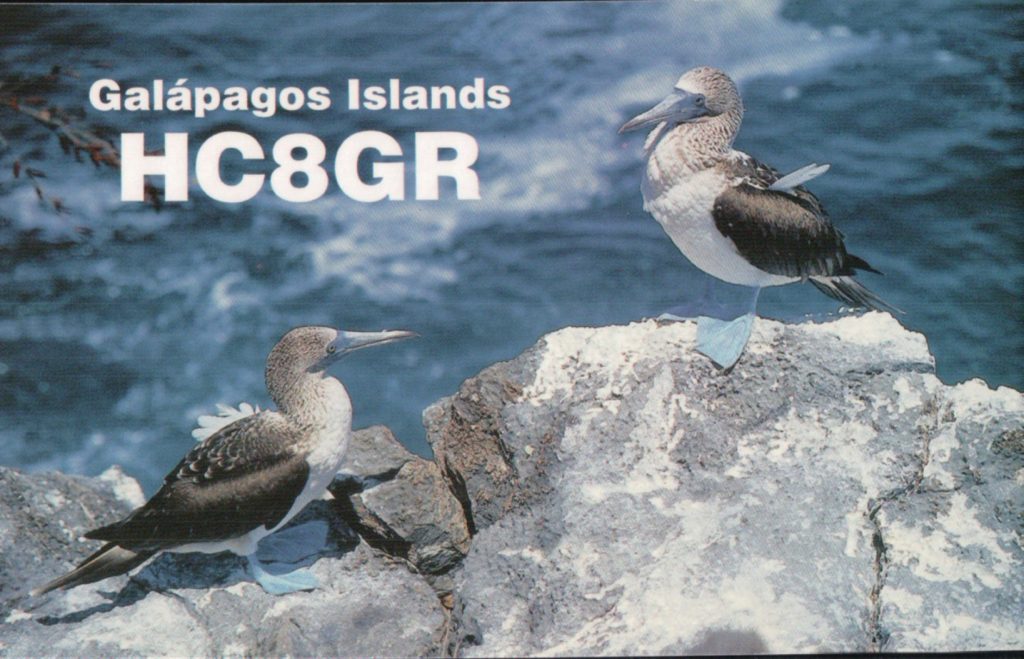 David, K8DV, DX Engineering customer/technical support specialist, contacted HC8N from 2006-08 on 20 and 10M SSB, and 160 and 15M CW.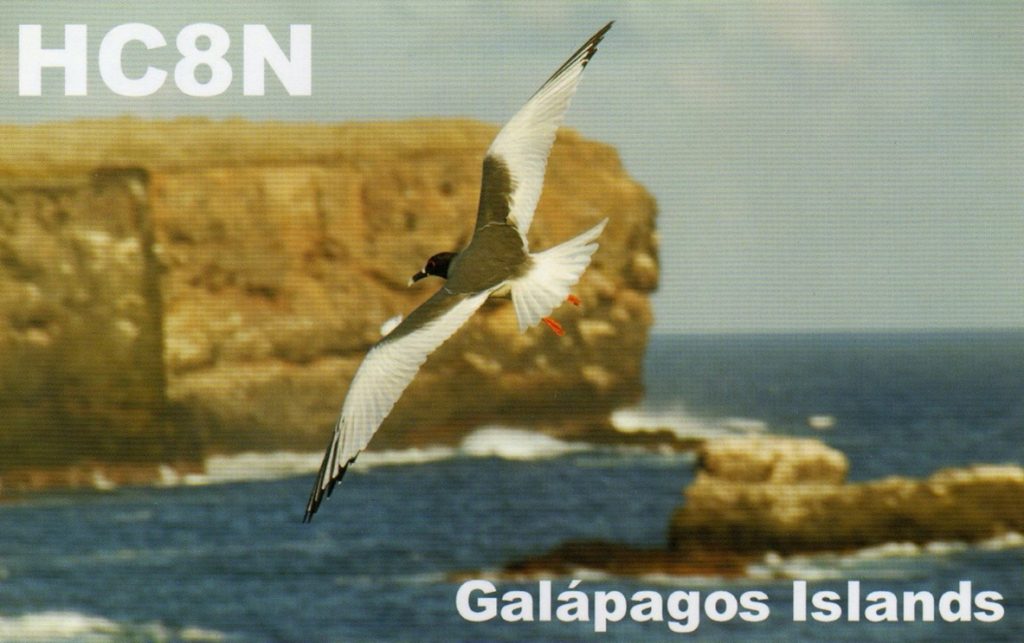 Want to upgrade your DXing capabilities? The Elmers at DX Engineering are here to lend an ear. Reach out to them at Elmer@DXEngineering.com. Find everything you need at DXEngineering.com to up your game, including transceivers, antennas, amplifiers, headsets, and more.