Editor's Note: Every month, DX Engineering features QSL cards from our team members' personal collections. To highlight upcoming DXpeditions, we'll be displaying a few of our favorite cards along with details about what it took to make these contacts. We're excited to share some of the special cards pulled from the thousands we've received over the years. We look forward to seeing your cards as well!
DXpedition to Bimini Scheduled for July
Island chasers will want to circle their DXing calendars for July 14-21. That's when the C6AHA DXpedition from Bimini Islands (IOTA NA-048) will be active. It's a great opportunity to put the Bahamas in your log book while marking off another spot in your quest to work the thousands of islands that dot the globe. Duane, N4RRR, Jack, K4KSW, Terry, N4QBS, and Richard, NN2T will be QRV from Bimini Islands on the HF bands in SSB, CW, and FT8.
The goal of the group is to aim for Europe and Australia to allow hams to work for the DXCC. Among other equipment, the team will be employing a Hy-Gain TH-3MK4 20/15/10M beam antenna and Cushcraft MA5B beam antenna.
While not a rare DXCC entity (the Bahamas, C6A, ranked 187th on Clublog's Most Wanted list as of April), Bimini Islands represents a sought-after grid and island for DXers. The closest point in the Bahamas to the mainland U.S., Bimini has a population of about 2,000. One of its most notable residents was Earnest Hemingway, who lived there from 1935-37.
DX Engineering Lends Its Support
DX Engineering is a proud sponsor of C6AHA, providing equipment that should play a major role in helping you put Bimini in your log book:
DX Engineering OMNI-TILT™Vertical Antenna Tilt Base (DXE-OMNI-TILT-1P)
DX Engineering Mounting Clamp Kit (DXE-OTMC-250P)
Low Band Systems HF Multiplexer (LBS-PB-QP200)
Low Band Systems HF Transmit Band Pass Filter, 17M (LBS-PB-F200-18)
Low Band Systems HF Transmit Band Pass Filter, 20M (LBS-PB-F1500-14)
DX Engineering Ferrite Toroid, Mix 31, 4 Inch O.D. (DXE-TC31-40-1)
To get you in the mood for contacting the Bahamas, here are a few QSL cards from the DX Engineering team.
Courtesy of Dave, K8DV, DX Engineering customer/technical support specialist, comes two cards: C6AGU (from Water Cay, Rum Cay Islands) in February 2008, reached on 20M CW; and C6ASH (from the Island of Eleuthera) in June 2009, contacted on 10M SSB.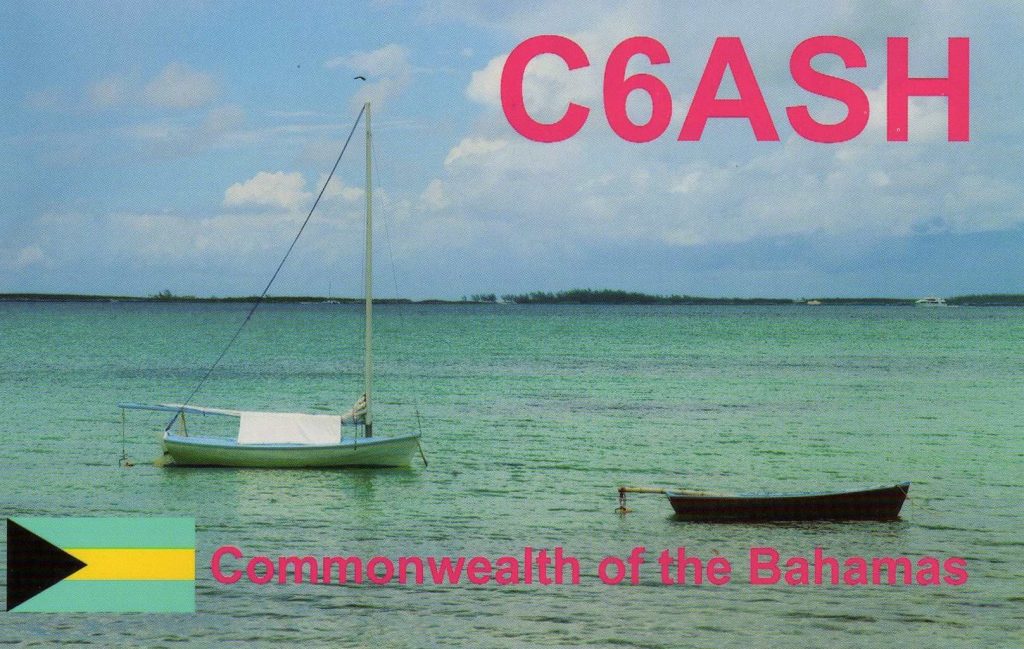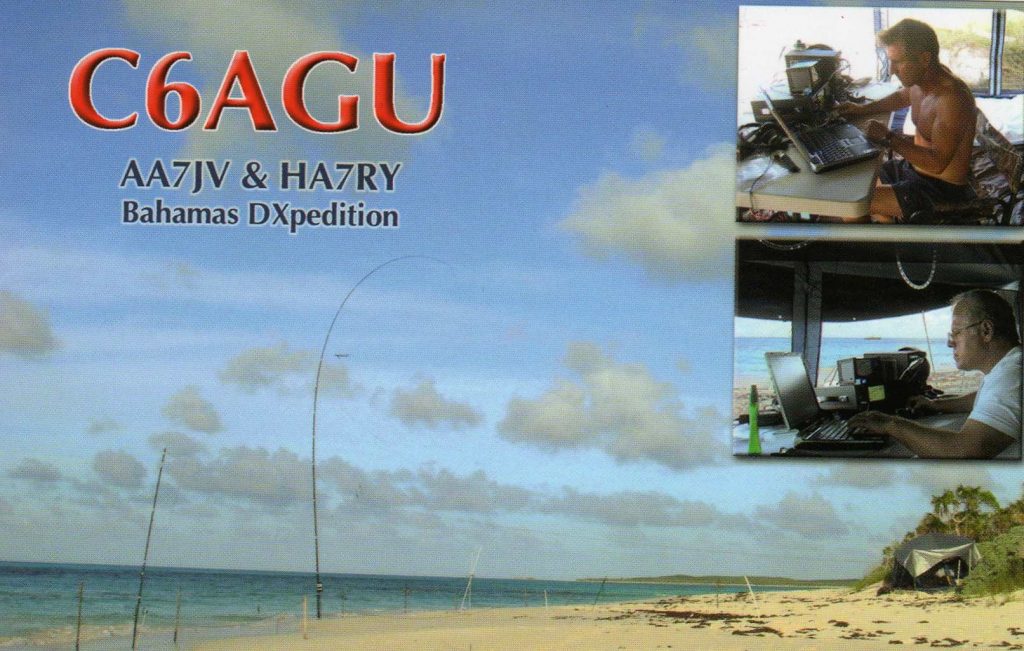 Scott, N3RA, DX Engineering sales manager, made contact with C6ANM, who was operating from Nassau in March 2003. Nassau, the largest city and capital of the Bahamas, is located on New Providence Island. Nassau's population of 274,000 makes up nearly 70% of the country's entire population.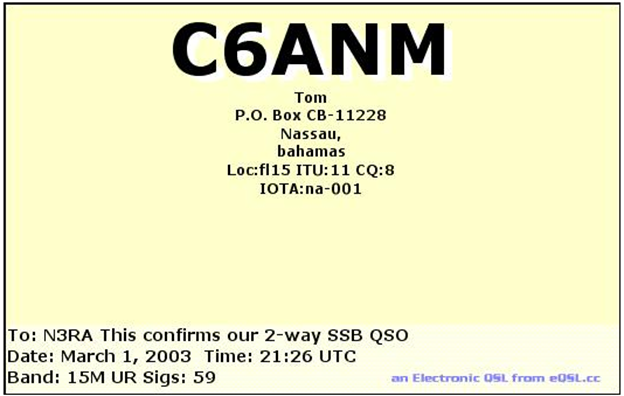 Mark, W8BBQ, DX Engineering customer/technical support specialist, earned this card from Nassau by reaching C6ABB on 80M SSB.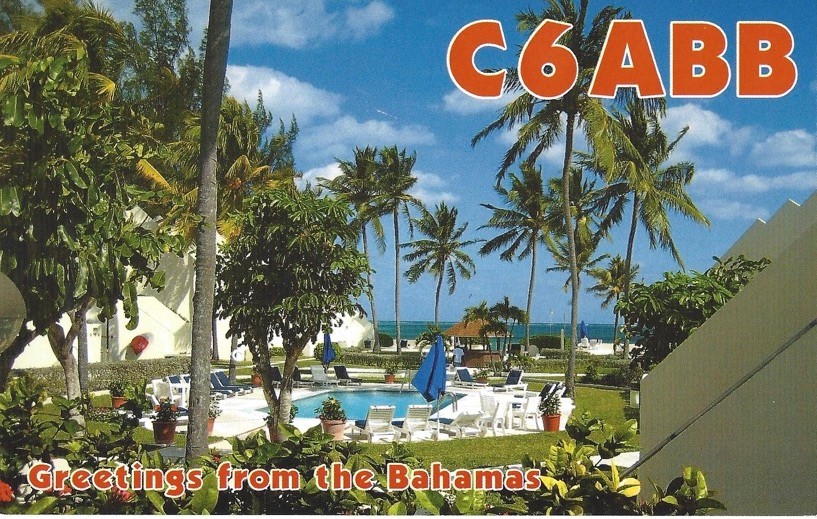 Tom, KB8UUZ, DX Engineering technical writer, pulled these cards from his collection: C6ANX from Nassau, 6M SSB; and C6AIE from Treasure Cay, Great Abaco Island, 10M SSB.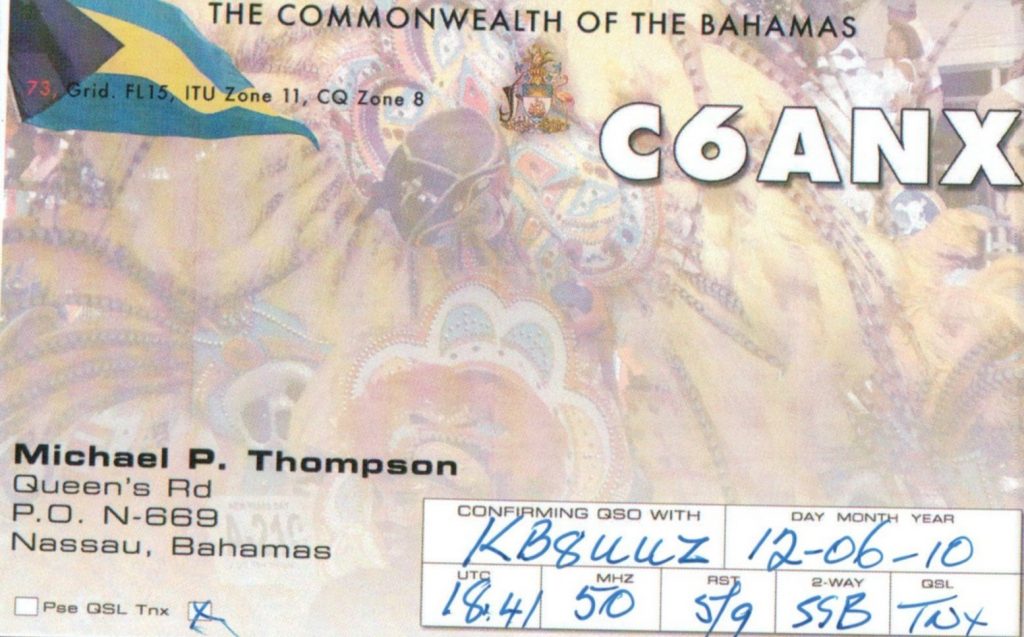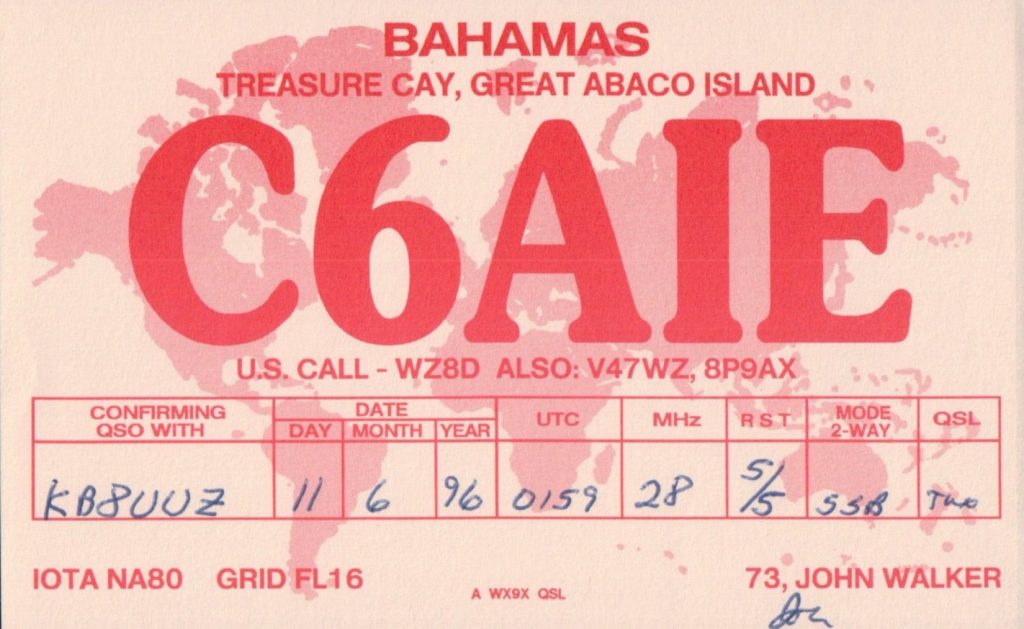 Want to upgrade your DXing capabilities? The Elmers at DX Engineering are here to lend an ear. Reach out to them at Elmer@DXEngineering.com. Find everything you need at DX Engineering.com to up your game, including transceivers, antennas, amplifiers, headsets, and more.