Editor's Note: Every month, DX Engineering features QSL cards from our team members' personal collections. To highlight upcoming DXpeditions, we'll be displaying a few of our favorite cards along with details about what it took to make these contacts. We're excited to share some of the special cards pulled from the thousands we've received over the years. We look forward to seeing your cards as well!
Sao Tome and Principe QRV in October
The Democratic Republic of Sao Tome and Principe will be active until October 16 (full operation until October 14) as part of the S9OK DXpedition from just north of the equator on Sao Tome (IOTA AF-023), one of the two main islands that make up this nation in the Gulf of Guinea, off the western equatorial coast of Central Africa. A team of eight operators from the Czech DXpedition Group will be active on 160-6M CW, SSB, FT8, and RTTY on Sao Tome (Portuguese for Saint Thomas).
Sao Tome (330 square miles) has a population of 193,400 compared to 55-square-mile Principe, which is home to only 7,300 of the nation's people. Its total population ranks it as the second smallest African country behind Seychelles, a nation in the Indian Ocean consisting of 115 islands with a population of 98,500.
Of historical note, it was on Principe on May 29, 1919, that English physicist, mathematician, astronomer, and author of Mathematical Theory of Relativity, Arthur Stanley Eddington, experimentally corroborated Einstein's Theory of Relativity during a solar eclipse viewed from the island.
Sao Tome and Principe achieved its independence from Portugal in 1975. As of September, the island nation ranked as the 160th Most Wanted DXCC Entity per Clublog.
QSL Cards
Here are a few of the QSL cards from Sao Tome and Principe collected by the active operators at DX Engineering over the years.
Scott, N3RA, DX Engineering sales manager, contacted S9A in 2004 on 17M CW, and S92CW in 2009 on 15M CW.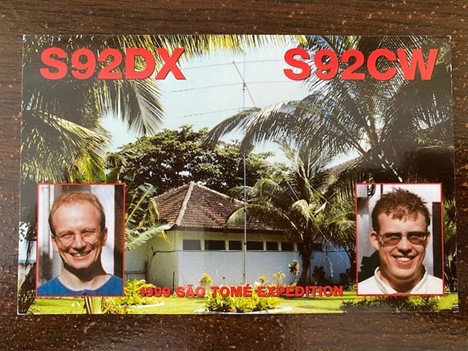 Tom, KB8UUZ, DX Engineering technical writer, contacted the February 2011 S9DX DXpedition from Rolas Island on 20 and 15M SSB. Rolas Island, an islet with a population of around 75, lies directly on the equator about four miles from Sao Tome. The eight-member S9DX team recorded nearly 66,700 QSOs during 13 days of operation. KB8UUZ reached S9SS, the Voice of America Transmitting Station, on 20, 15, and 10M SSB.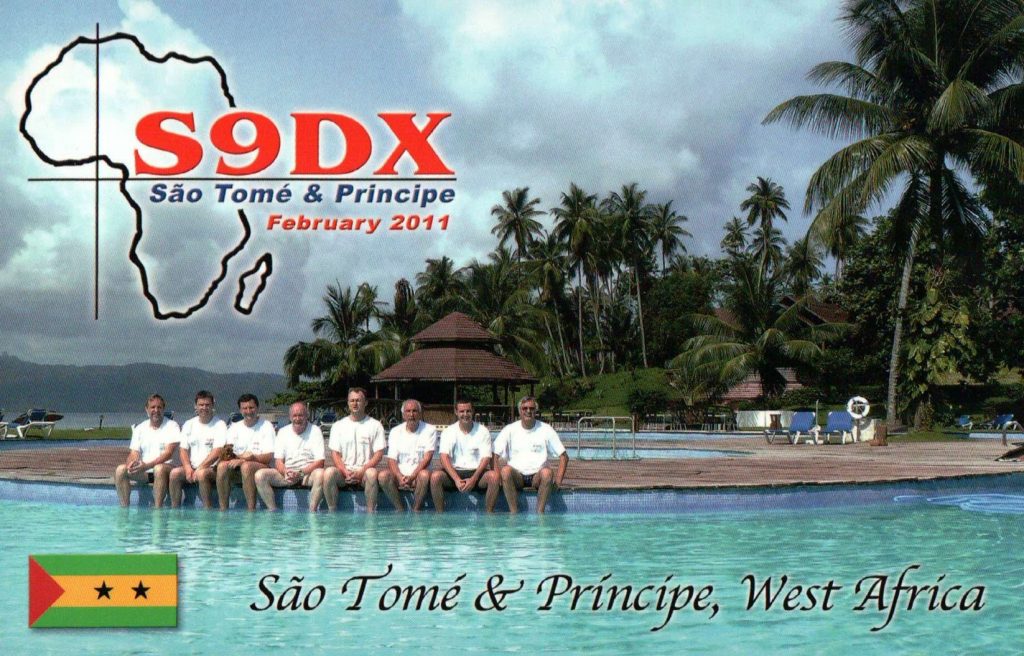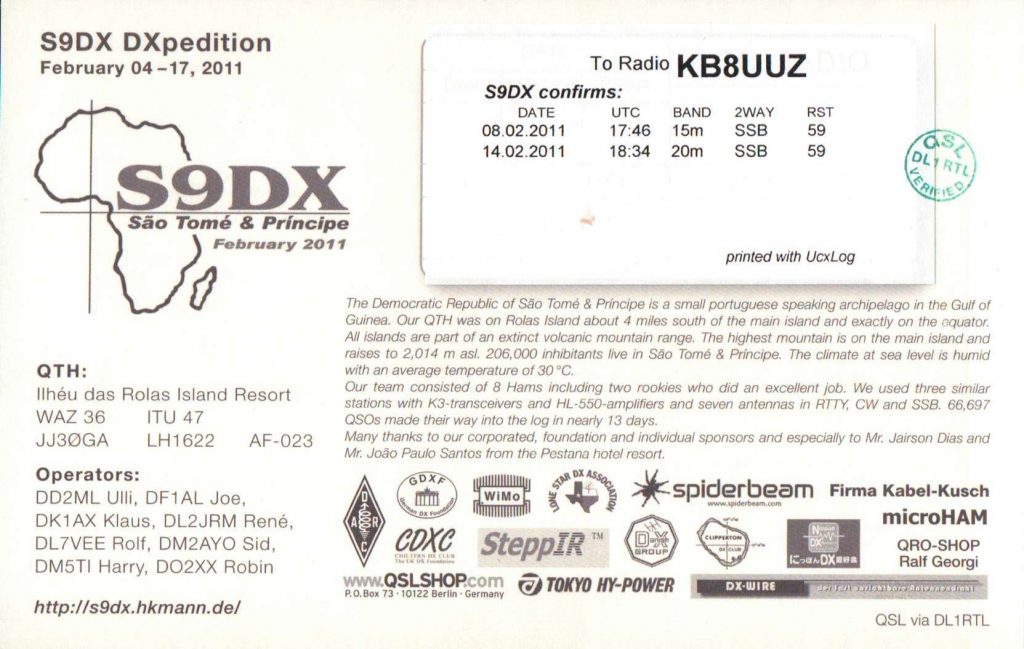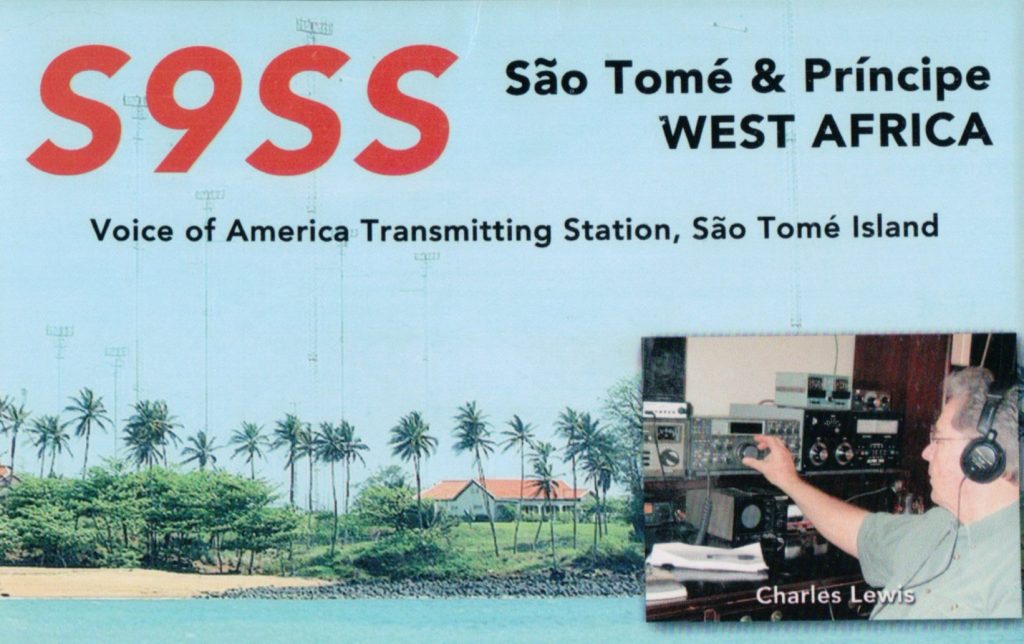 David, K8DV, DX Engineering customer/technical support specialist, contacted the S9SS DXpedition in January 2004 on 20M SSB. In October 2016 he reached S9YY on 80, 40, 30, 20, 17, 15, 12, and 10M CW, and 17M RTTY. The S9YY card displays the nation's coat of arms, featuring a red-footed falcon, gray parrot, and palm tree. The eight-operator S9YY DXpedition logged more than 51,000 QSOs during 15 days of operation from Sao Tome.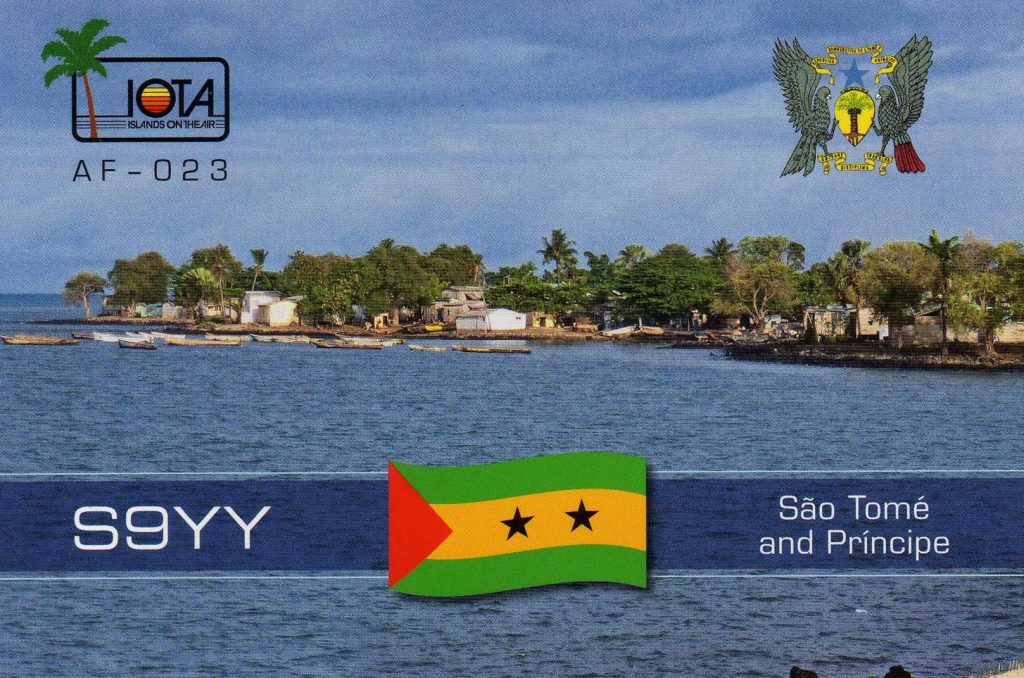 Want to upgrade your DXing capabilities? The Elmers at DX Engineering are here to lend an ear. Reach out to them at Elmer@DXEngineering.com. Find everything you need at DXEngineering.com to up your game, including transceivers, antennas, amplifiers, headsets, and more.