Editor's Note: Every month, DX Engineering features QSL cards from our team members' personal collections. To highlight upcoming DXpeditions, we'll be displaying a few of our favorite cards along with details about what it took to make these contacts. We're excited to share some of the special cards pulled from the thousands we've received over the years. We look forward to seeing your cards as well!
Puerto Rico Active in February
When OnAllBands asks the DX Engineering team to dig through their QSL collections for cards highlighting upcoming DXpeditions each month, some of the rarer entities can be harder to come by. That wasn't the case with today's spotlight DXCC entity, which ranked as the 295th Most-Wanted per Clublog as of January. Everyone had multiple cards from years of making contact with stations operating from Puerto Rico. To keep this article to a reasonable length, you'll see only a small sampling of those cards below.
Great News for Island Chasers
From February 25-27, hams will have another opportunity to log Puerto Rico thanks to the KP3RE DXpedition from Vieques Island (IOTA NA-249). You can try to contact the nine-member operating team on 80-10M CW, SSB, and FT8. Here's a link to the KP3RE website for updated information.
Fifty-two-square-mile Vieques Island is located in the northeast Caribbean in an island group sometimes called the Spanish Virgin Islands, resting about ten miles east of Puerto Rico. In 2006, Guiness World Records declared Vieques' Mosquito Bay as the world's brightest bioluminescent bay. This is caused by the presence of a microorganism which glows when the water is disturbed, resulting in its neon blue color. On September 20, 2017, Hurricane Maria caused widespread damage to Vieques, shutting down the tourism trade that was the mainstay of its economy. Throughout Puerto Rico, amateur radio played a significant part in communication efforts after the storm caused a widespread loss of power.
Click here to check out the Vieques Island Amateur Radio Club's Facebook page.
QSL Cards
Here are a few of the QSL cards from Puerto Rico collected by the active operators at DX Engineering over the years.
Mark, W8BBQ, DX Engineering customer/technical support specialist, reached NP4A and received this card.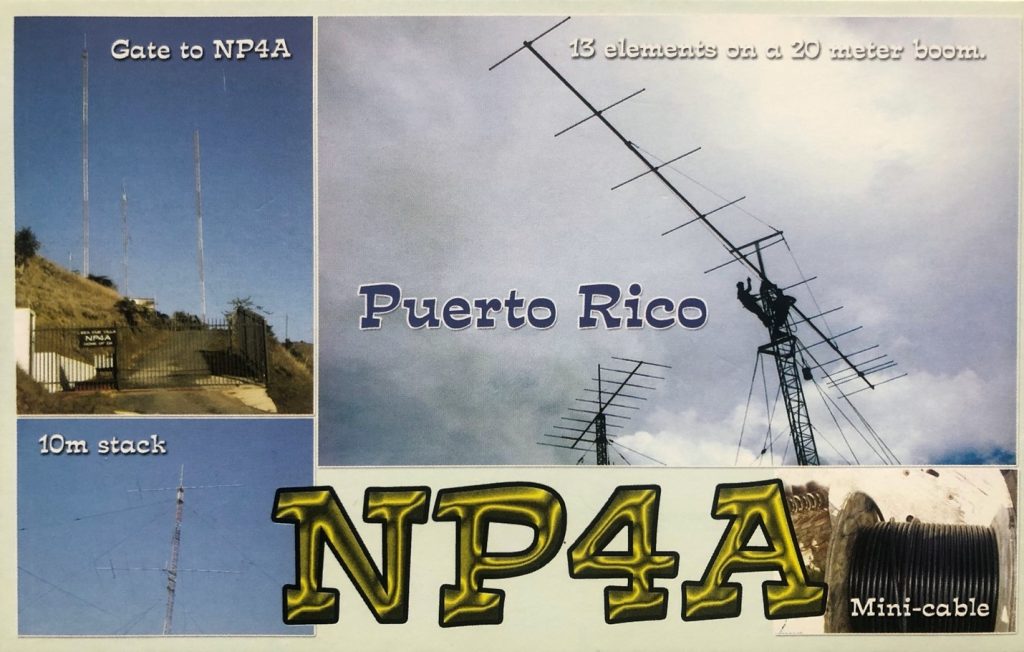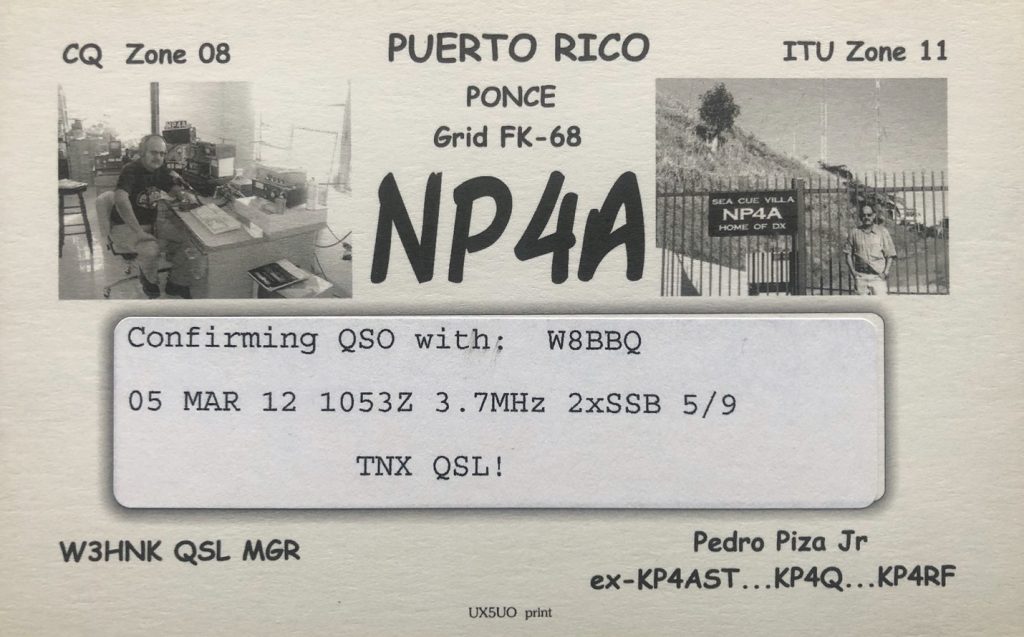 Tom, KB8UUZ, DX Engineering technical writer, has logged Puerto Rico 195 times over years of operating. Below is one of his oldest QSL cards from Puerto Rico.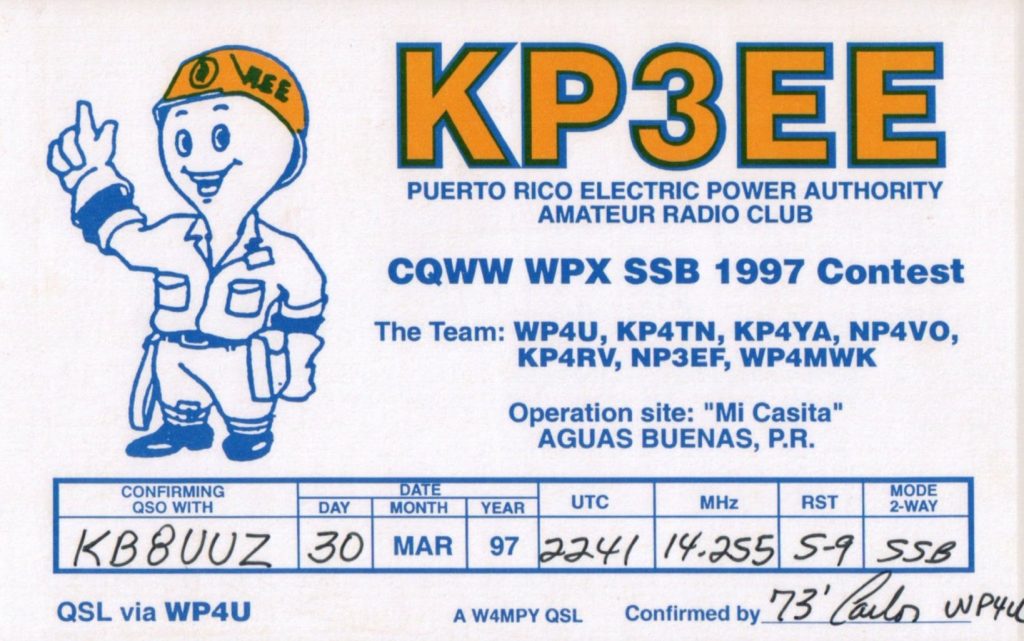 From a previous post about the collapse of the Arecibo Observatory's 900-ton instrument panel on December 1, 2020, KB8UUZ provided the QSL card below from one of Puerto Rico's most celebrated hams, Angel M. Vazquez, WP3R.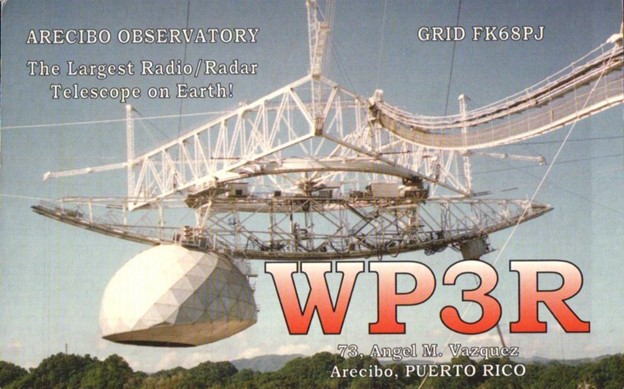 WP3R worked for more than four decades at the observatory, holding a variety of positions. He was head of telescope operations at the time of the collapse, which rendered the already-decommissioned telescope and its 1,000-foot spherical aluminum reflector shield inoperable.
Despite the disaster, the legacy of the important work done at Arecibo lives on. In January of this year, the International Pulsar Array Consortium announced the results of a detailed search for "ripples in the fabric of space-time—known as gravitational waves," wrote Zenaida Gonzalez Kotala in UCF Today, a publication of the University of Central Florida. Data regarding low-frequency gravitational waves collected before the 2020 collapse played a major role in the international team's research, which will ultimately advance the understanding of "the evolution of galaxies, their central black holes, and the early universe," per the article. For details on cleanup efforts in Arecibo and a documentary on the observatory, check out this update from Space.com.
Scott, N3RA, DX Engineering sales manager, used FT8 to earn this card from WP4JLU on 30M.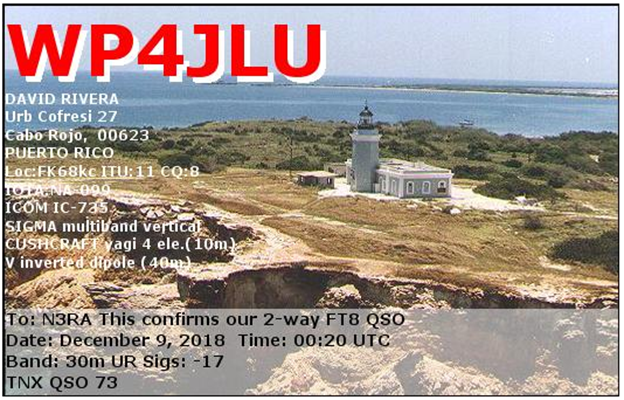 George, K3GP, reached Alfredo Velez Ramos operating from contest station WP3C in Utuado, a town located in Puerto Rico's central mountainous region.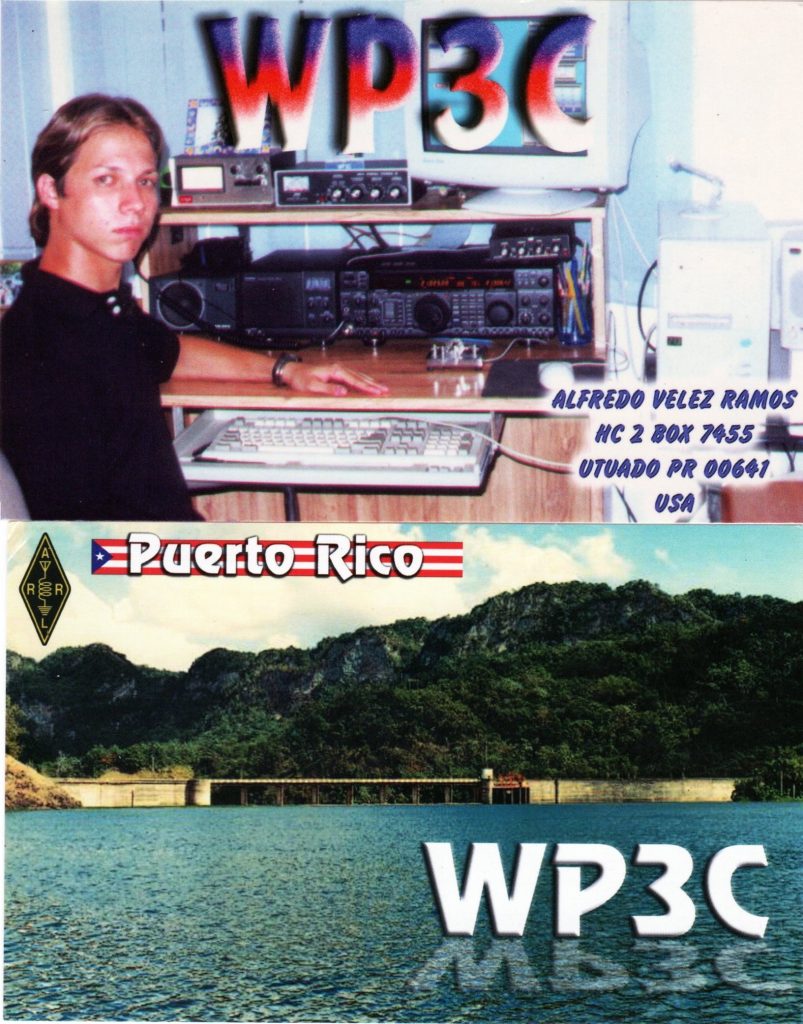 David, K8DV, DX Engineering customer/technical support specialist, received this beautiful non-observatory QSL card from Angel, WP3R, who was operating from WP3C in February 2011 (10M CW).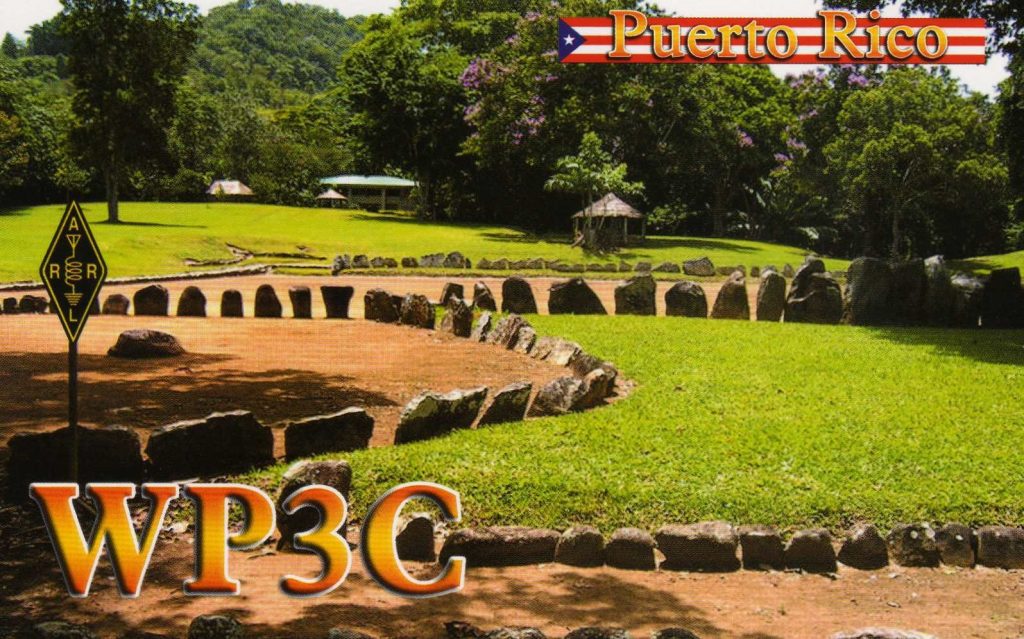 Want to upgrade your DXing capabilities? The Elmers at DX Engineering are here to lend an ear. Reach out to them at Elmer@DXEngineering.com. Find everything you need at DXEngineering.com to up your game, including transceivers, antennas, amplifiers, headsets, and more.