Editor's Note: Every month, DX Engineering features QSL cards from our team members' personal collections. To highlight upcoming DXpeditions, we'll be displaying a few of our favorite cards along with details about what it took to make these contacts. We're excited to share some of the special cards pulled from the thousands we've received over the years. We look forward to seeing your cards as well!
The Republic of Malawi QRV in November
The 7Q6M DXpedition by K6ZO from Malawi, a landlocked country of southeastern Africa formerly known as Nyasaland, is scheduled to be ongoing until November 30 on 160-6M, SSB and CW, so there's still an excellent chance for you to record an ATNO or make contact for the CQ World Wide DX Contest CW, November 26-27. As of October, Malawi ranked as the 169th Most-Wanted DXCC Entity per Clublog.
About Malawi
The 45,747-square-mile country (about the size of Mississippi) has a population of around 20 million, ranking it as the 21st most populous African nation. Its size places it as the 36th largest African country. Lilongwe is its capital and most populated city with close to a million inhabitants. Its official language is English, while almost half of Malawi's population speaks the Bantu language of Chichewa. The Chewa are the largest ethnic group in Malawi.
The predominantly agriculturally based nation (tobacco, cotton, sugarcane, sorghum, tea, et. al) boasts a rich landscape of fauna, including elephants, rhinos, hippos, big cats, parrots, falcons, and a range of other animals—many that can be found around Lake Malawi, which is home to 200 mammals, 650 birds, numerous mollusks, and more than 5,000 plants species. By volume, Lake Malawi is the fifth largest freshwater lake in the world and the home to more species of fish than any other lake on the planet. Covering 11,400 square miles, it is the ninth largest lake in the world based on area, stretching into parts of Mozambique and Tanzania. Which leads us to today's OnAllBands Geography Question of the Day: Can you name the world's largest lake(s) in terms of area and volume? Answer below.
QSL Cards
The active hams at DX Engineering have had great success contacting Malawi over the years (a good reason to contact them for help with your gear if you'd like to do the same). Here are a few of the QSL cards from their collections.
Mark, W8BBQ, DX Engineering customer/technical support specialist, made several CW contacts with 7Q7GM in November 2011. The 7Q7GM DXpedition operated from Nkhotakota, a town with a population of around 28,000 on the shore of Lake Malawi and one of the districts in the Central Region of Malawi. It's home to the Nkhotakota Wildlife Reserve, the country's oldest and largest wildlife area. Efforts to stem poaching of elephants there, which had reduced numbers to fewer than 100, began in 2015 when the non-governmental organization, African Parks, began managing the reserve. Baboons, leopards, elands, warthogs, roan antelopes, honey badgers, and many other animals can also be found in the reserve.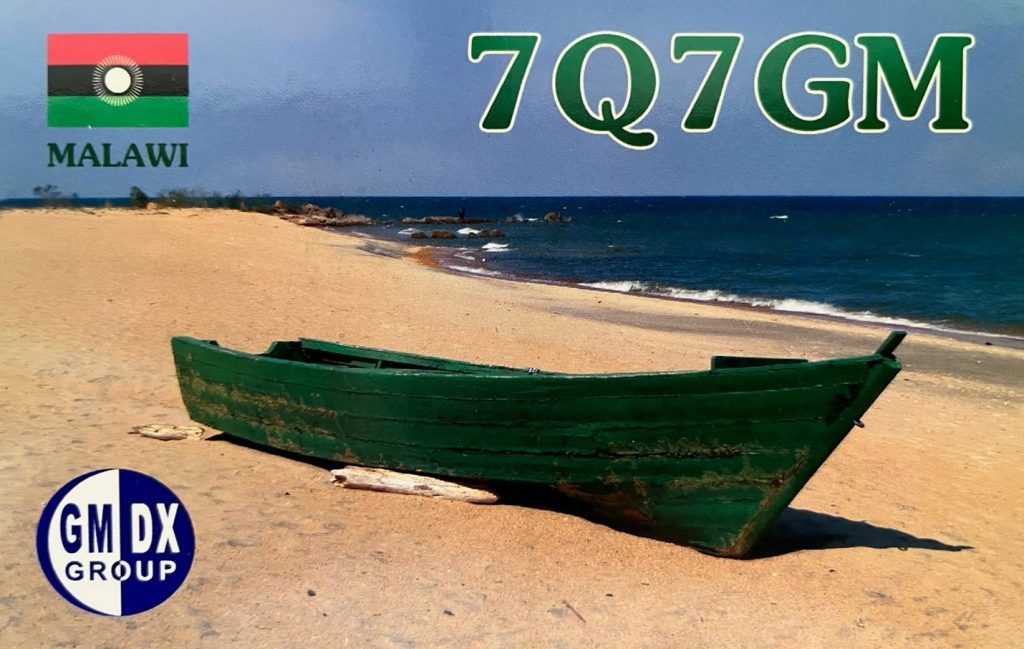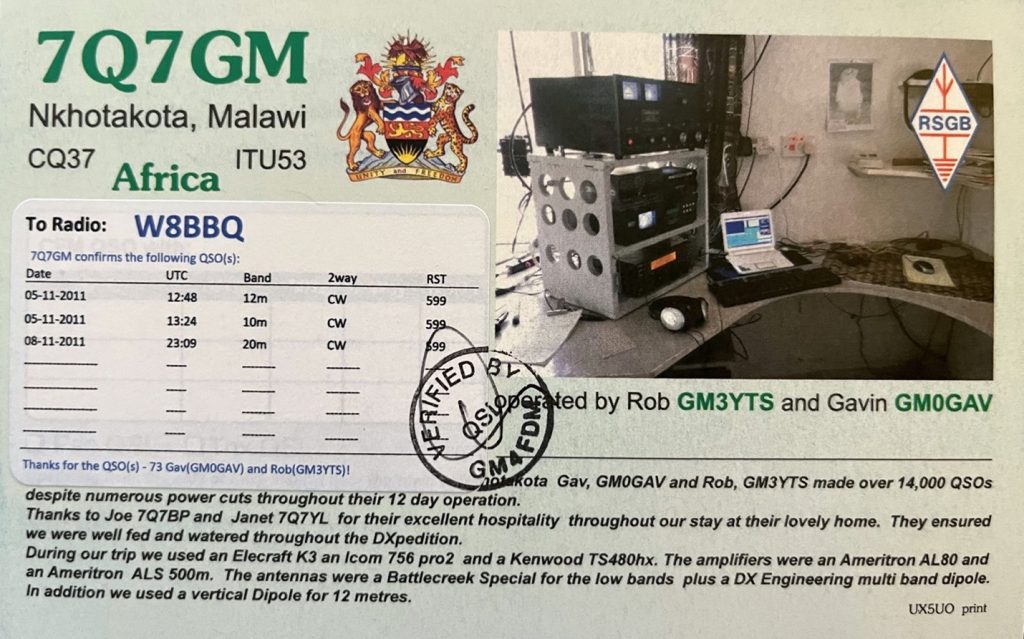 Tom, KB8UUZ, DX Engineering technical writer, reached 7QAA in March 2015.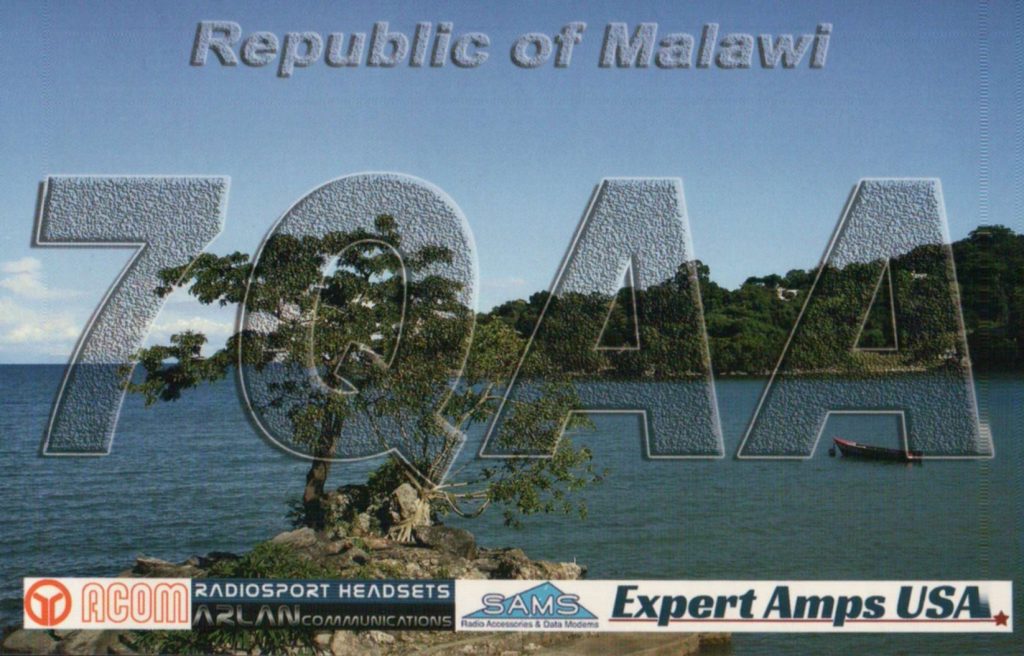 George, K3GP, DX Engineering customer/technical support specialist, reached 7Q7VB from Livingstonia, Malawi in 2006. Also known as Kondowe, Livingstonia is a town in the Northern Region district of Rumphi, which extends from Lake Malawi in the east to the Zambian border in the west. Named after David Livingstone, famed Scottish explorer, Livingstonia has a population of around 6,700 and was founded in 1894 by missionaries from the Free Church of Scotland.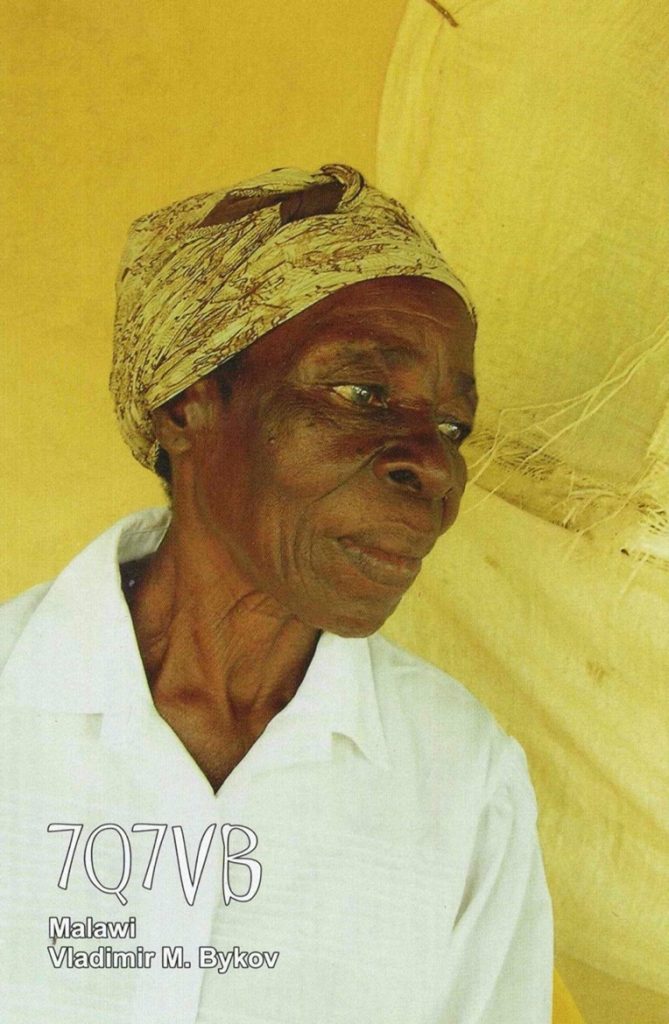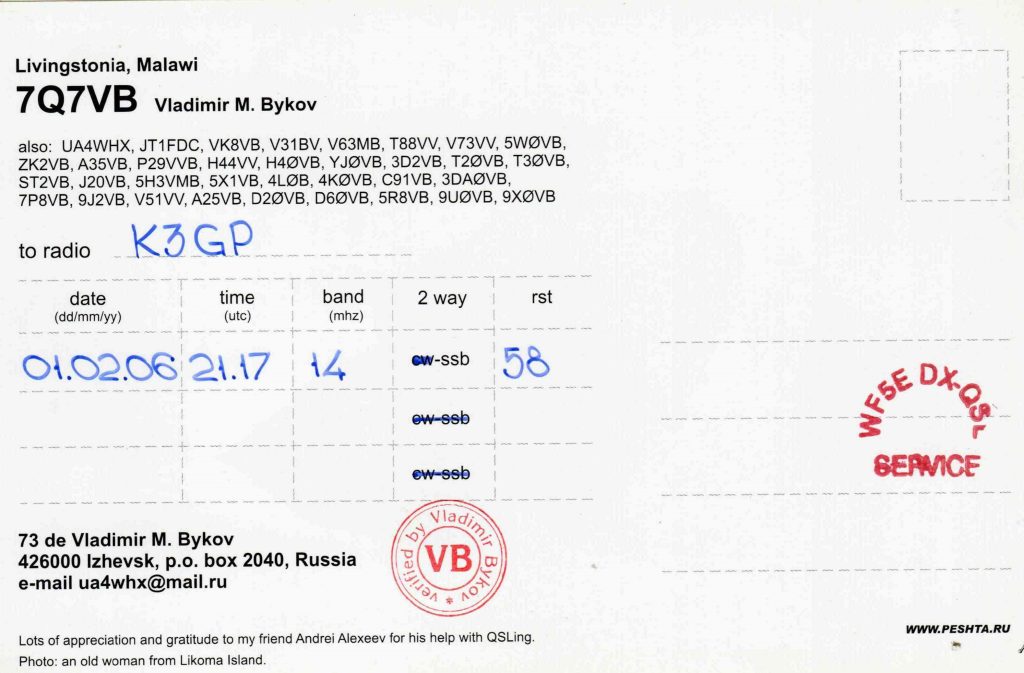 Dave, N8NB, DX Engineering customer/technical support specialist, received this card from the April 2004 7Q7MM DXpedition, which he reached on 20M CW.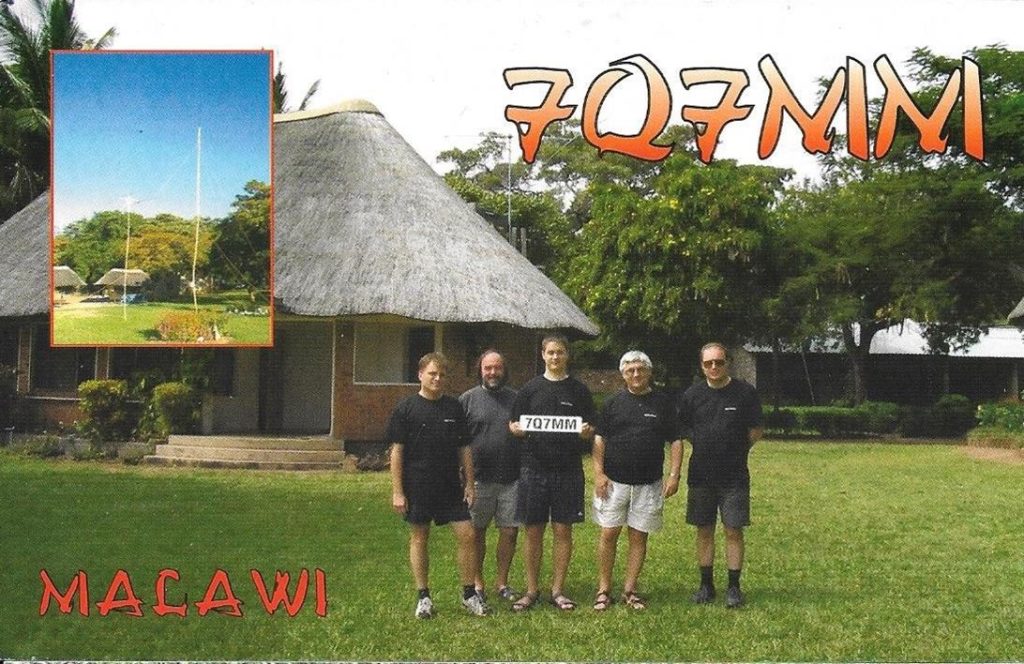 Dave, K8DV, DX Engineering customer/technical support specialist, received this card from 7Q7HB operating from Mangochi (formerly known as Fort Johnston), a town of about 53,000 people near the southern end of Lake Malawi inhabited almost exclusively by the Yao people. Yao is a Bantu language spoken by about two million people in Malawi. Also below is a QSL card he received from 7Q7AH, which he reached in 2009 on 20M SSB. The card features the Malawian kwacha, the currency of Malawi which replaced the Malawi pound in 1971. Find the current exchange rate in U.S. dollars for 200 Malawian kwacha here.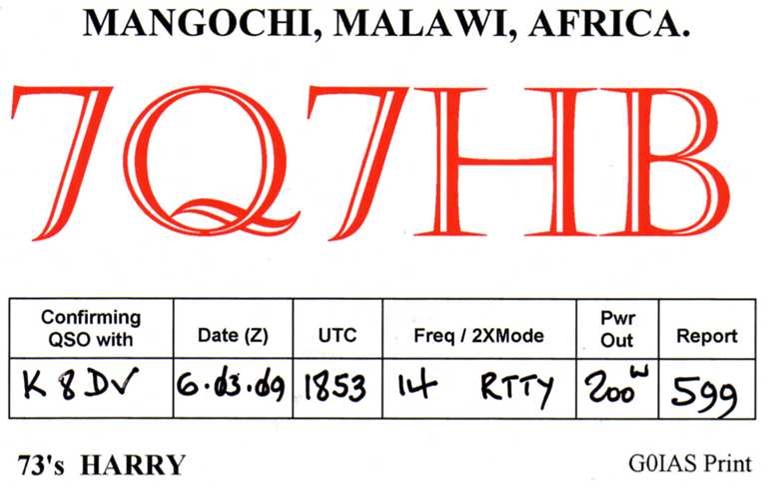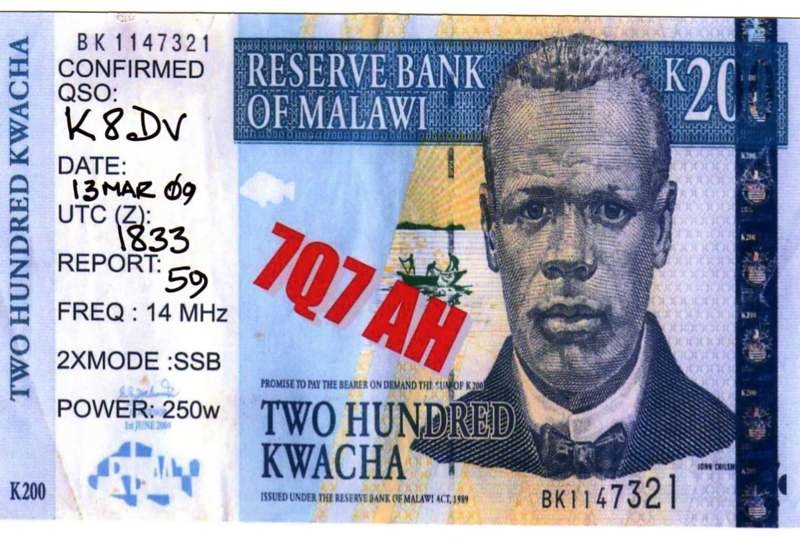 "I'll take Enormous Lakes for $1,000, Mayim."
Back to our geography question. Lake Malawi may be one of the world's largest lakes in terms of volume and area, but what freshwater lake reigns supreme? That would be the Caspian Sea—the world's largest inland body of water—by far. Fed by the Volga, it covers 143,550 square miles and boasts a volume of 19,000 cubic miles. If you are in the camp that contends that the Caspian Sea is not actually a lake, then the correct answer based on area is Lake Superior, which falls a distant second at 31,700 square miles. Second place in terms of volume is Lake Baikal in southern Siberia (5,700 cubic miles)—the world's deepest freshwater lake at 5,387 feet. Its estimated age of 25-30 million years also makes it the world's oldest lake.
Want to upgrade your DXing capabilities? The Elmers at DX Engineering are here to lend an ear. Reach out to them at Elmer@DXEngineering.com. Find everything you need at DXEngineering.com to up your game, including transceivers, antennas, amplifiers, headsets, and more.