Editor's Note: Every month, DX Engineering features QSL cards from our team members' personal collections. To highlight upcoming DXpeditions, we'll be displaying a few of our favorite cards along with details about what it took to make these contacts. We're excited to share some of the special cards pulled from the thousands we've received over the years. We look forward to seeing your cards as well!
Republic of Madagascar QRV in September
DX chasers had an opportunity to reach Madagascar earlier this month thanks to IV3FSG, who was scheduled to be QRV on HF bands (SSB and Digital) from the world's fourth largest island (226,658 square miles) until September 9. Okay, geography buffs. Can you name the planet's top three largest islands? See answer below. Can't wait? The top spot belongs to the world's least densely populated territory, featured here on a previous QSL card blog post.
As of August, the Republic of Madagascar (consisting of the main island of Madagascar and many surrounding islands in the Indian Ocean, 250 miles off the coast of East Africa) ranked as the 157th Most-Wanted DXCC Entity per Clublog.
About Madagascar
Madagascar has a population of 28.4 million, ranking it as the 15th largest African nation—far below Nigeria, which has a population of more than 206 million. Its capital and largest city (population 1.27 million) is Antananarivo. Due to the country's long isolation from nearby continents, a remarkable four-fifths of its nearly 15,000 plant species are found only on the island. These include a large number of orchids, palm species, and the Madagascar periwinkle, which produces vinca alkaloids that have been used in certain cancer-fighting drugs. Seven of eight species of the periwinkle, or Catharanthus, are endemic to Madagascar.
In a game of word association, many people would undoubtedly shout "lemur" at the utterance of "Madagascar"—and for good reason. More than 100 species of lemurs (see QSL cards below) live on the island, although some are classified as "critically endangered," "endangered," "vulnerable," or "near threatened," while a growing number of species have become extinct. Among the diverse variety of lemurs on the island are the familiar ring-tailed type and the lesser-known, critically endangered Madame Berthe's mouse lemur, the world's smallest primate, which tips the scales at 1.1 ounces (about the weight of a pencil or slice of whole-grain bread) and measures 3.6 inches long. The lemur is only found in Madagascar's Kirindy Forest, and its small numbers are attributed to deforestation and habitat degradation from slash-and-burn agriculture, illegal logging, and charcoal production. As of 2015, estimates put the Madame Berthe's mouse lemur population at under 8,000. By contrast, the indri, or babakoto—the largest lemur—has been known to grow up to three feet tall and weigh ten pounds. They are also listed as critically endangered.
QSL Cards
The active hams at DX Engineering have had great success contacting Madagascar over the years (a good reason to contact them for help with your gear if you'd like to do the same). Here are a few of the QSL cards they pulled from their collections.
Mark, W8BBQ, DX Engineering customer/technical support specialist, made contact with 5R8HL in January 2011 on 20M SSB; 5R8UI in August 2012 on 15M SSB; and 5R8X in November 2010 on 17M SSB.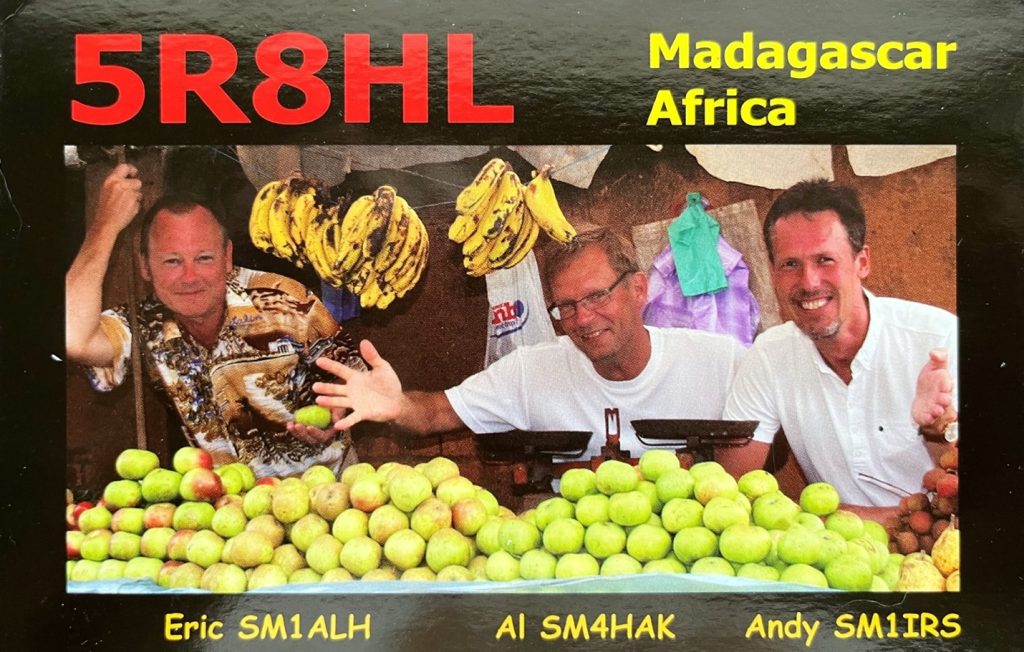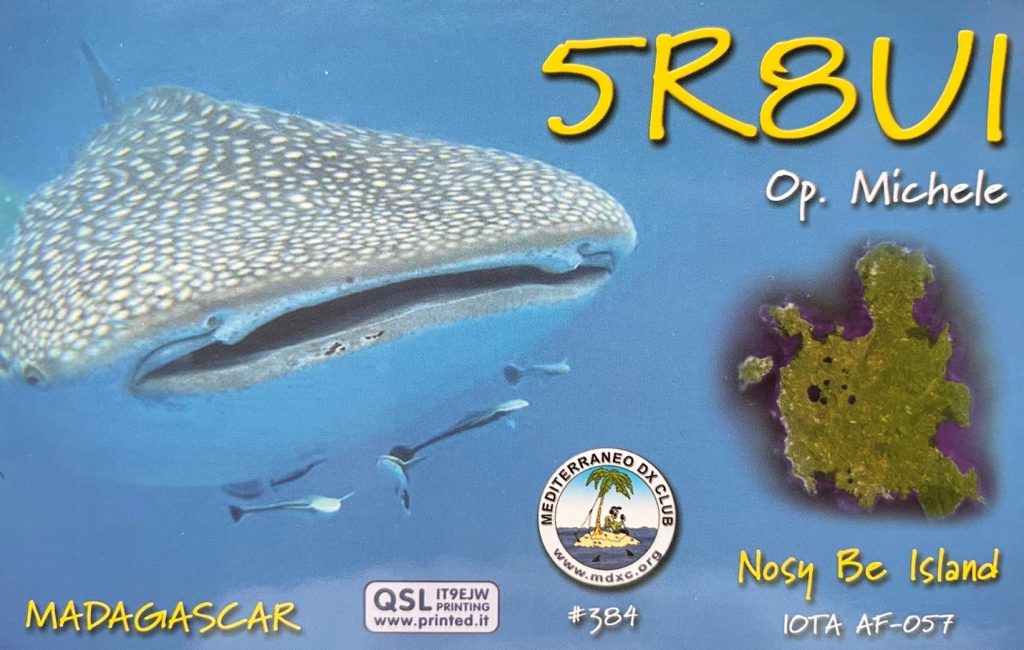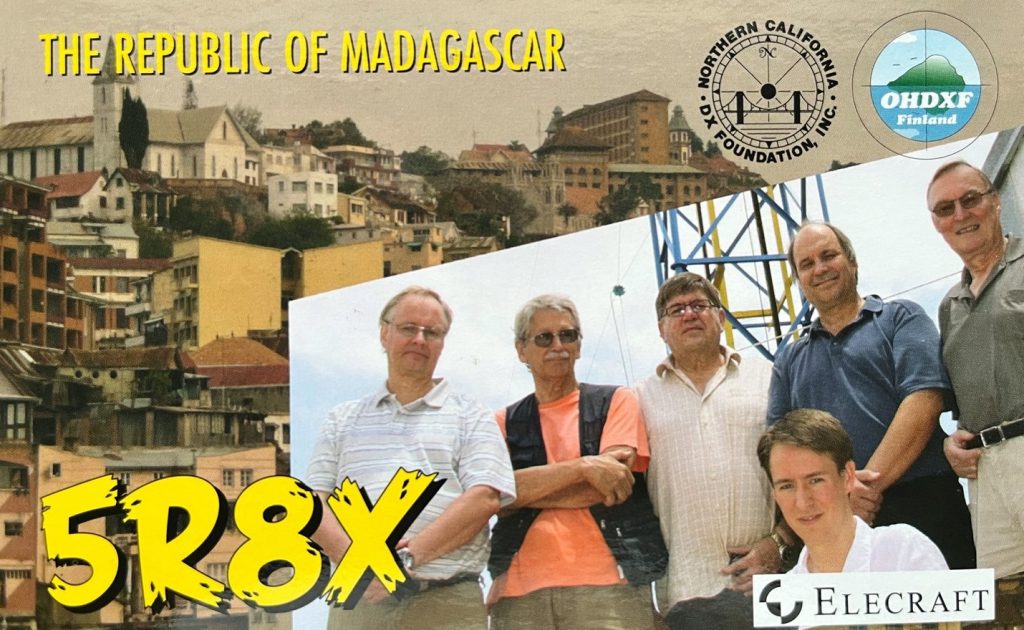 Tom, KB8UUZ, DX Engineering technical writer, reached the 5R8M DXpedition from Nosy Be Island in October 2014. The 16-operator 5R8M team logged nearly 70,000 QSOs during 13 days on Nosy Be—Madagascar's largest tourist resort. The island sits off the northwest coast of Madagascar and has a population of close to 110,000.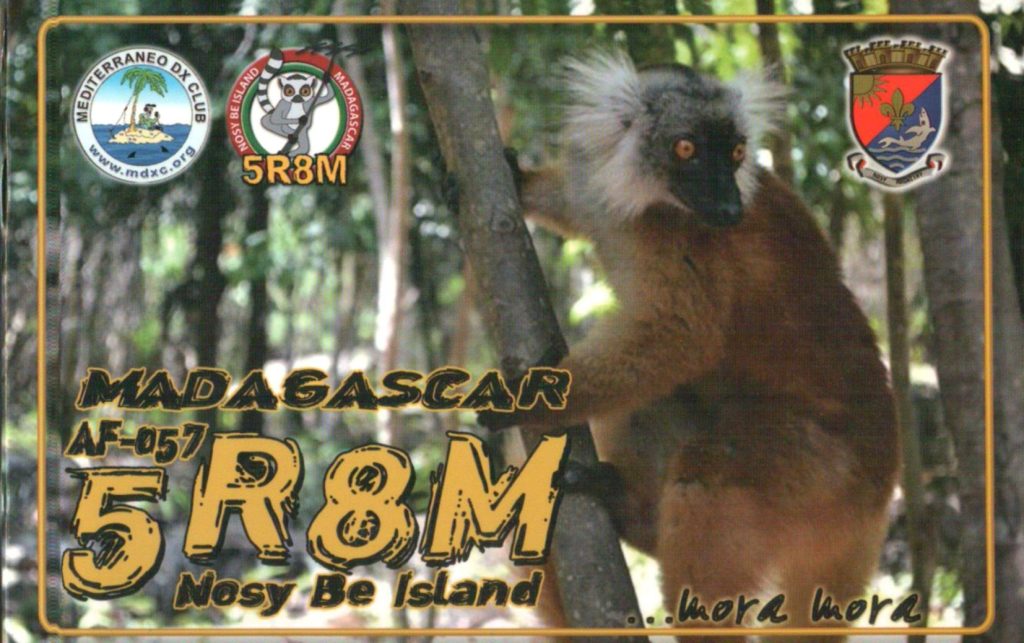 George, K3GP, DX Engineering customer/technical support specialist and active RTTY contester, reached Kenneth, 5R8GQ in September 2000. As the card notes, 5R8GQ won the CQ WW DX RTTY Contest, Single Op All Band Africa, that same year.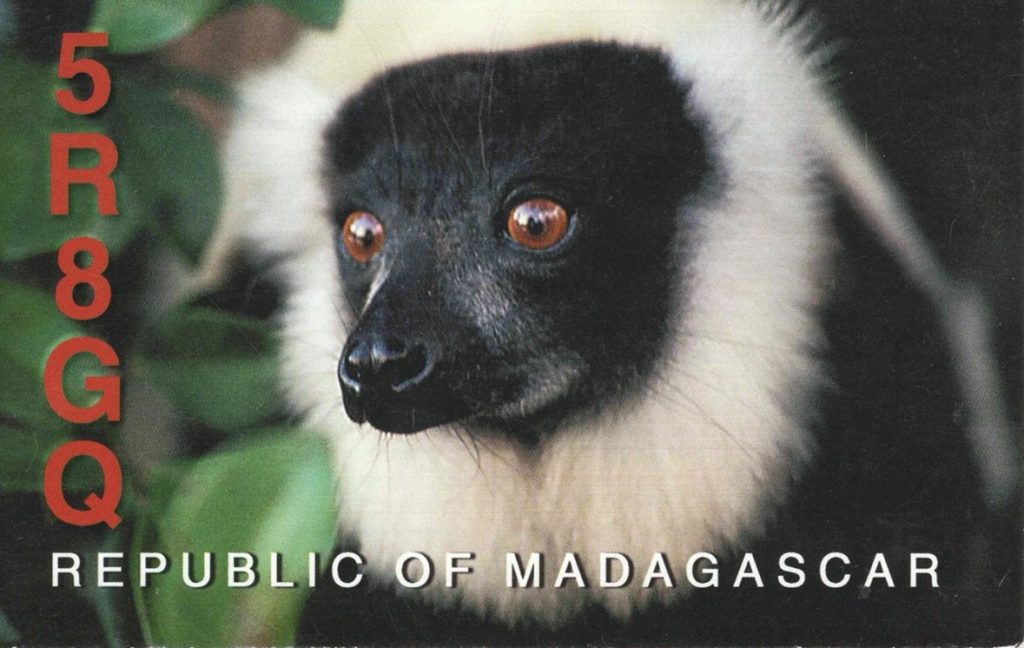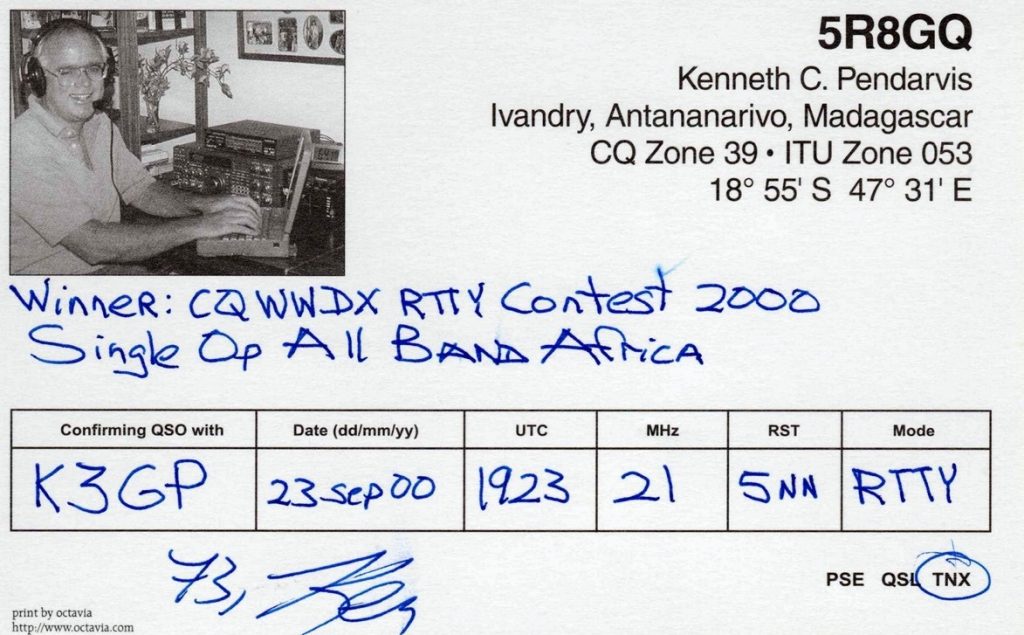 Dave, K8DV, DX Engineering customer/technical support specialist, reached 5R8VB in March 2007 on 20M CW.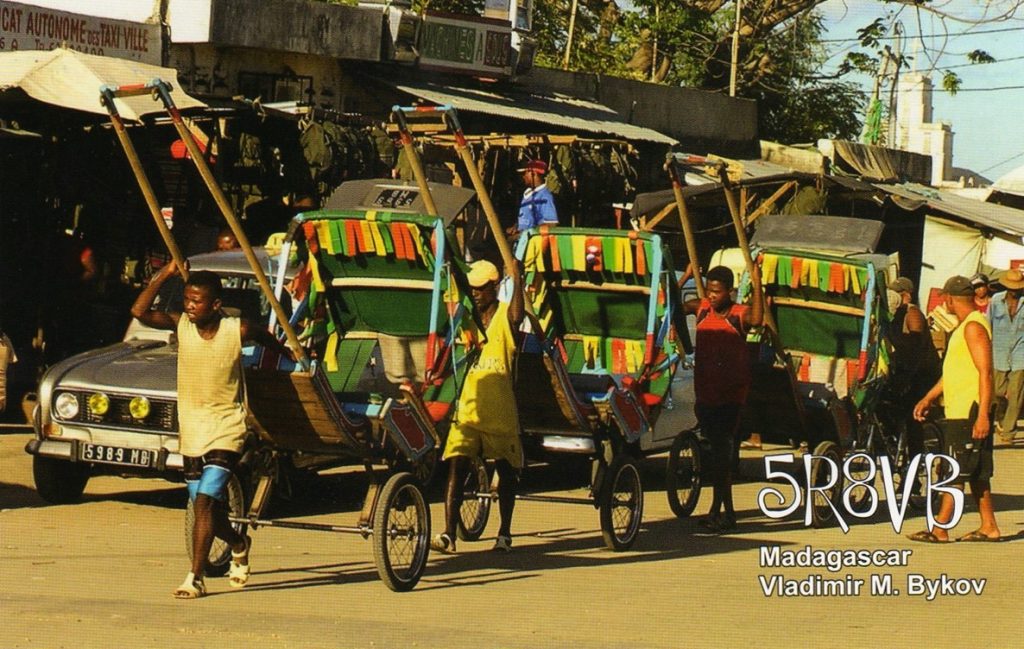 "I'll take Islands for $1,000, Mayim."
Back to our geography question. If Madagascar is the world's fourth largest island in terms of square miles, what are the top three? If you answered Greenland (836,330 square miles), New Guinea (317,150 square miles), and Borneo (288,869 square miles), give yourself a gold star. If you also knew the square mileages, maybe it's time to go outside and get some fresh air.
Want to upgrade your DXing capabilities? The Elmers at DX Engineering are here to lend an ear. Reach out to them at Elmer@DXEngineering.com. Find everything you need at DXEngineering.com to up your game, including transceivers, antennas, amplifiers, headsets, and more.