Laos QRV in November
The XW4DX Laos DXpedition is scheduled for November 16-27 from this 101st most-wanted DXCC entity. As the XW4DX website notes, hams in some parts of the world have had a much more challenging time putting Laos in their logbook over the years, so instead of focusing on recording the most possible QSOs, XW4DX will be concentrating on "openings towards the difficult areas, like the East Coast of NA. We will have antennas for both short and long path for this area."
The XW4DX team will be on all HF frequencies except for 80M and 30M, which are not allowed in Laos (60M and 6M are also not permitted). There will be five stations for this SSB/CW/Digital operation, with a focus on the two permissible low bands—160M and 40M.
About Laos
The landlocked Southeast Asian country of Laos, officially known as the Lao People's Democratic Republic, is bordered by China and Myanmar to the northwest, Vietnam to the east, Cambodia to the southeast, and Thailand to the west and southwest. At 91,429 square miles, it is slightly larger than Idaho but smaller than Oregon. Its diverse population of 7.7 million is divided among 17 provinces and one prefecture. In 1953, Laos gained full independence from France.
Geography Question of the Month
Let's have a little fun with November's OnAllBands geography puzzler. Laos is one of a few countries with only four letters in its name. How many more can you name? Here's a hint: There are a total of twelve. Good luck…and no four-letter words if you get it wrong, please.
QSL Cards
The active hams at DX Engineering have had great success contacting Laos over the years—a good reason to contact them for help with your gear if you'd like to do the same. Here are a few of the QSL cards from their collections.
Tom, KB8UUZ, DX Engineering technical writer, received this card from XW4XR from Vientiane—Laos's capital and largest city. It has a population of slightly more than one million.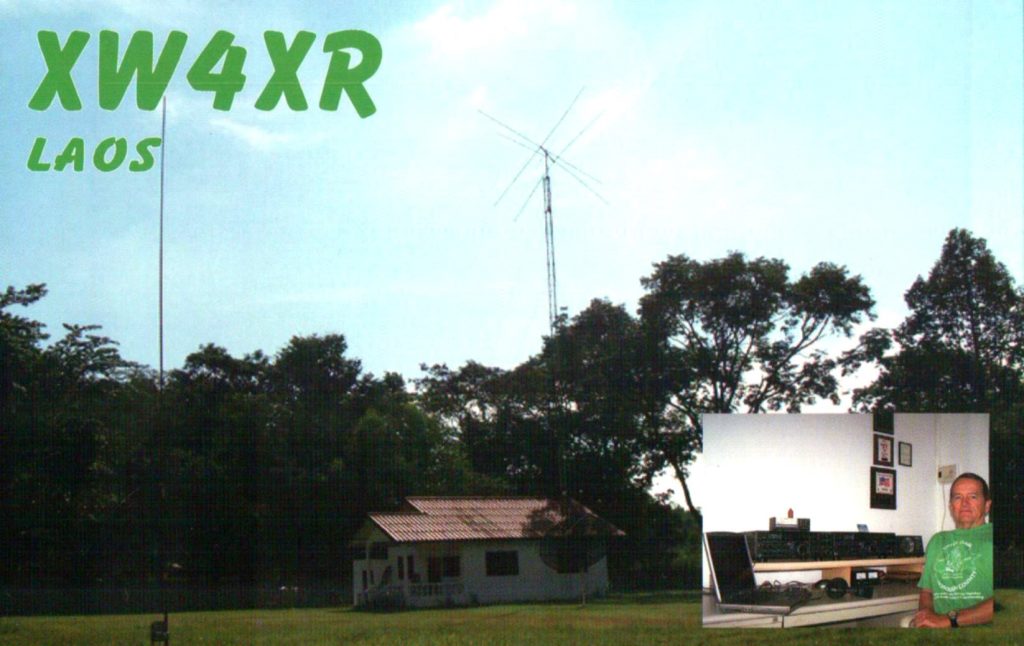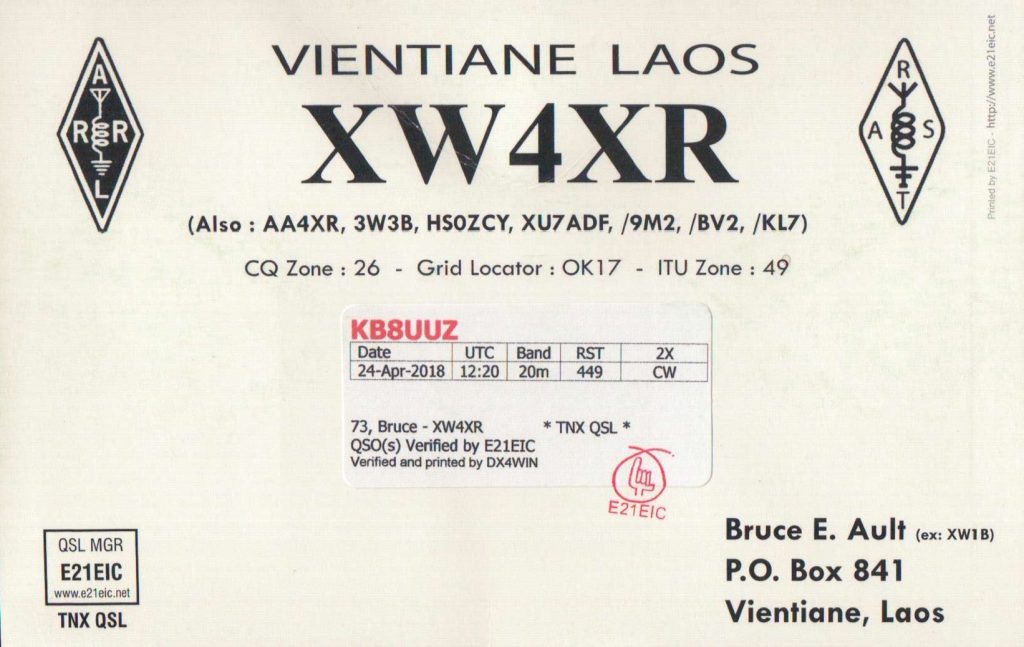 Mark, W8BBQ, DX Engineering customer/technical support specialist, reached XW3DT in November 2011 on 2M CW. The QSL card displays the Patuxai Arch, a war monument in downtown Vientiane. Built from 1957-1968, the Patuxai is dedicated to those who fought for independence from France.
Dave, K8DV, DX Engineering customer/technical support specialist, worked XW1B on 20M RTTY back in May 2008.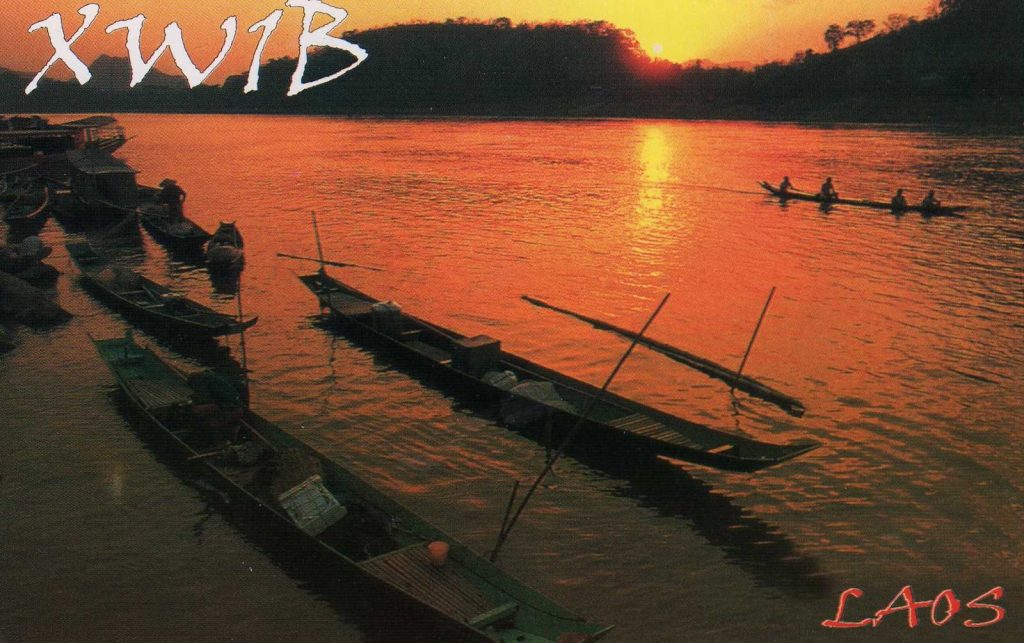 Wayne, K8FF, DX Engineering customer/technical support specialist, received this card from XW8CA.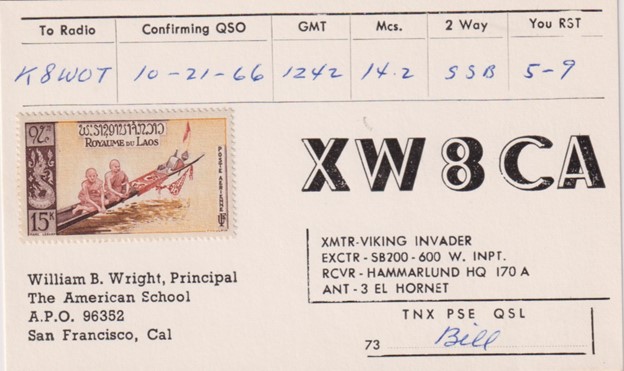 I'll take four-letter countries for $1,000, Ken.
Before we reveal the answer to today's geography stumper, please note that the following countries all have much longer formal names, but we've gone with the commonly used name to make things simple. Okay, can you name all the countries with just four letters in their name? In alphabetical order, here they are: Chad, Cuba, Fiji, Guam, Iran, Iraq, Laos, Mali, Niue, Oman, Peru, and Togo. For further bragging rights, can you name the landlocked countries, other than Laos, from this list? Answer: Chad and Mali. Both Iran and Iraq are considered almost landlocked countries.
Want to upgrade your DXing capabilities? Find everything you need at DX Engineering, including transceivers, amplifiers, antennas, headsets, and more.
Editor's Note: Every month, DX Engineering features QSL cards from our team members' personal collections. To highlight upcoming DXpeditions, we'll be displaying a few of our favorite cards along with details about what it took to make these contacts. We're excited to share some of the special cards pulled from the thousands we've received over the years. We look forward to seeing your cards as well!