Editor's Note: Every month, DX Engineering features QSL cards from our team members' personal collections. To highlight upcoming DXpeditions, we'll be displaying a few of our favorite cards along with details about what it took to make these contacts. We're excited to share some of the special cards pulled from the thousands we've received over the years. We look forward to seeing your cards as well!
Guinea-Bissau QRV in October
The seven-operator, four-station J5T/J5HKT DXpedition is scheduled to be active from the western African nation of Guinea-Bissau (population 1.87 million) from October 9-22. Set up on Bubaque (IOTA AF-020), one of the  Bijagos Islands, the Italian team of hams will be operating on CW, SSB, RTTY, and FT8. As of September, this largely rural nation, bordered on the north by Senegal and to the southeast by Guinea, was ranked as the 111th Most Wanted DXCC Entity per Clublog.
Located off the coast of Guinea-Bissau in the Atlantic Ocean, the 88 islands and islets that make up the Bijagos archipelago have a population of around 30,000, with 6,500 living on heavily forested Bubaque. Only 20 of the islands are populated. In addition to speaking Portuguese and Creole, those living in the Bijagos also speak Bidyogo, a language exclusive to this island group.
To get an idea of its size, Guinea-Bissau (13,948 square miles) is about 4,000 square miles larger than Vermont, ranking it 43rd out of 55 African nations. Its independence from Portugal was declared on September 24, 1973.
QSL Cards
Here are a few of the QSL cards from Guinea-Bissau collected by the active operators at DX Engineering over the years.
Tom, KB8UUZ, DX Engineering technical writer, reached the J52HF DXpedition/humanitarian mission executed by the Verona section of the Italian Radioamateurs Association in February 2013. Money raised from donations and QSL cards went to benefit the Cumura Mission.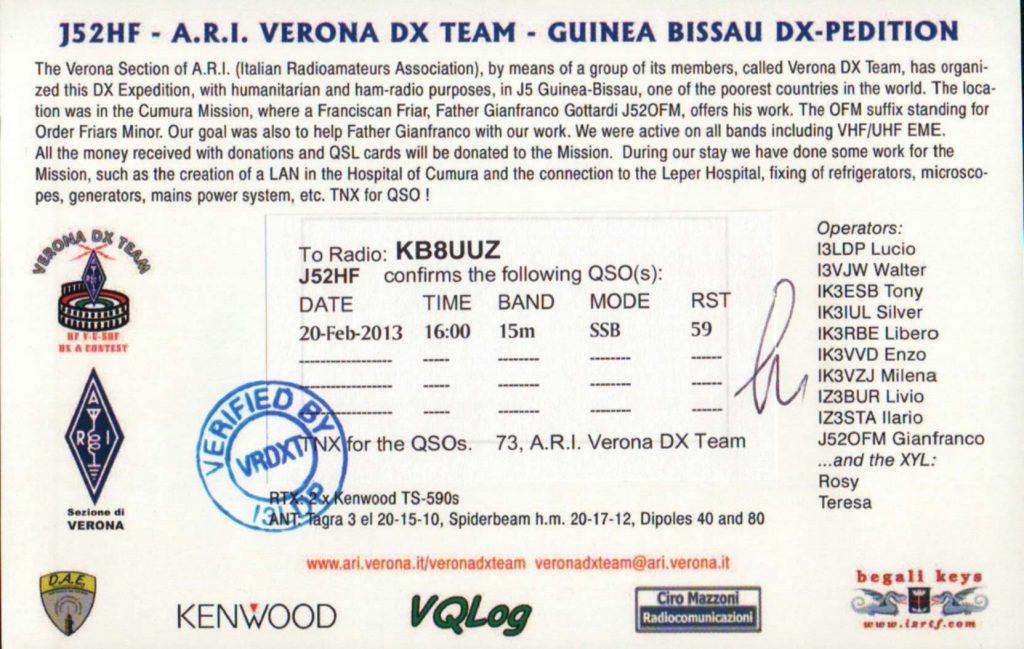 David, K8DV, DX Engineering customer/technical support specialist, contacted the J5T DXpedition in November 2017 on 160M CW; J5C in January 2008 on 40, 20, and 17M SSB, 30M RTTY, and 20 and 15M CW; and J5NAR on 80 and 15M CW. The 16-member J5C team from Bubaque recorded more than 61,900 QSOs during 11 days of operation. The seven-operator J5T DXpedition logged 63,600 QSOs over 13 days on Bubaque.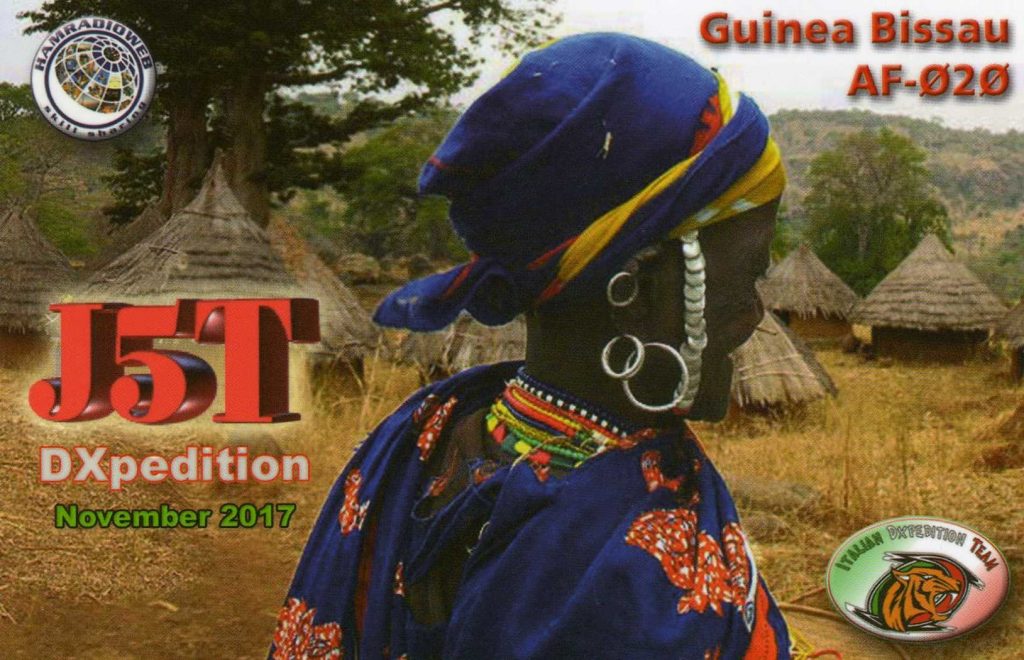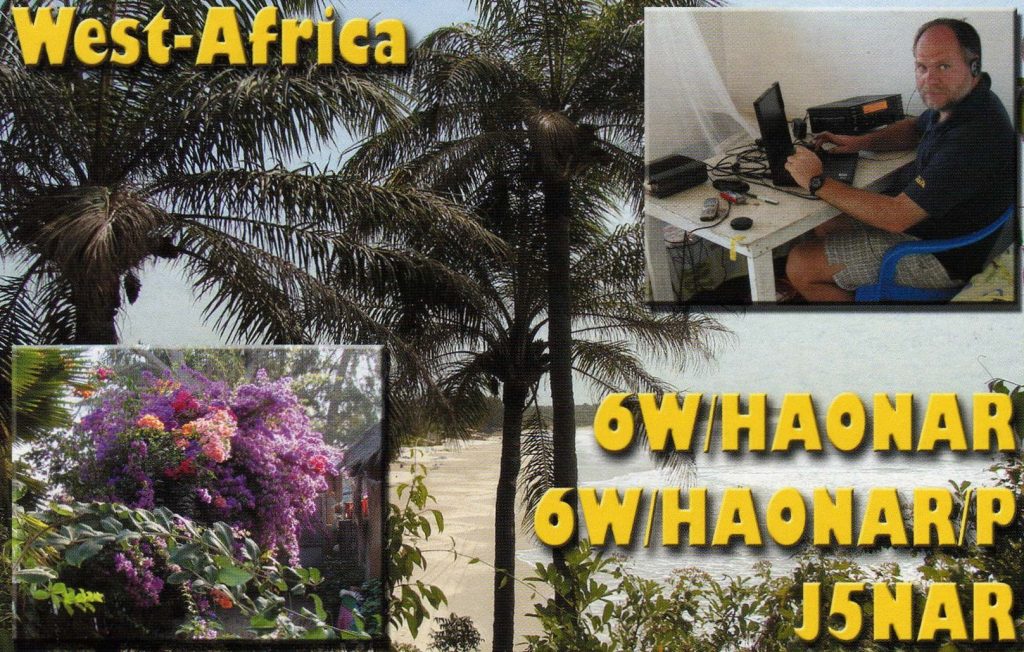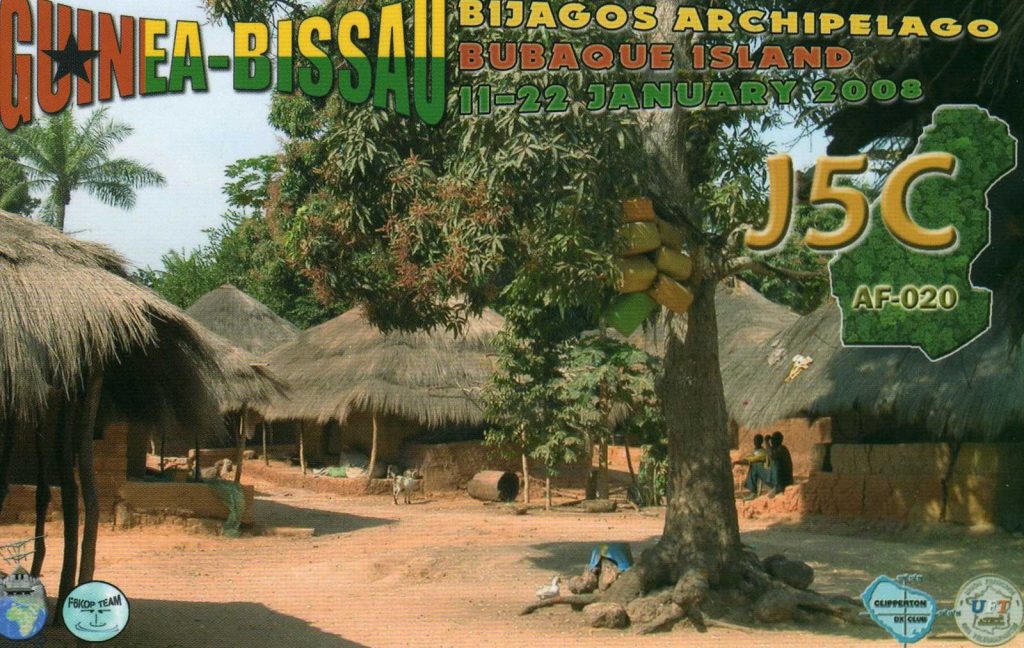 Want to upgrade your DXing capabilities? The Elmers at DX Engineering are here to lend an ear. Reach out to them at Elmer@DXEngineering.com. Find everything you need at DXEngineering.com to up your game, including transceivers, antennas, amplifiers, headsets, and more.