Editor's Note: Every month, DX Engineering features QSL cards from our team members' personal collections. To highlight upcoming DXpeditions, we'll be displaying a few of our favorite cards along with details about what it took to make these contacts. We're excited to share some of the special cards pulled from the thousands we've received over the years. We look forward to seeing your cards as well!
Austral Islands Active in March
Experienced South Pacific DXpeditioner Jacek, SP5EAQ, is scheduled to be operating from Rimatara (IOTA OC-050), part of the Austral Islands, through March 31 on 80-10M SSB. The Austral Islands ranked as the 60th Most-Wanted DXCC Entity per Clublog as of February. Call signs will be FO/SP5EAQ and TX5AQ (only during the CQ WW WPX SSB Contest, March 26-27). Jacek's rig of choice is the Elecraft K3.
His previous DXpeditions include VK9NE (Norfolk Island, 2019); T2AQ
(Tuvalu, 2017); ZK3Q (Tokelau, 2014); A3EAQ (Tonga, 2013); and T30AQ, West Kiribati, 2011). He has recorded more than 100,000 QSOs from South Pacific islands over his career. For up-to-date information on the DXpedition, visit his website.
About Rimatara and the Austral Islands
Rimatara is the westernmost inhabited island in the Austral Islands of French Polynesia. With a population around 870, this 3.3-square-mile circular volcanic plateau is part of one of the Austral's two archipelagos—Tupua'i Islands, which includes Iles Marie, Rurutu, Tupua'i Island proper, and Raivavae. Iles Marie (also known as Hull Island) is an uninhabited small coral atoll that once served as a penal colony. The Austral's other archipelago is known as the Bass Islands.
The Austral Islands, an overseas country of the French Republic in the South Pacific, has a total population close to 7,000. The inhabitants of Rimatara are known for their basket-weaving skills, crafting handwoven items out of thornless fara pae'ore leaves. Visitors might also be lucky to spot a khul's lorikeet, an endangered bird species still found on Rimatara and displayed in all their splendor in this painting by Edward Leer: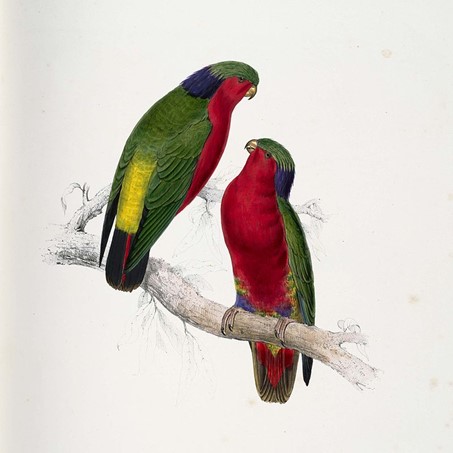 QSL Cards
Here are a few of the QSL cards from the Austral Islands collected by the active operators at DX Engineering over the years.
Tom, KB8UUZ, DX Engineering technical writer, produced three Austral Islands QSL cards from his collection: TX5D, October 2013 (10M SSB); TX5RV, March 2013 (10M SSB); and TX6G, March 2014 (10M SSB). All three DXpeditions were from 6.9-square-mile Raivavae Island (population 900).
The TX5RV and TX6G cards show the last remaining original stone tiki statue on Raivavae. Most artifacts were plundered from the island and can now be found in private collections and museums. In local dialect, Raivavae means "open sky."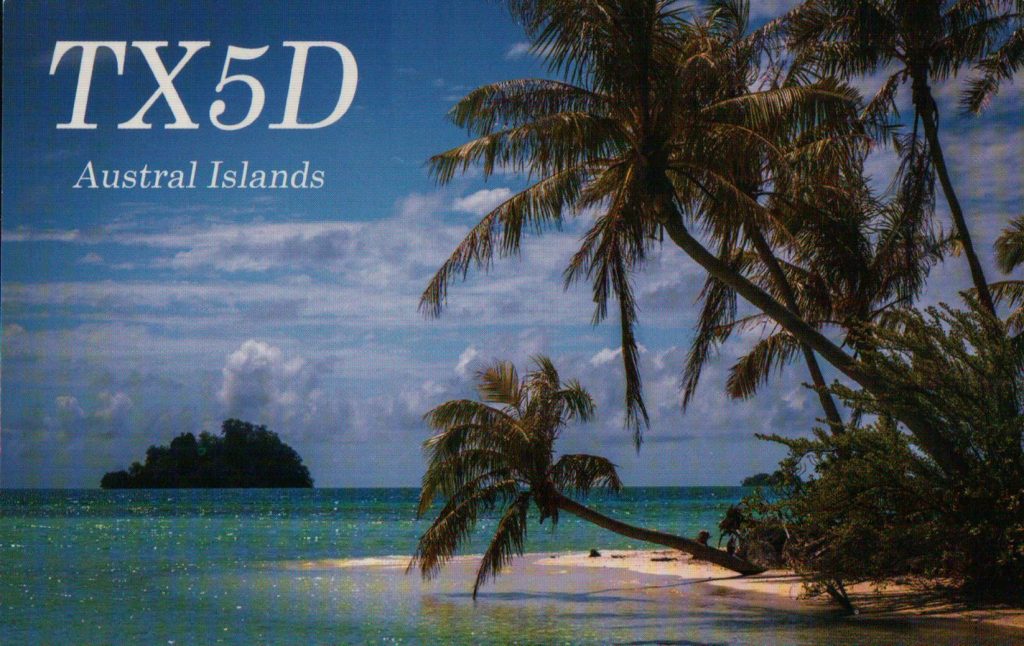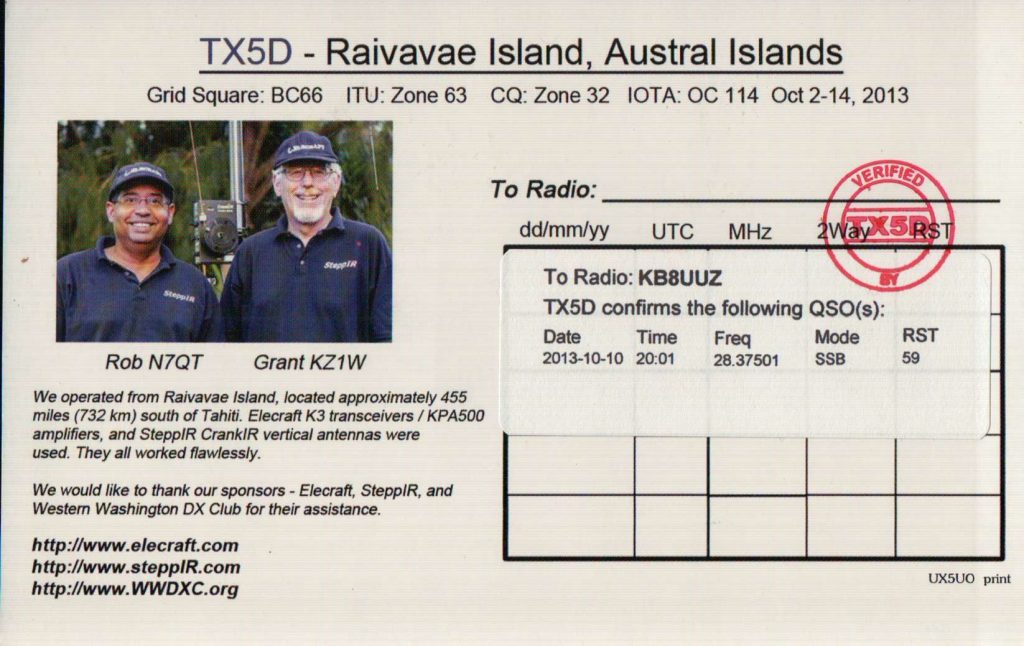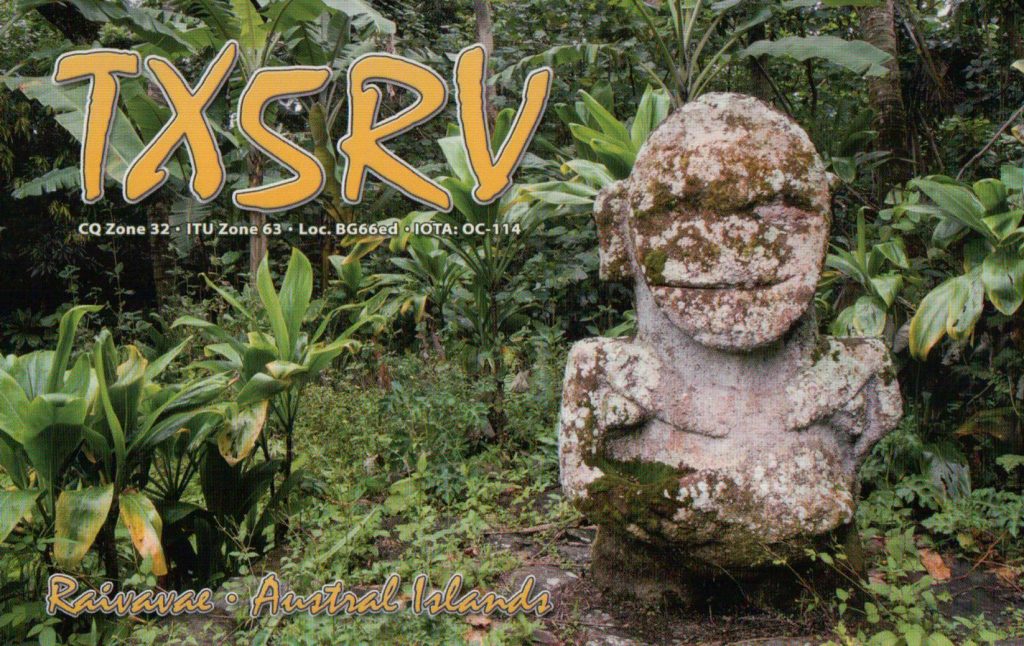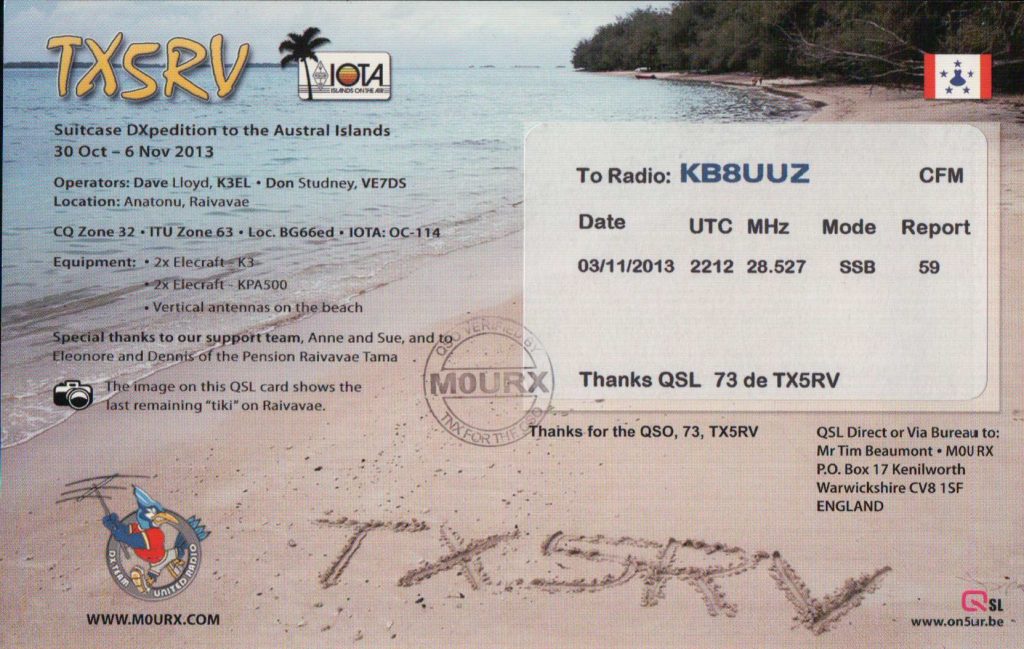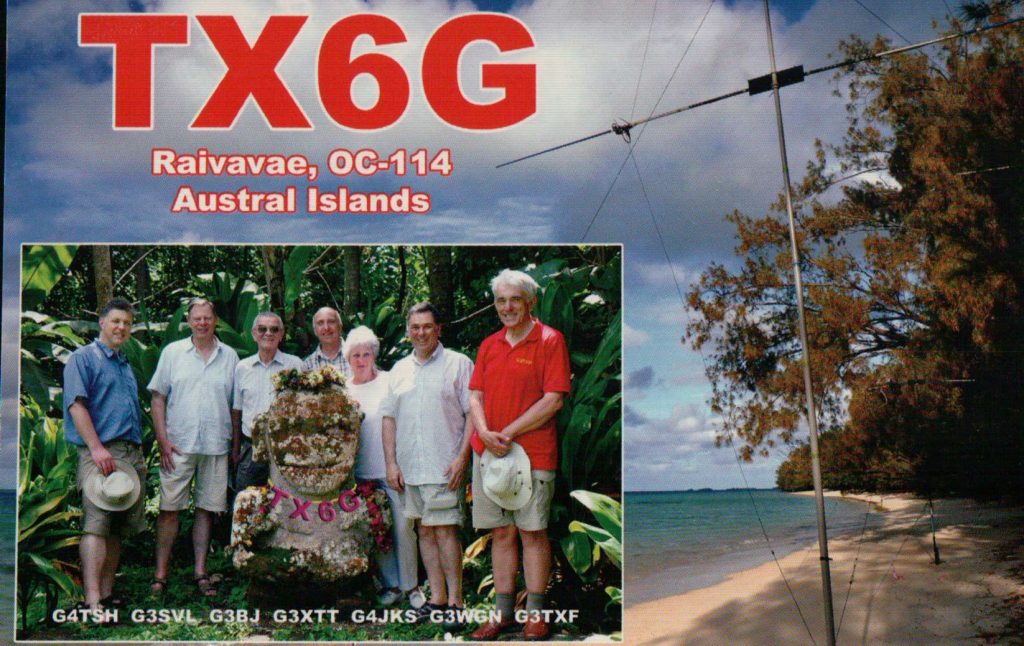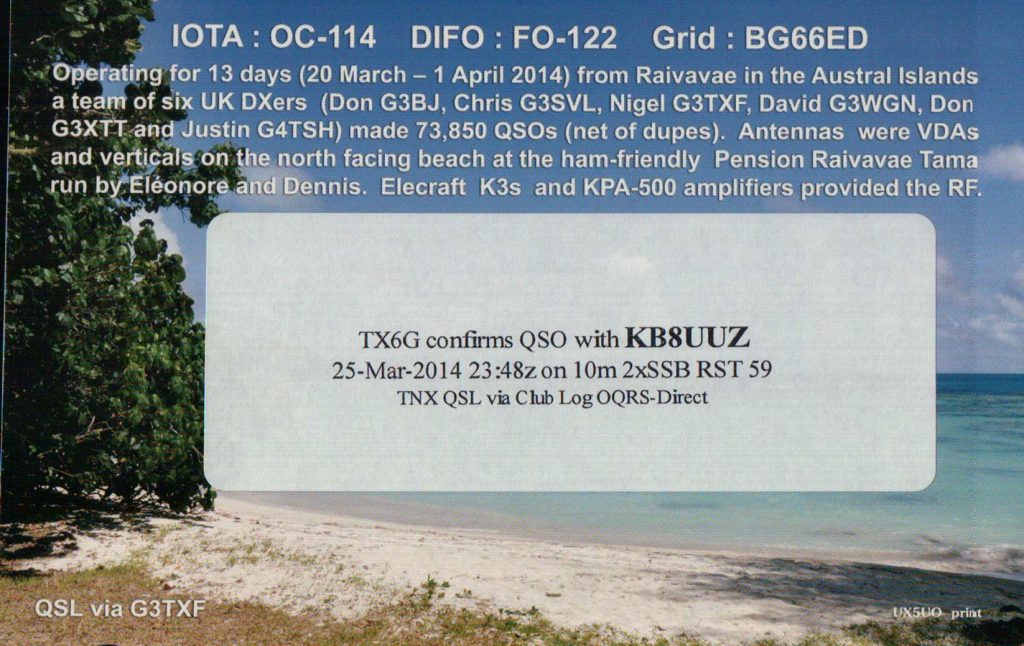 Mark, W8BBQ, DX Engineering customer/technical support specialist, contacted the TX0HF DXpedition from Tubuai Island in July 2012. Tubuai is the main island of the Austral Islands group. Located 400 miles south of Tahiti, Tubuai has a population of around 2,200. In 1789, the island became forever enmeshed with the bloody history of the HMS Bounty, when mutineer Fletcher Christian chose Tubuai as what he hoped to be a permanent hiding place after reviewing Captain William Bligh's maps. The mutineers departed the island after two months.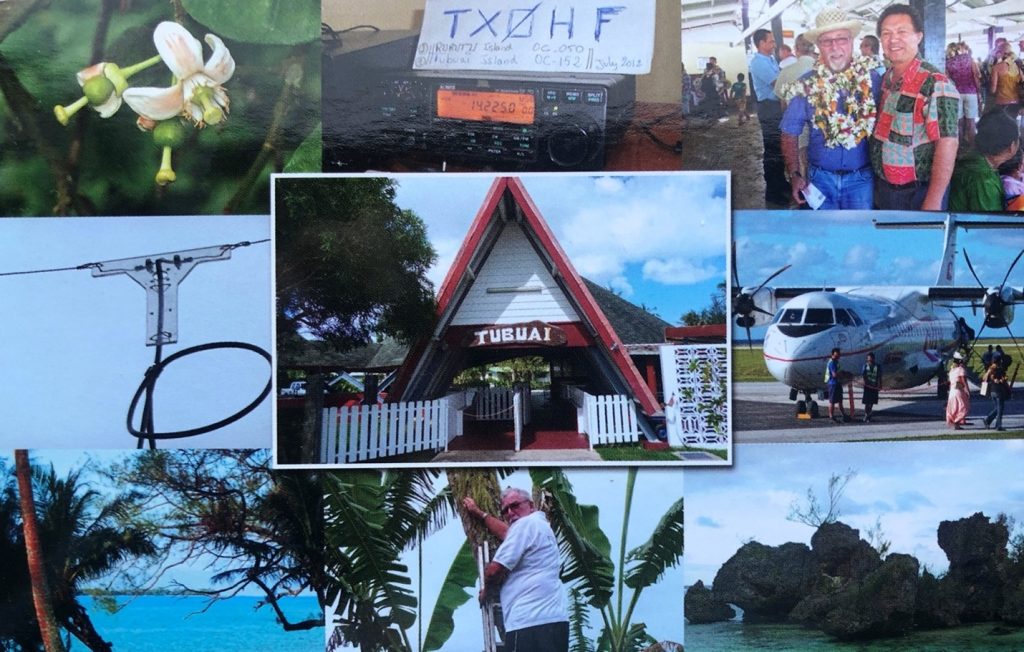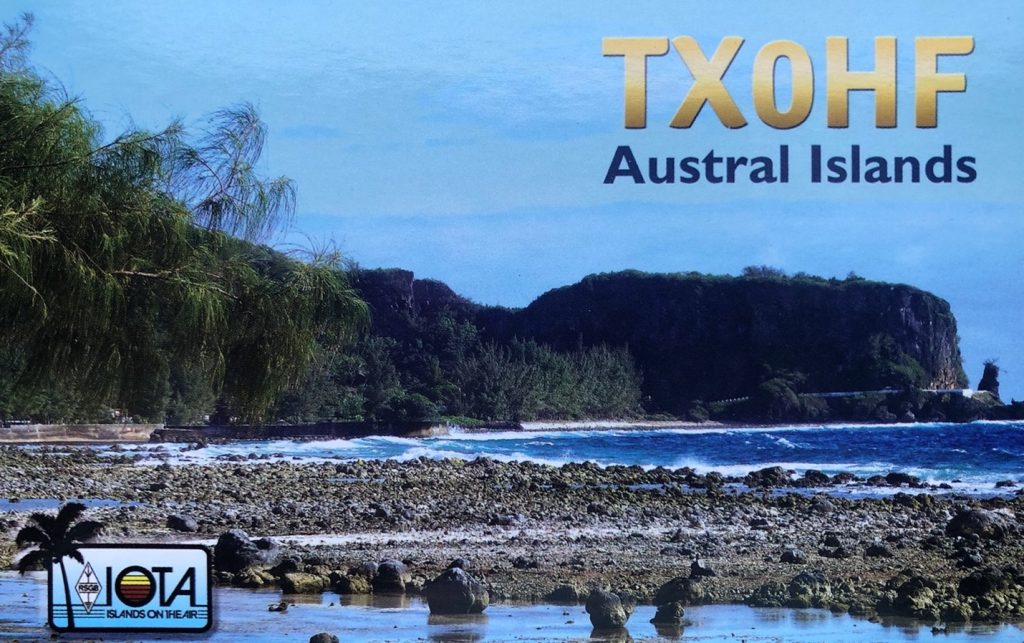 David, K8DV, DX Engineering customer/technical support specialist, reached TX5SPA from Tubuai on 80M CW, 20M RTTY, and 17M SSB in September/October 2009.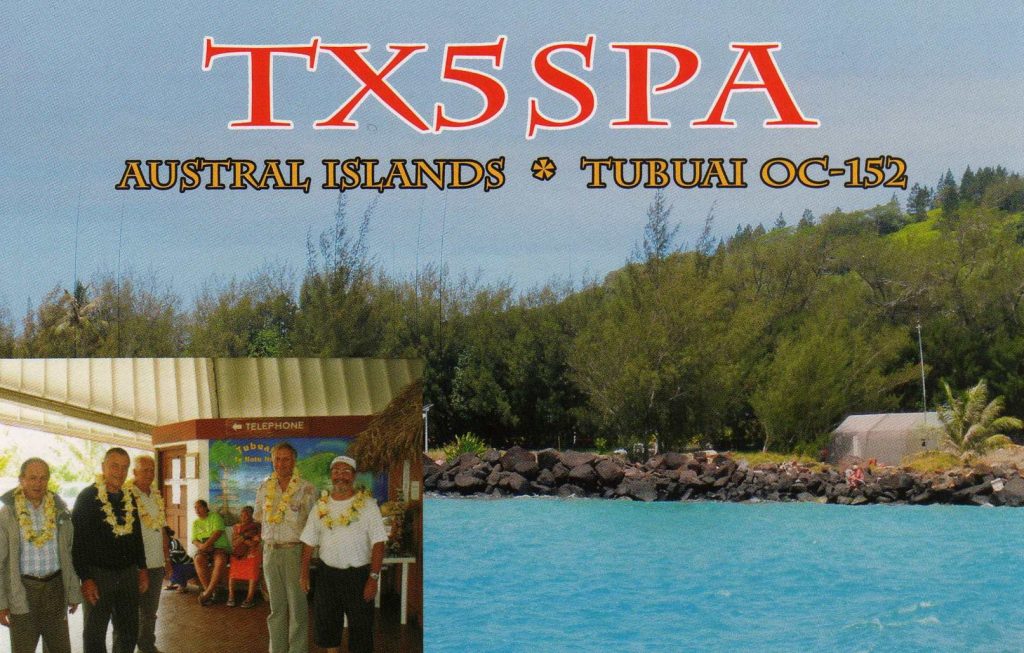 Want to upgrade your DXing capabilities? The Elmers at DX Engineering are here to lend an ear. Reach out to them at Elmer@DXEngineering.com. Find everything you need at DXEngineering.com to up your game, including transceivers, antennas, amplifiers, headsets, and more.