Editor's Note: Every month, DX Engineering features QSL cards from our team members' personal collections. Usually we showcase ones from entities that are currently active or will soon be QRV. However, with so many DXers homebound these days and the number of DXpeditions reaching all-time lows, we've altered the rules. Until things change, you can expect a bit of everything from our stockpiles of QSL cards, including the rarest of the rare, personal favorites, and recent QSLs of historical significance.
Cincinnati Reds 30th Anniversary of the 1990 World Series
With the baseball season almost upon us, we thought it was a good time to turn our attention to the Grand Old Game for our latest QSL card post. Let's turn the way-back machine to 1990: George H. W. Bush was Time's "Man of the Year," Home Alone was a big hit at the box office, Microsoft included a Solitaire game in Windows for the first time, TV watchers tried to unravel the mysteries of Twin Peaks, and the Cincinnati Reds won their first World Series in 14 years.
Led by new manager Lou Piniella, the Reds started the campaign by winning their first nine games and never looked back, leading their division from wire-to-wire and going on to sweep the World Series from the heavily favored Oakland A's. In the wake of the Pete Rose betting scandal, it was a sweet victory for both the team and the Queen City, which hadn't seen a World Series triumph since the back-to-back wins (1975-76) of the incomparable Big Red Machine, who historians peg as one of the greatest ball clubs ever assembled. As Reds fans will also sadly note, 1990 marked the team's last World Series win.
To honor the three-decade-old victory and the players who made it happen (the "Nasty Boys," Rob Dibble, Norm Charlton, and Randy Myers; Eric Davis; Chris Sabo; Barry Larkin; Tom Browning; Paul O'Neill, et. al.), Dave, K8DV, DX Engineering customer/technical support specialist, designed the card below for a special operating event sponsored by the Cincinnati Reds and the Milford, Ohio, Amateur Radio Club, of which Dave is its current president: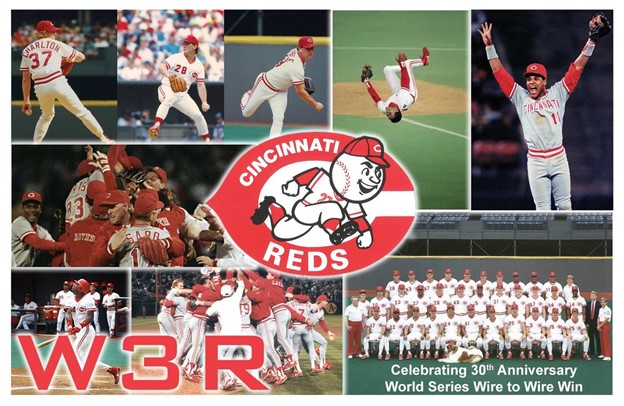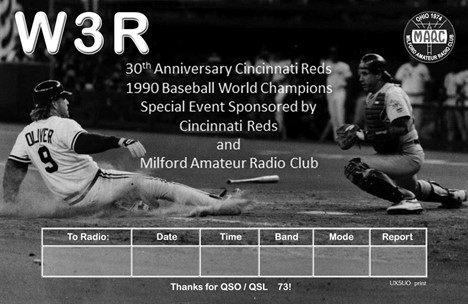 Ham operators will also note that Oakland A's legend, multiple World Series champ (1972-74), and longtime Ham who used to take his gear on the road, Joe Rudi, NK7U, has made a name for himself in amateur radio circles as a formidable contester, scaling antenna towers rather than scaling outfield walls. Tom, KB8UUZ, DX Engineering technical writer, has had great success contacting him over the years.
"Joe ran a contest station from his QTH in Oregon as well as just getting on the air," Tom said. "I was lucky to contact him 28 times between 1997 and 2016. I worked his station on 160, 80, 40, 20, 15, 10, and 6 meters."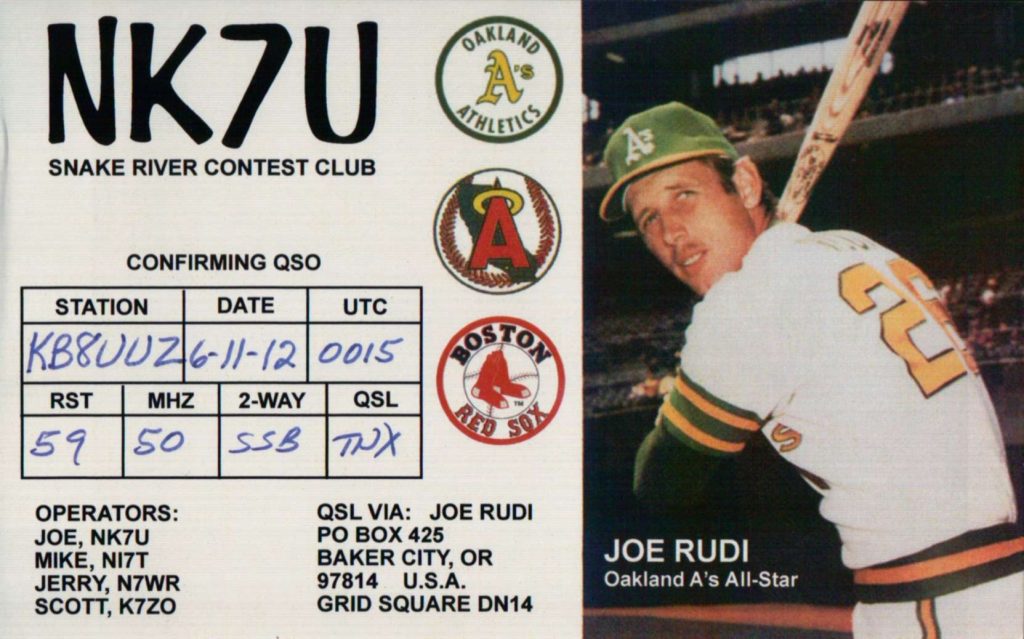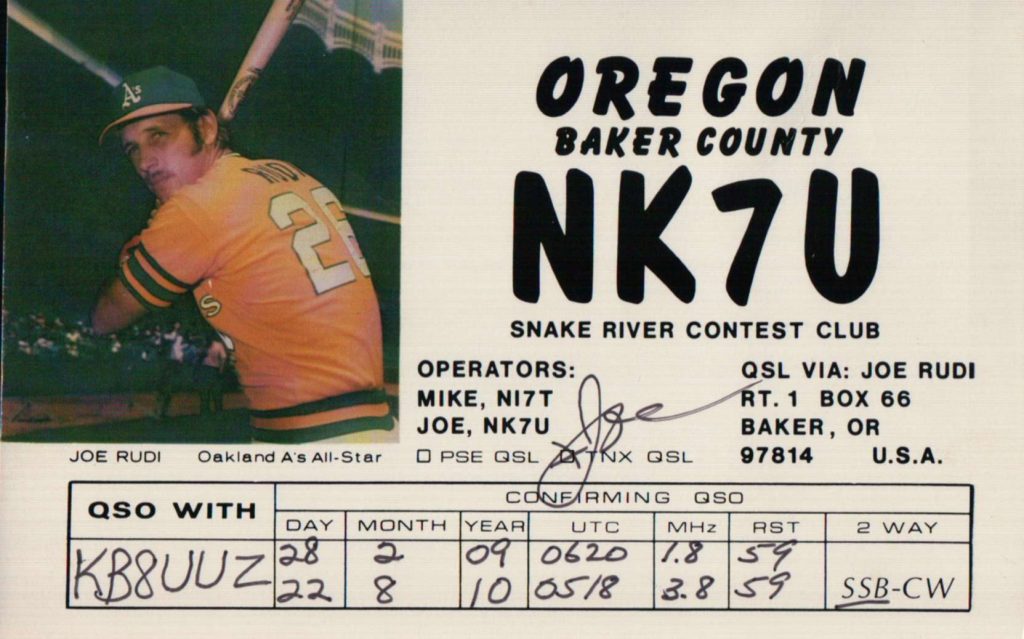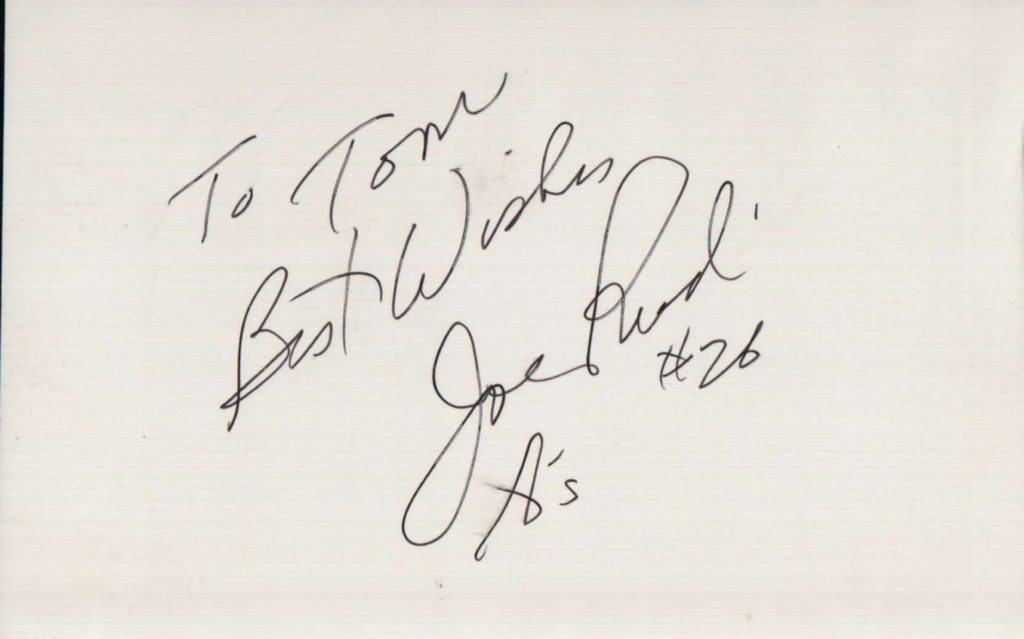 Want to upgrade your DXing capabilities? The Elmers at DX Engineering are here to lend an ear. Reach out to them at Elmer@DXEngineering.com. Find everything you need at DXEngineering.com to up your game, including transceivers, antennas, amplifiers, coaxial cable assemblies, headsets, and more.