Every month, DX Engineering will be featuring QSL cards from our team members' personal collections. Some of our favorites are displayed on the cover and inside our Fall/Winter Catalog, along with stories about what it took to make these contacts. We're excited to share some of the special cards pulled from the thousands we've received over the years. We look forward to seeing your cards as well!
In the spirit of the holiday season, we're featuring QSL cards from two DXpeditions to Christmas Island: VK9XT 1988 and VK9X/K7CO 2014.
Christmas Island VK9XT, 1988
Bob W5OV, sales manager at DX Engineering and member of the DXCC Honor Roll (more than 331 entities confirmed), worked the 1988 VK9XT DXpedition to Christmas Island on 20 meter SSB. The DXpedition logged more than 37,000 QSOs. This Australian territory in the Indian Ocean (population of about 1,800) has been activated several times over the years, including the 2014 eight-operator VK9XSP DXpedition (more than 52,000 QSOs logged with 173 countries) and most recently several different teams that operated on the island in 2018.
As of November, Christmas Island ranked at #91 on ClubLog's Most-Wanted DXCC List.
Christmas Island VK9X/K7CO, 2014
Twenty-six years later, DX Engineering customer/technical support specialist Mark W8BBQ worked the VK9X/K7CO Christmas Island DXpedition on 10 and 15 meter SSB. It's always a thrill to have DX Engineering gear operating from the far-flung corners of the world. The front of this QSL features one of DX Engineering's TransWorld Antennas—powerful and portable HF antennas that can be set up in minutes and provide exceptional coverage from 80 to 10 meters, depending on the model you choose. How easy is it to deploy a TW antenna? Check out this video.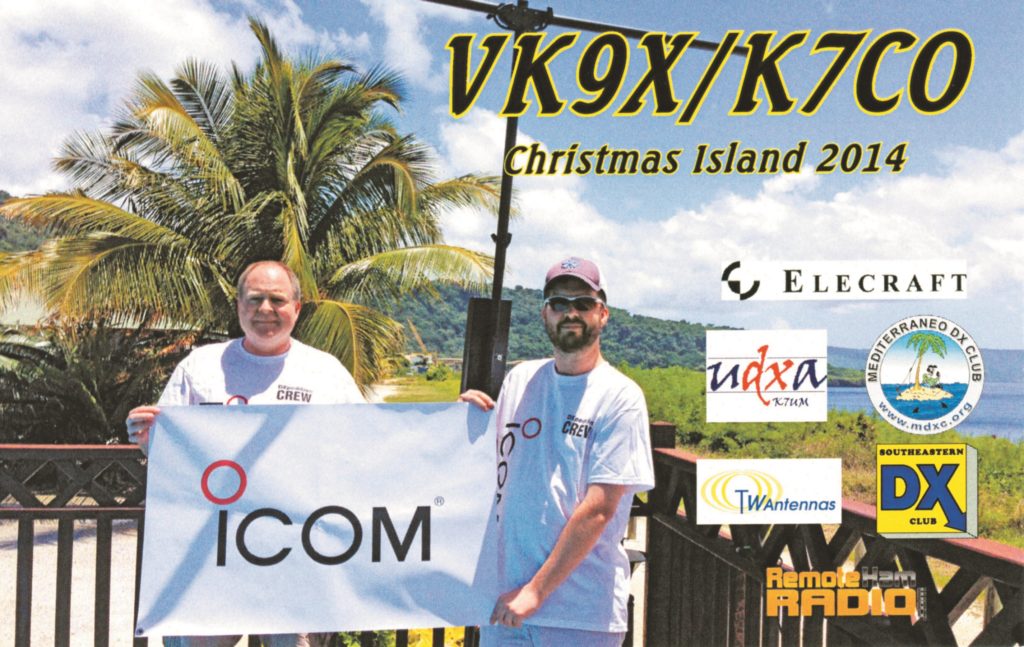 From all of us at DX Engineering, Happy Holidays and 73!
Up Next in January: QSL cards from space!