Protecting your Ham Radio investment with necessary equipment such as lightning protectors is critical. But what about taking steps to protect the actual components that are safeguarding your station?
Exposed to the elements, weather-sensitive connections can allow penetration by an amateur operator's biggest nemesis—water. As all Hams have different needs and preferences when it comes to grounding, operators should ideally find a solution that provides flexible options for mounting non-water-tight equipment in a range of configurations. That's why DX Engineering developed its DXE-UE-2P Utility Enclosure Package.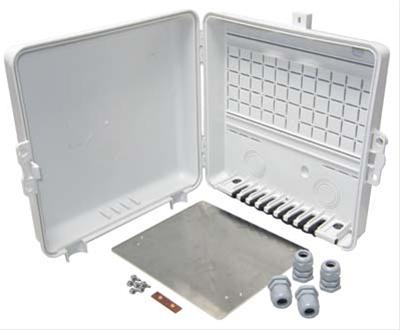 Designed for outdoor mounting of lightning protectors or other equipment, the sturdy utility enclosure is made from weather-resistant, high-impact thermoplastic that protects the inside components against rain, insect intrusion, and collateral damage. The unit's housing and wire entrance grommets are fire-retardant, UV-stabilized, and built to withstand the effects of weathering, environmental contaminants, chemical fertilizers, and insecticide sprays.
Worried that the enclosure won't match the aesthetics of your location? Not a problem. Just paint the enclosure with latex or oil-based paint and it will blend in perfectly no matter where it's mounted—on exterior walls covered with wood, aluminum or vinyl siding, or in the mortar joints of a brick or block wall. Other options include mounting the enclosure to a pipe or post with DX Engineering stainless steel band clamps (not included), using the enclosures two pole mounting brackets.
What can go inside the box?
That's entirely up to you. No openings have been drilled in the top of the enclosure, allowing you to make your own holes using a drill saw for a number of applications. A typical setup may include three 50Ω coaxial lightning suppressors and one 75Ω receive protector mounted to the supplied, pre-drilled aluminum plate. A copper strap, which runs to a single-point ground system, can be bonded to the plate with the included clamp.
Further flexibility is provided by the 11 port openings—sealed by a weathertight foam insert—at the bottom of the enclosure:
Two large openings for conduit coaxial entry/exit
Nine smaller cable retention slots for coaxial cable, rotor cable, Telco lines, and more
The DXE-UE-2P Utility Enclosure Package includes:
13″ W x 14″ H x 4″ D enclosure
Six  stainless steel hex washer heads, slotted sheet metal #8 x 1/2″ screws for mounting the aluminum plate (4 screws) and the copper strap (2 screws)
8″ W x 11″ H x 1/8″ D pre-drilled 6061-T6 aluminum mounting plate
Four weathertight coaxial cable feedthrough couplers, ideal for most RG8U or RG-213 sized coaxial cable
One 2″ x 1/2″ x 1/8″ thick copper strap clamp with two drilled holes

For more information, read detailed instructions in the DXE-UE-2P Utility Enclosure Package owner's manual.
What do Hams think?
"I wanted to keep the cable entry into the house neat and clean, and this is the perfect solution. The enclosure is well made and sturdy, and comes with the necessary hardware. I cut a 1.5″ hole through the siding, and ran a PVC conduit into the basement, secured to the enclosure with a threaded coupler. I have a pair of lightning protectors mounted to the aluminum plate, along with a braided copper strap to ground the station, and a grounding wire lug connected to grounding rods. The connections are protected from the weather, but easy to access if needed."