Back in the day, folks used to say that you're never fully dressed without a hat. In the Ham world, DX Engineering Hot Rodz® Adjustable Antenna Capacity Hats for select vertical mobile and base station antennas make more than a fashion statement.
DX Engineering capacity hats—a series of horizontal stainless steel rods attached to the top of the antenna—offer a proven solution for improving gain and efficiency of single-band mobile verticals, such as Hustler and screwdriver-type adjustable frequency antennas from manufacturers including Diamond and MFJ. Hot Rodz can even shorten the height of a screw driver antenna by replacing the six-foot whip with a 24-inch mast while maintaining or increasing the antenna's efficiency.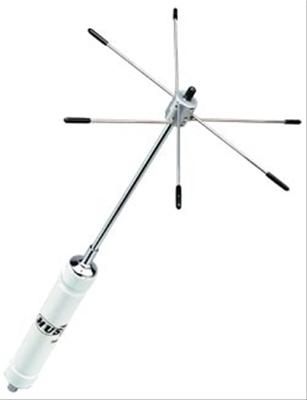 How They Work
When an antenna is shortened from its natural resonant length, the feedpoint becomes capacitive. To offset the additional capacitance, it is common to add inductance in the form of a loading coil to restore the resonance. However, the additional inductor increases the resistance, which increases the loss of the antenna.
Hot Rodz Capacity Hats add horizontal elements to the top of a vertical antenna, which reduces inductor resistance and counters the effects of the shortened vertical antenna. Extensive testing has shown that the improved efficiency and reduced loss resulting from use of a Hot Rodz Capacity Hat can significantly increase the RF power radiating from your antenna.
For specs, efficiency charts, installation instructions, and technical details, check out the DX Engineering Hot Rodz Adjustable Capacity Hat Manual.
DX Engineering Hot Rodz Antenna Capacity Hats come with:

Precision-machined 6061 T6 hub
Stainless steel set screws
3 sets of two 6 inch stainless steel rods
3 sets of two 12 inch stainless steel rods
3 sets of two 24 inch stainless steel rods
18 plastic safety tips
Aluminum hub
Optional Item:
Transformer Dual Impedance (DXE-MM-1)—a dual ratio UN-UN for coupling 50-ohm coax to an antenna with a feedpoint impedance of either 25 or 12.5 ohms, typically found in a mobile environment. With the Hot Rodz Antenna Capacity Hat installed, matching problems at the feedpoint will be handled by the rig's antenna matcher or with the DXE-MM-1.
Other useful items not included with the Hot Rodz kit are:
SWR Meter for fine-tuning the final assembly
Guy Ropes for providing additional support, if necessary
What do Hams Think?
"I purchased the Hot Rodz Cap Hat from DX Engineering recently and am absolutely thrilled by its performance. I am using the hat with the Hustler RS-20 standard resonator and two of DXE's own 24″ aircraft grade aluminum masts on 40 meters. This is a nice single-band setup for the budget-minded Ham."