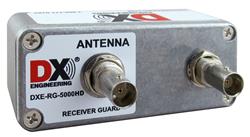 The front-end of your radio's receiver is vulnerable to a host of over-voltage villains. Radio frequency (RF) spikes rank at the top of the most-feared list. The good news for Amateur Radio operators is that there is an easy and affordable way to protect your receiver input against high levels of RF from nearby transmit signals that can literally blow out your sensitive equipment, costing you big bucks to repair or replace.
As Hams know, RF peaks are often the culprit when receivers suffer catastrophic failure caused by:
Receive antennas in very close proximity to transmit antennas
Field Day operations with many transmitters in close range
Multi-transmitter contesting sites
Neighboring Amateur and CB operators
Frequent high-power mobile encounters
An Innovative Solution
DX Engineering Receiver Guard Electronic RF Limiters (DXE-RG-5000HD and DXE-RG-5000) make a valuable insurance policy against damaged equipment whether for contesting, operating on Field Day, short wave listening, or everyday rag-chewing.
Receiver Guards use an electronic RF limiter covering 500 kHz to 150 MHz (insertion loss under 0.15 dB at 50 MHz and under 0.3 dB to 150 MHz). The devices feature a limiter that can reject 10 watts of receive antenna feedline RF while passing a signal of about 87 dB over S-9, which is only 25 mw—well under the point of front-end damage. When there are high levels of RF on your receive antennas, these guards generate far less harmonic noise than other limiters, which allows your station to continue to operate safely and competitively.
Other features and benefits of DX Engineering's Receiver Guards include:
Developed over years of extensive research and testing
Multi-stage protection
Used at multi-transmitter contest station K3LR, where dedicated receive antennas are exposed to high levels of RF radiated from close-by transmit antennas; after thousands of contesting hours, no rigs have ever required front-end repairs
Ideal for separate 160 and/or 80 meter receive systems with large pulse and RF energy capture area
Continuous operation with no effect on station performance
Notes: Receiver Guards are not "filters," so competitive contesting stations must still use separate band filters. The DXE-RG-5000HD and DXE-RG-5000 are receive only accessories. Do not connect to a transmitter output and transmit through the Receiver Guard.
Two Receiver Guard models are available:
The DXE-RG-5000HD works for all radios and offers the highest level of protection for upper-tier transceivers with narrow-spaced third-order dynamic range or published RMDR (Reciprocal Mixing Dynamic Range). This group of elite transceivers includes the Elecraft K3 series; FlexRadio 6700, 5000A and 3000; Icom IC-7851 and IC-7610; Kenwood TS-990S and 590S(G); TenTec Orion series; Yaesu FTdx-5000 series; and other radios with similar performance.
The DXE-RG-5000 offers excellent dynamic range and performance to cover the capabilities of all other transceivers and receivers
What do Hams think?
"I put up a 12 foot whip antenna about 25 feet away from my 1/4 wave 40 meter vertical antenna. I needed another antenna for a Yaesu VR-5000 receiver and a Timewave ANC-4 noise canceller so I put up the whip. The narrow antenna separation is due to my lot restrictions. However, I was afraid of the 100 watts of RF on the 1/4 wave antenna from my Icom 7600 transceiver harming the VR-5000 and ANC-4 so I decided to try the Receiver Guard. I am pleased to say that I can transmit at full power right on the same frequency, as my VR-5000 is tuned and has no problems. In fact, the Receiver Guard acts just like a QSK antenna switch. I can send CW and monitor it on my VR-5000 with full break-in receive operation. No harm to my equipment. Sweet!"
What did QST magazine think?
"The RG-5000 and RG-5000HD Receiver Guards from DX Engineering offer superb receiver front-end protection when using a separate receive antenna." Click here for the full review.