Have you ever wondered who was the Ham on the other end of your call to DX Engineering? Well, we thought you'd like to know.
OnAllBands will be running a series of posts highlighting members of DX Engineering's customer/technical support team—all accomplished Elmers ready to answer questions whether you're building your next antenna or deciding which coaxial cable is best for your station.
We are pleased to introduce experienced EMCOMM coordinator, contester, and CW QRP straight key enthusiast William "Tommy" Hayes, NE5TH. He recently joined DX Engineering as a customer support specialist working in the Houston area, where he has been actively involved in his communities' ARESâ/RACES organizations.
When he's not acquiring and restoring keys, he's using them to compete. Most recently, he placed second in North America in the 2019 HF World Championship in single-op, QRP-only. He is a member of various organizations (FISTS CW Club, Straight Key Century Club, North American QRP CQ Club, et. al.) and a trustee of the 2M/70cm W5CXO repeater in Conroe, Texas.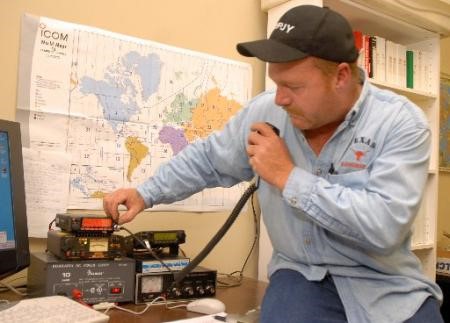 What first got you interested in Ham Radio?
I was an avid shortwave listener from the time I was 14 years old. I had an old Realistic shortwave receiver at the time, listening mainly to AM broadcast stations. Then one night I started scanning the 40 meter band and I heard a couple of Hams talking; one was in Arizona and the other was in Alaska. I thought to myself, I want to be able to do that someday. Then at the age of 19, life took over and I began my career in the oil industry (manufacturing). When I was 24 I ran across an old shortwave receiver at a local flea market, got it, and started listening again. I finally found the time to study for my Novice exam. About three months later I got my CW receive speed up to 5 WPM and went to the local VFW hall where they were giving exam sessions. I passed both the written and CW tests. About six weeks later I received my license with the Novice call KB5IIC.
Do you remember what it was like getting your Novice license?
I was so excited to get on the air, I got with another Ham friend and I picked up a Drake TR4-C with a power supply. I was living in a downstairs apartment, and I couldn't wait to get on the air, but I tried to figure out an antenna that I could use that no one would complain about. I started reading the ARRL Handbook, and that's when I figured out that I could actually build a dipole antenna for 40 meters. I strung it along the ceiling of the bedroom in my apartment (still being single helped), and voila, I was on the air with 40 meters CW.
What about your first QSO?
My first QSO was with a station in North Carolina at about three in the morning. I was nervous. My palms were sweating and I had a heck of a time with the straight key sending. I thought I was going to lose the station I was contacting, but luckily the operator was very patient and understood what I was going through because I was only his tenth contact, and he had just got licensed a month before that. I had a logbook with all of my old contacts in it, but between moving often since then I lost track of it, but I remember most of what happened.
What do you enjoy most about Ham Radio?
The comradery and making new friends. I have been a Ham for 31 years now and I have made a lot of close friends, and I will never forget my Elmers. I have had a handful of them that I have known for 20-plus years now, and I have gained a plethora of knowledge from them. For that, I will be forever grateful.
What is it about CW that appeals to you?
Some call it the original digital, and I feel that way about it. We are using a method of communications that is still around more than 100 years later. I found it humorous when a video came out on the Jay Leno show, I think it was, where they put today's texting technology and a 100-year-old technology against each other and CW won the test. It is gaining popularity again thanks to clubs like the SKCC, NAQCC, FISTS, and many others. I have heard a lot of Hams say, "Oh, CW is starting to die out." Apparently, they have not listened to the HF bands during some of the contest weekends like the Sweepstakes, CQ Worldwide, or the IARU HF Championships. Hey, maybe they need some new headphones.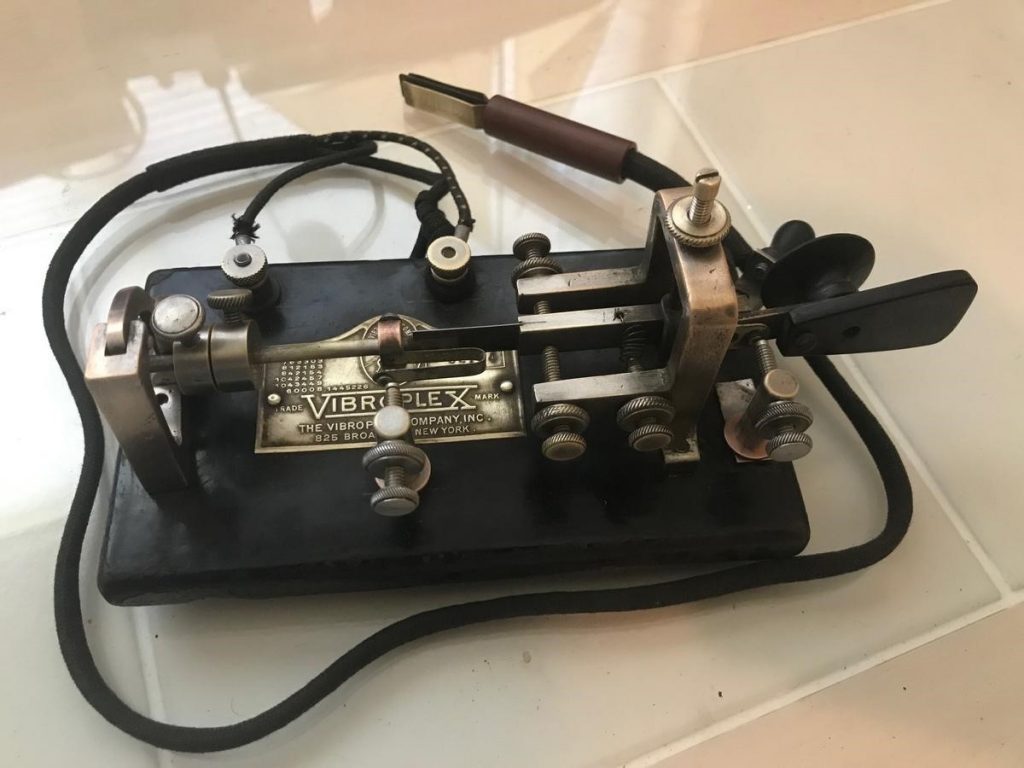 Could you talk about your involvement in EMCOMM and why this activity is so important today.
Being active in EMCOMM, especially in Texas, can be challenging at times due to the floods and hurricanes that we have had in recent years. I have been active with both ARESâ and the State of Texas RACES for the past 20 years, and I find it very rewarding to be able to help in my local and county communities. I remember during Harvey we had a couple of situations where in Montgomery and Harris counties a lot of folks lost communication through their cell service, but luckily a member of the families in both situations were Hams. We passed a message for one family whose family member was a fireman—they just wanted to let him know his wife and kids were okay. The other family had to be rescued from the flood from the second floor of their home. It is situations like this that really put something that is supposed to be just a "hobby" into a real-life perspective.
What advice do you have for people who are thinking of getting into the hobby or to those who have just received their Tech license?
First of all, enjoy the hobby. Take advantage of every opportunity to be able to learn something from an Elmer, friends, or even just by listening to the local repeater or the HF bands. There are times when you can learn a lot just by sitting and listening to a conversation, and if you do that enough, things will begin to make sense. Amateur Radio is so broad as far as the technology, engineering, and its capabilities. To be able to survive 100-plus years is a feat in and of itself, and it is still growing.
Talk about your areas of expertise and how this expertise will benefit DX Engineering customers.
I try to learn as much as possible in as many aspects of the hobby as I can. I have a lot of experience in building antennas, programming radios, using manual tuners, connecting radios to computers and other peripherals like sound cards, TNCs, the list goes on and on. Being in the manufacturing and production field most of my life, I have always had a knack for coming up with solutions for issues that may have never arisen before—sometimes solved with a simple solution, sometimes with a complicated one. But if I'm unsure, I am never afraid to ask. We have a great team here at DX Engineering, and if I don't have an answer for you, I will do everything I can to find it.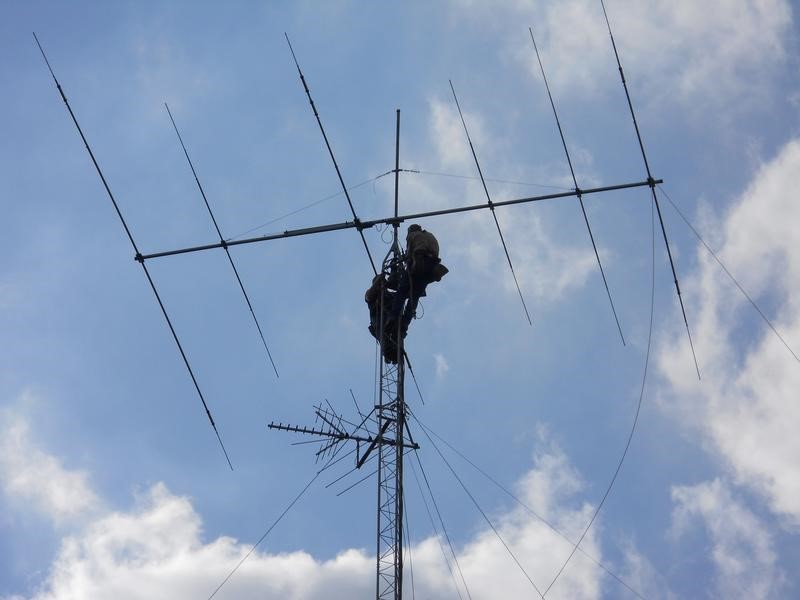 Anything else you'd like to add about your experiences and the future of the hobby?
Twenty years ago, a lot of people said that Ham Radio was a long-forgotten hobby and probably will not be around much longer, but here we are today. It is still alive and going strong. Find a club near you, get on the radio, listen first, and by all means, ask the questions you are curious about. There are a lot of great folks in the Ham Radio world, and all of them were either Novices or Technicians at one time. Most of all, have fun and enjoy Ham Radio.
Need to get in touch with an Elmer from the DX Engineering team? Email elmer@DXEngineering.com or call 800-777-0703. For email support 24/7/365, email at DXEngineering@DXEngineering.com. Order from more than 30,000 Amateur Radio products at DXEngineering.com.