For hams with a competitive streak, nothing beats the first signs of fall because that signals the arrival of some of amateur radio's biggest on-air events, including:
When looking for major upgrades to boost your station's performance, the obvious place to start is with your transceiver. For example, rigs with advanced capabilities like the Yaesu FTdx-101D (HF/50MHz 100W) can play a big role in helping to catapult your callsign upward in the final rankings.
In addition, upgraded antennas, amplifiers, coaxial cables, noise-canceling headphones and speakers, CW equipment, and footswitches can also make a significant difference. Beyond that, you'll want to consider specialized contesting devices that make operations easier and more efficient. Here are a few to consider:
DX Engineering RXSHARE Audio Splitter for Multi- and Single-Operator Contesting: This innovative device gives two operators complete control of the specific audio they want fed to their stereo headphones, while either operating two separate radios or one shared radio. The device, built into a sturdy steel chassis, has a multitude of uses. Watch Ward, N0AX, 2015 inductee into the CQ Contest Hall of Fame, demonstrate the value and versatility of the RXSHARE in this video:
EMBED VIDEO: https://www.youtube.com/watch?v=N6Jn9iT4u-Q
For SO2R contesting, the Op Swapper RF Relay Unit from Top Ten Devices (acquired by DX Engineering in July 2021) allows the sharing of a feedline, antenna, or amplifier between two radios, while providing protection to the non-transmitting radio's front end. Rated at 200W, the device features ultra-high isolation and Positive Interlock, which prevents two transmitters from being active at the same time.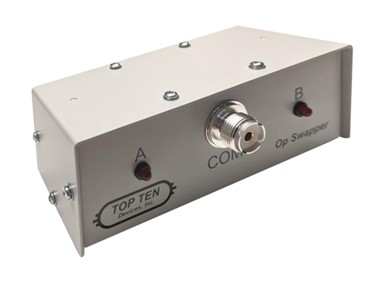 From SOTABeams comes the ContestConsole Switching Unit for Icom Transceivers—a handy control switch that provides full access to voice, CW, and PSK contest memory functions for compatible Icom transceivers. While specifically designed to work with the IC-7300, the unit supports a wide range of other Icom rigs listed here. The following features will vary depending on the transceiver model:
Instant access to voice, CW, and PSK memories (they do not need to be displayed on the transceiver screen)
TX PTT button
TX low power tune function—sends a 10W carrier (optional Tune Lead interface cable required)
Pushbutton frequency control (up and down)
External PTT socket for footswitch
Auxiliary microphone socket (3.5 mm)
What do hams say about the ContestConsole Switching Unit for Icom Transceivers?
Five Stars: "Absolutely perfect. I received the SOTOBeams' Contest Console and installed it at my home Icom station. Installation takes about two minutes, and this unit is FLAWLESS! I was sick and tired of reaching up and hitting the function buttons to operate the memories of the radio. I have been searching for a nice, compact keypad to run the radio. The tactile feel of this box is hands down one of the best constructions I have seen. The cabling to the microphone is heavy duty, and operation takes about ten seconds to learn! I can say, without reservation, that I would recommend this box to anyone with an Icom radio. Please remember to enable the keypad on applicable Icom menus and have a blast with this new accessory. Bravo SOTABeams!"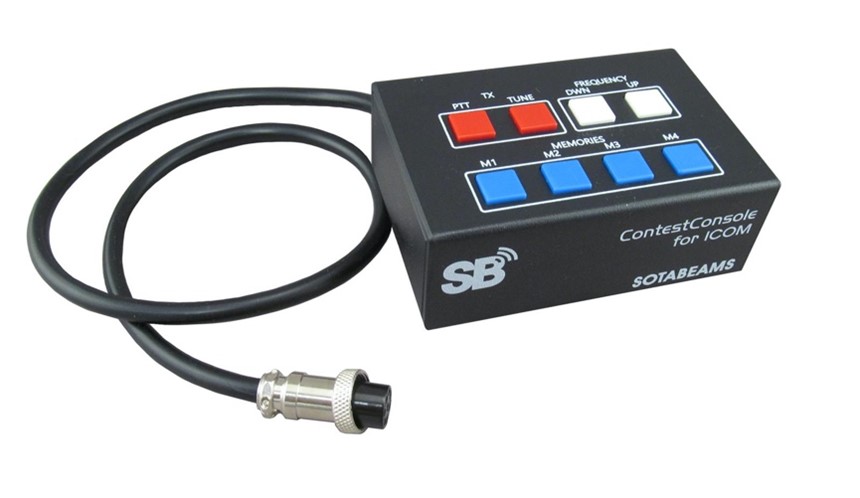 Find everything you could possibly need for a stellar Contest Season—or any season—at DXEngineering.com.