Amplifiers are hot! We don't mean literally hot—these devices come with components that nicely monitor and mitigate that issue. We mean hot items that hams are seeking to add to their stations in anticipation of the multi-operator Bouvet Island 3Y0J 2023 DXpedition and solo (F6CUK) Crozet Islands 2022 activation. While both ventures hope to put large numbers of callsigns in their logbooks (3Y0J is shooting for a staggering 200,000 QSOs), hams know there are no guarantees that they will be selected from the pileups that are likely to be nonstop from first activity to teardown.
With this in mind, a quality amplifier can be a welcome shack upgrade to provide the added punch you need to capture Bouvet and Crozet before these rare opportunities slip away. In Part 1 of our amplifier buyer's guide, we focused on some popular models (ACOM 1000, 700S, 1200S, et. al) available at DXEngineering.com. In Part 2, we'll be digging into a few proven options with budget-friendly pricing from RM Italy.
RM Italy Amplifiers
For more than two decades, RM Italy amplifiers have been helping hams worldwide bust through pileups, improve contesting prowess, and make their time on the air a lot more productive. DX Engineering is pleased to carry several models of HF amplifiers from RM Italy, presented here from least to most expensive:
MLA100 HF+6 Amplifier: For medium-powered QRP rigs, this compact and affordable amp delivers 100 watts of output on HF and 80 watts on 6 meters with only 5 watts maximum RF input. Available with or without an externally-mounted fan, this solid-state amp uses two robust Mitsubishi RD1000HHF1 MOSFETs built into a massive, chassis-sized heatsink. Band selections are automatically detected and switched or may be set manually. Please note that this amplifier is intended to be used with a low-power transceiver that is capable of an RF output of approximately 5 watts maximum. Do not use this amplifier with radios that are capable of 100 watts output.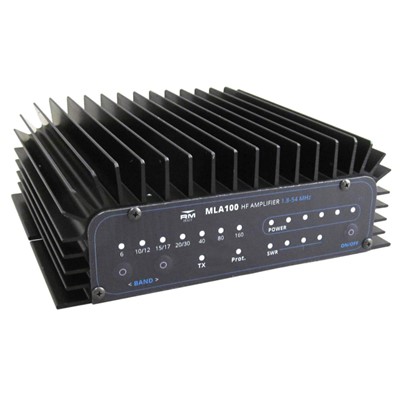 What do hams say about the RM Italy MLA100?
Five Stars: "Great little low-power amp.I needed a low-power amp to use with my IC-705. 2.5W in gets me 85W out all day long. 5W will easily drive it to its full 100W rated output. So far, I've only used it for FT4/8 and PSK31. No heating problems at all. The fan runs continuously and is quieter than my PC fan. Easy to set up, easy to use. I use an LDG Z-100Plus tuner with it also.You won't go wrong with this little gem."
HLA305 HF Linear Amplifier: If you're a QRPer, this 160 through 10M amp is the right ticket to provide just the boost you're looking for in an affordable, solid-state package. The amp delivers a nominal 200 watts continuous output on all HF bands with only 10 watts of drive, using four MRF455 power transistors combined to deliver clean RF output up to 30 MHz. Features include:
Switch-activated low-power mode that inserts an internal 3 dB RF attenuator, effectively reducing the input power by half
Manual or automatic band-switching
SSB and CW capabilities
Power gain of 13.5 dB plus/minus 1 dB
This amplifier is intended to be used with a low-power transceiver that is capable of an RF output of approximately 10 watts maximum. Do not use this amplifier with radios that are capable of 100 watts output.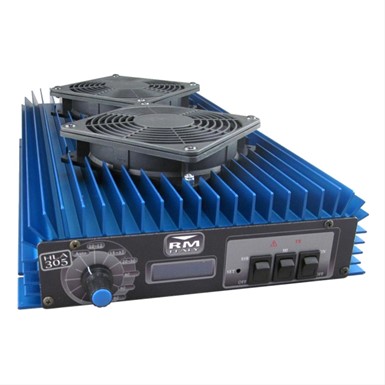 What do hams say about the HLA305?
Five Stars: "Great value for the money.I was looking for an amplifier that offered a moderate power boost to my FTDX10, at a reasonable cost, and offered an efficient thermal management solution. No doubt this amp delivers with four parallel transistors in the amplifier stage (to evenly distribute net power dissipation), nearly the entire case constructed as a finned heat sink assembly, and two variable speed cooling fans—thermal management doesn't get much better than this for an air-cooled application… I am very satisfied with my purchase, and I would highly recommend this amp to anyone needing a moderate power HF amp at a reasonable cost."
BLA350 Plus HF Linear Amplifier: This fully automated amp boasts up to 300 watts of output on less than 12 watts of input covering 160 through 10 meters. The amp includes:
Fast hardware protection circuits to protect the power transistors in the event of a high SWR condition on the antenna feedline
Two 50Vdc MACOM MRF150 RF Power FETs in Class AB push-pull configuration are automatically or manually switched to one of six low-pass filters that provide over 50 dB harmonic suppression
Built-in 800VA power supply functions on input house current at either 110 to 120 Vac or 207 to 244 Vac (choose from the RMY-BLA350P-120 or RMY-BLA350P-240 with the appropriate fuses and AC power cord
Use on all narrow band modes of transmission including SSB, CW, AM, FM, RTTY, FT8, etc.
Variable speed cooling controlled by an internal dual microprocessor
Appropriate operations on HF antenna systems with SWR below 1.5:1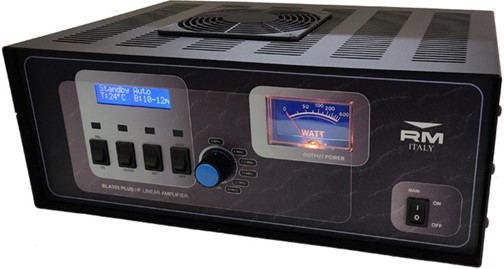 What do hams say about the RM Italy BL350?
Five Stars: "Good amp for my needs. Didn't want a powerhouse amp, just something that will get me over the edge and not spending $$$. Well-made amp that runs on 120V and using it with Icom 7300 to drive it. No buffers in between the 7300 and the amp and produces a clean signal on all bands."
BLA600 Solid-State HF+6 Amplifier: This fully automatic, solid-state model from RM Italy features low input drive requirements (20 to 25W for 500W on 80-10M, 30-40W for 500W on 160M and 6M); 500W output on all modes; dual large-diameter, MCU-controlled multispeed fans for efficient cooling; use of NXP/Freescale MRF6VP5600H 50V power MOSFET for high power and reliability; instant RF frequency-reading for band changes; fast, reliable, and silent PIN diode TX-RX switching, making the BLA600 ideal for CW QSK operation; three easy-to-configure antenna outputs; heavy-duty linear power supply, with 240 volt AC input (115-120 or 230 Vac capable); and an extensive array of protection circuits.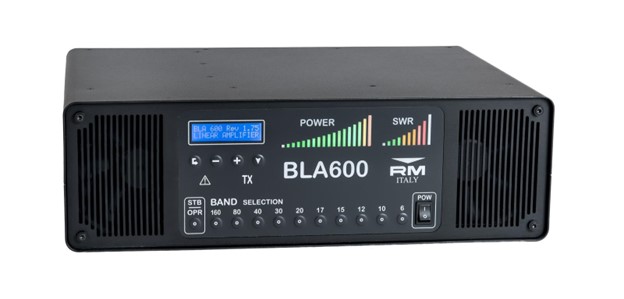 What do hams say about the RM Italy BL600?
Five Stars: "In a word, 'GREAT'. Simple to operate and no special interconnect, just RF in and PTT. 20W in will get you >500W out 80-10M (I am pushing 700W on 40M with a resonant antenna), just 5W in for >200W out. The PIN diode QSK is easy to program if needed and very quiet. Fits on the desktop and looks good. Fans are quiet unless you are keying down CW at full-rated power. The bar graphs are quite visible, and the digital display is great for programming and monitoring. A big bang for your buck. Feature-rich and very well internally protected. Read the manual, plug it in, program it how you like, turn it on, and watch the light show! I love it. The three selectable antenna outputs are a big plus for those of us with band-specific antennas. It is heavy at 47 pounds (linear power supply and big heat sinks)."
Look next week on OnAllBands for Part 3 of our Amplifier Buyer's Guide, where we'll be highlighting some popular models from Ameritron.