More than 42,000 Hams from around the world flocked to this year's Ham Fair (August 31-September 1) in Tokyo, hoping to get a first look at what's on the horizon for Amateur Radio operators.
Icom's booth at Japan's largest Amateur Radio event became the center of attention with the unveiling of two new products—the IC-705 HF/VHF/UHF D-STAR All Mode Portable Transceiver and IC-PW2 HF/50 MHz All Band SO2R 1 kW Linear Amplifier. Here are some of the details:
IC-705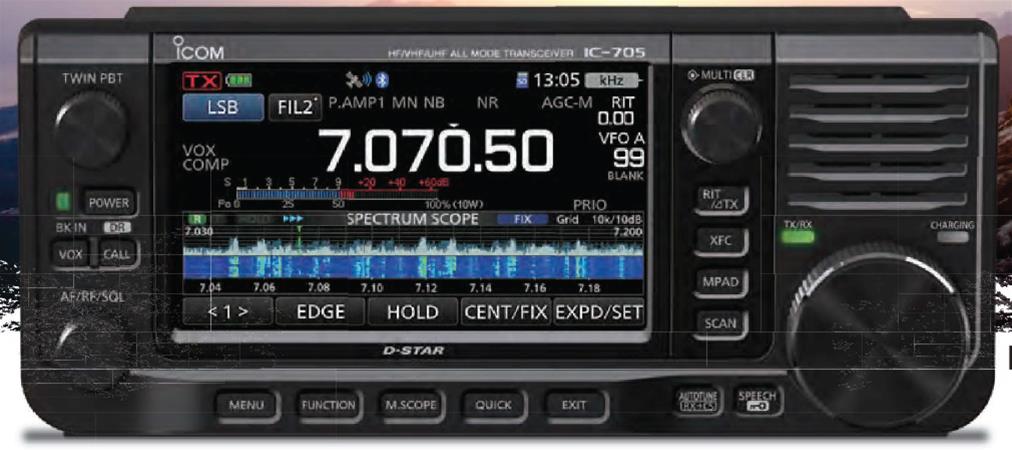 The team from Icom performed live presentations of its latest transceiver in both Japanese and English. This unique rig boasts the features of Icom's IC-7300, IC-7610 and IC-9700 in a portable QRP package small enough to hold in one hand (7.9" W x 3.1" H x 3.3" D) and fit inside a backpack for portable fun or EMCOMM operating. Features include:
SDR Direct Sampling technology for low noise and low distortion receiver performance and impressive transmission capabilities
Color touch screen and high-speed, high-resolution spectrum scope and waterfall display in real time
All-band, all-mode transceiver capability: 160-6m+2m+70cm; SSB/CW/RTTY/AM/FM/DV (D-STAR)
Built-in BluetoothÒ and wireless LAN
Fully equipped for D-STAR functions
10W output power on external 13.8V supply or 5W with included clip-in rear panel battery pack (BP-272 Li-Ion)
Provided whip antenna for VHF/UHF, speaker microphone, and DC power cable
The IC-705 is designed to fit in an optional backpack (LC-192), featuring holes for antenna, as well as coaxial and microphone cables.
Billed by Icom as "Your New Partner for Field Operations," the IC-705 is expected to be available in Spring 2020. Hams can place their reservation for the transceiver at DXEngineering.com. The IC-705 is currently awaiting FCC Type Certification.
IC-PW2
Features of this HF/50 MHz All Band Linear Amplifier include:
The latest LDMOS that effortlessly provides 1 kW output at full duty cycle, even for extended periods of time
Six antenna connectors and two radio inputs that allow the IC-PW2 to operate SO2R—Single Operator Two Radio Operation
LAN port for remote control operation from a PC
Touch screen color TFT LCD for intuitive setting changes
Low-distortion output
The IC-PW2 is currently awaiting FCC Type Certification. Click here for details on placing a reservation for the amplifier at DXEngineering.com.