As we draw ever closer to ARRL Field Day 2022 (June 25-26), we're hoping you've taken the time to procure the major items you'll need for a successful event. If you haven't, here are a few quick links to light a fire under you to upgrade your stations in time for the big weekend:
Okay, now that we've tackled the essentials, let's take a look at some of the extra pieces you'll want to add to your Field Day shopping list!
ARRL Field Day 2022 Swag
Visit DXEngineering.com to find official ARRL Field Day long-sleeve and short-sleeve T-shirts, notebooks, 16 oz. stainless steel tumbler, 16 oz. coffee mug, insulated tote bag, and ball cap all featuring the cool new Field Day 2022 logo. Then once Field Day is over, you can show off your love of ham radio wherever you go—these items make great conversation-starters and a convenient way to promote the world's greatest hobby all year long. Also choose from these new ARRL logo hats: cotton Outback Hat, Pink Ball Cap, and Lightweight Gray Golf Hat.
In anticipation of making loads of QSOs, you'll also want to bring along plenty of log books. ARRL has two available:
The 8 x 11 inch, 52-page, spiral-bound Station Log Book contains enough lines for 1,300 log entries.
The 6.25 x 4 inch, 96-page MINILOG Book is small enough to fit in your shirt pocket and lets you record up to 720 contacts.
DX Engineering Goodies
Beat the Heat
While you can take control of what you bring to Field Day, controlling the weather is another matter altogether. We recommend taking along the DX Engineering logo 36-inch umbrella or new 54-inch golf umbrella to protect yourself from the summer sun and (let's hope not!) rain.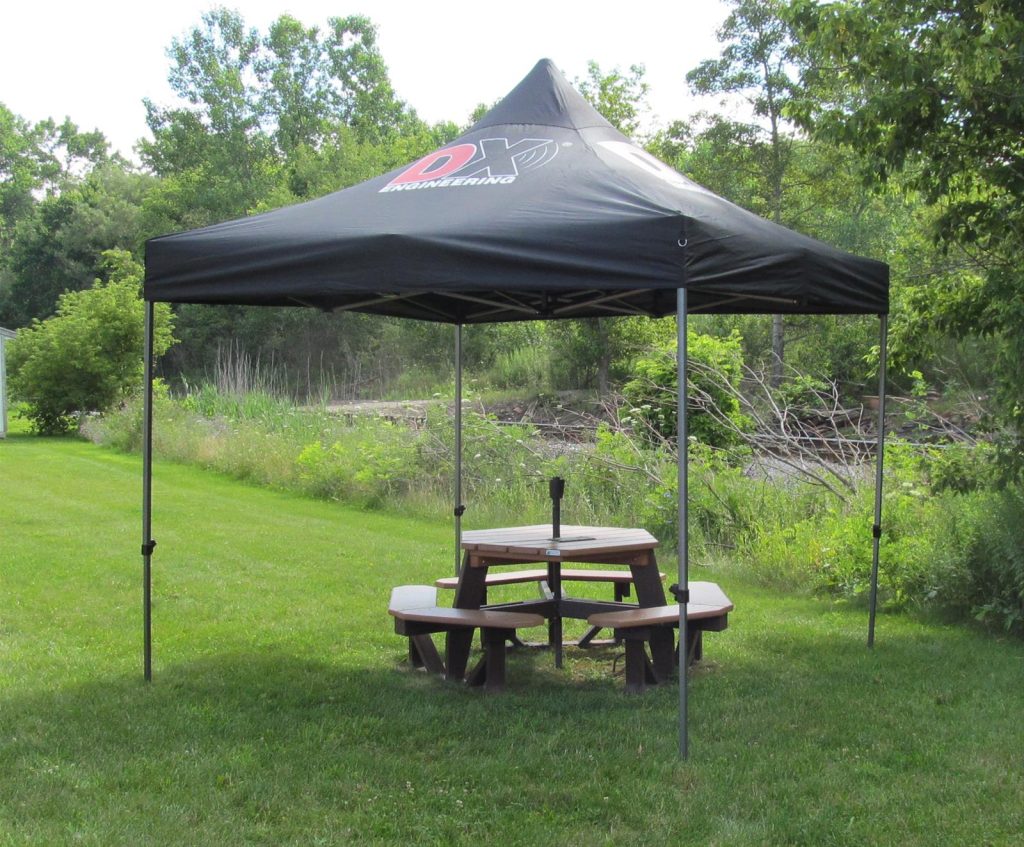 Also consider adding the DX Engineering 10 Foot x 10 Foot Canopy Shelter to your Field Day packing list. If you're new to Field Day, just ask any experienced ham about their philosophy on getting ready for Field Day weather. You're likely to hear, "Hope for the best but prepare for the worst." You'll be happy you listened and had this sturdy shelter handy. The metal-framed canopy can be set up and torn down in minutes (no tools are needed and there are no loose parts to fuss with). Featuring black polyester fabric, it collapses down to 10 inches x 64 inches for easy storage and transport. To coordinate the ensemble, add comfortable and strong (supporting up to 350 lbs.) DX Engineering Folding Chairs. Oh, don't forget to throw in some stylish sun protection by ordering DX Engineering Ball Caps for the whole crew.
First, Quench Your Thirst
Caught up in the excitement of making QSOs, it can be easy to forget to pause for some H2O. Make sure you're fully hydrated with the new Kong-sized DX Engineering 30 oz. Insulated Stainless Steel Tumbler. It comes with a leak-resistant, gasket-seal acrylic lid to prevent spilling water on your expensive gear. The tumbler is designed to maintain the temperature of hot drinks for over two hours and cold drinks for up to 36 hours. Getting enough fluids on a hot day is important to prevent dehydration. Check out OnAllBands for a few more Field Day Safety Tips and this important reminder on How to Put up a Field Day Tower Safely.
Ham, You're Going to Carry that Weight!
For bringing along smaller Field Day items, you can't go wrong with the DX Engineering Tote Bag; Cinch Bag; and nylon, water-resistant Sports Bag all emblazoned with the DX Engineering logo.
Looking Good!
Even if you're vexed by RFI, fighting less-than-ideal propagation, or spending more time fending off mosquitoes than making QSOs, at least you can look fabulous in the process by donning DX Engineering apparel, including Dual-Logo T-Shirts, Classic Polo Shirts or the new Deep Red with Black Trim Polo Shirts in men's and women's styles and sizes.
From all of us at DX Engineering, best of luck for a fun, safe, enriching, and memorable Field Day 2022! Our team of active hams hope to hear you on the air!
73