It's crunch time, folks. With only a couple of weeks until ARRL Field Day 2023 (June 24-25), now's the time to order any last-minute additions to your portable setup.
Whether you're hoping to add Field Day bonus points by using emergency power sources or looking for a lightweight answer to lighten your load while hiking to your operation destination, DX Engineering has you covered with high-quality batteries and solar panels from Bioenno Power—a company that has gained a well-deserved reputation in the ham radio community. Here's what we're currently carrying at DXEngineering.com. Check in to see if items listed below are in stock or on order. Also, enter "Bioenno" at the website periodically as we add more Bioenno Power products in the months to come.
LiFePO4 (Lithium Iron Phosphate) Batteries
DX Engineering offers 11 state-of-the-art 12 VDC LiFePO4 batteries. They range from the extremely compact 3 Ah, 6A, 72W, 0.88 lb. BLF-1203W model (perfect for portable low-power-consumption applications) to the popular 20 Ah, 40A, 480W, 4.19 lb. BLF-1220A battery (ideal for stationary applications and higher-power-consumption portable electronics). These items go fast, so be sure to check on availability.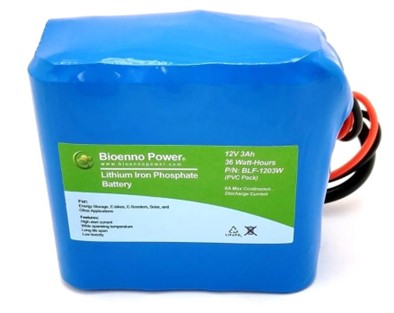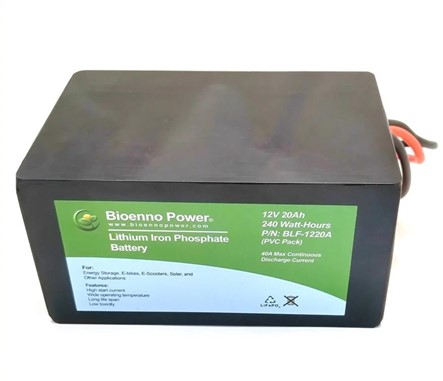 In addition to the above models, choose from these 12 VDC LiFePO4 batteries:
Per Bioenno's website, some of the advantages of its LFP batteries include lower weight, increased capacity, enhanced power delivery, expedited efficiency, longer lifetime than other lithium-ion batteries, better power density, constant and stable discharge voltage, increased battery safety due to thermal and chemical stability, less environmental impact, and higher current/peak power ratings.
All Bioenno Power batteries feature:
Integrated PCM (Protection Circuit Module) that provides complete internal cell balancing and management; protection from over current, under voltage (over-discharge), over-voltage, and short-circuiting; and integrated charging circuitry
Quiet, EMI- and RFI-free performance
Bioenno Power's True Lithium Capacity Assurance policy, meaning the company individually inspects and quality-checks each battery when it is stocked into inventory and when it is shipped.
Please note that these batteries should be charged using a LiFePO4 compatible charger. SLA battery chargers are not compatible. Find a variety of Bioenno battery chargers for 12V LiFePO4 batteries (2A, 4A, or 6A; 14.6 VDC; 110-220 VAC input, AC to DC) at DXEngineering.com.
Go Solar with Your Portable Ops
Also check out Bioenno Power's easy-to-use, weather-resistant, highly portable, and ruggedly built monocrystalline foldable solar panels (28W, 40W, 60W, 100W, and 120W models). The 40W BSP-40-LITE solar panel is shown below. Solar charge controllers (20A and 30A) are sold separately. Bioenno notes that you should always use a Bioenno solar panel with a matching solar charge controller when using a battery. Attaching a panel directly to a battery is not advised. Read information about each solar panel model for further details.