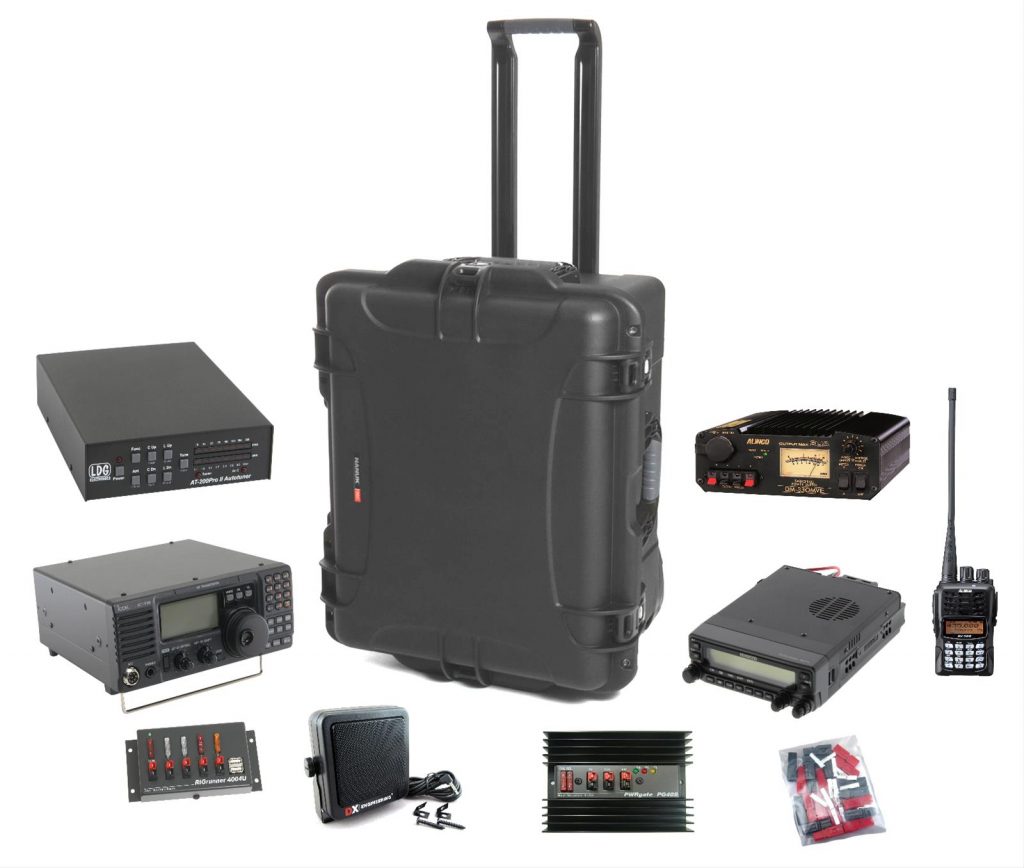 For many civic-minded individuals, Ham Radio is more than a hobby. It is a means of providing vital communication when disaster strikes. When all else fails, communities in crisis can rely on Amateur Radio operators to efficiently relay critical information—everything from the extent of the damage after a tsunami to a family's message to loved ones that they're alive and well.
The history of Ham Radio abounds with examples of skilled amateurs coming to the rescue. After Hurricane Maria hit Puerto Rico in 2017, it was volunteer Amateur Radio operators who stepped in when the island's electrical, land-line, cellular, and emergency radio networks were crippled by the storm. Read more about their work here.
As you and your club prepare for ARRL Field Day 2019 (June 22-23), it's a good time to remember the event's original intent—to practice rapid deployment of radio communications in a range of challenging environments with the ability to establish two-way communication. Many Hams use the annual gathering to take inventory of their emergency equipment and supplies.
In addition to having extensive training, EMCOMM (emergency communication) operators depend on having a well-equipped "go-kit" that enables them to respond quickly without scrambling for items at the last minute. The contents of a go-kit can vary from rudimentary to extensive depending on the type of operation, length of deployment and location.
In general, Ham Radio go-kits may include equipment for VHF/UHF, HF, and/or digital transmissions, including radios, speaker mics, power supply, AC generator, laptop, antenna and supports, tuner, headset or earphone, antenna mount, etc.; must-haves like electrical and duct tape, flashlights, tool kits, extra coaxial cable, and extension cords; and personal items such as clothing, tent, sleeping bag, first aid kit, waterproof matches, food and water.
ARES, the Amateur Radio Emergency Service®, provides this handy ARES Field Deployment Go-Kit Checklist. ARES is a volunteer organization of licensed amateur operators who provide communications support in the event of a disaster. Here are links to other volunteer emergency groups popular in the Ham Radio community:
If you're interested in becoming involved in one of these organizations, DX Engineering provides basic go-kits and supplemental gear that can get you started on the path to being a seasoned, well-equipped EMCOMM operator.
DX Engineering's HF Plus Go-Kits come with a compact HF transceiver, 200 watt automatic antenna tuner, 50 watt dual band transceiver, communications speaker, dual band handheld transceiver, speaker mic, 30 amp power supply, 4-outlet DC panel, a combined battery backup switch unit and 40A smart charger (for transceiver power, battery not included), a sturdy wheeled carrying case and pocket repeater directory. Click for details on the two available kits: DXE-GOKIT-2 HF Plus Field Day Go-Kit and DXE-GOKIT-3 HF Plus Yaesu Field Day Go-Kit.
DX Engineering's 2 Meter Go-Kit includes an 85 watt 2 meter mobile rig, 2 meter handheld transceiver, HT earhook headset, an external communications speaker, 4-outlet DC panel, an aluminum body LED flood/flashlight and carrying case: DXE-GOKIT-1 Two Meter Field Day Go-Kit.
Newly available, DX Engineering offers two Digital Go-Kits featuring a handheld, mobile, and base station transceiver plus digital interface and cables.
The DXE-GOKIT-4-DIG includes:
The DXE-GOKIT-5-DIG comes with all Yaesu radios:
Both Digital Go-Kits include communication speaker, automatic antenna tuner, SignalLink™ interface with built-in sound card, SignalLink™ radio interface cables, power supply, DC outlet panels, equipment case, and more. Click here for complete details of each kit.
In addition to these kits, DX Engineering carries other items for EMCOMM operation, including coaxial cable; tool kits ; SWR meters; portable telescopic masts, including the SOTABeams Tactical Mini and Heavy-Duty Tactical 7000hds, antennas such as the Chameleon EMCOMM-III Portable HF Antenna and DX Engineering 8040 NVIS Antenna Kits, and more.
Need assistance building your ideal go-kit? The Elmers at DX Engineering are here to help. Call us or email Elmer@DXEngineering.com.