Today's Winter Purchasing Guide article includes a cornucopia of ideas for transporting/storing your equipment and adding some practical and decorative touches to your shack—all available at DXEngineering.com.
Equipment Cases
Gators Cases
You simply can't go wrong with Equipment Rack Cases from Gator—a proven option for protecting your amateur radio investment. Made from rotationally-molded polyethylene (Pro Series) or lightweight molded polyethylene (Standard Series), these rugged cases are well suited for housing radios, power supplies, antenna tuners, and more.                                                                                                        
NANUK Equipment Cases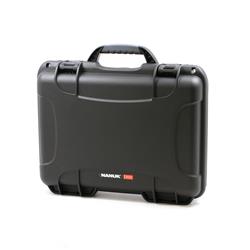 Available in multiple sizes, colors, and setups, NANUK Equipment Cases are ham-tested to handle portable ops in the roughest of climates. These lightweight, watertight cases offer the ultimate grade of protection. Also available are combos which include a RigExpert Antenna Analyzer and NANUK case perfectly fitted for transporting the analyzer safely into the field for onsite testing.
iPortable Pro2 Equipment Racks
This system blends a sturdy travel/flight enclosure with a DC power distribution point, speaker, and rack shelving. There's ample room to include a radio or two, a power supply, and tuner. The front panel comes with a volume control, coax plugs, fuse panel, cigarette lighter port, USB ports, Powerpoles®, and headphone jack.
Equipment Covers
Made of durable blue polyester and cotton fabric, custom-fit EAntenna Equipment Covers slide on seamlessly to keep dust and dirt away from specific rigs, amplifiers, and speakers. Each cover has slits in the back that let you cover up the equipment without having to unplug cables. Covers come embroidered with the manufacturer logo and model number of the gear they're protecting. Plus, they fold flat for easy storage.
EAntenna has covers for popular ACOM amplifiers and a range of transceivers, including Icom's IC-7300, IC-9700, and IC-7610; Yaesu's FTDX-101D, FTDX-101MP, FT-991, FTDX-3000, and SP-10 Desktop Speaker; and Kenwood's TS-590, TS-890, and TS-990.
DX and Grid Square Maps
Make 2022 the year you move closer to achieving your DXCC, WAS, WAZ, VHF/UHF Century Club Award, GridMaster Award for satellite operators, or other certificate. CQMaps offers three finely printed, laminated maps to add an impressive display to a wall or cork board in your shack, while inspiring you to keep working those rare entities and grids when they become active:
24″ x 36″ (heavyweight coated paper) full-color Winkel projection with all listed world DX entities, accurate CQ amateur radio zones, and recent political borders
24″ x 36″ (heavyweight coated paper) or 13″ x 19″ (matte paper) Albers Equal Area Conic Projection U.S. Maidenhead Locator maps show all 50 states plus Puerto Rico and the U.S. Virgin Islands. They list all state capitals, which are highlighted in the side bar with their corresponding 4-digit grid square.
Each map has been specially commissioned by DX Engineering and features the DX Engineering logo. They make a perfect way to keep track of all your DX and grid square achievements.
Need further motivation? Read this excellent blog post by Sean Kuzko, KX9X, "The Path to 488: The GridMaster Award for Satellite Operators."
What do hams say?
Five Stars: "Very nice quality laminated grid map. Even includes the area's call sign number, i.e., IL is 9, MO is 0, etc."
Q-View QSL Card Holders
If you're swimming in a multicolor sea of unorganized QSL cards shoved in drawers and scattered around the shack, Art Sci has the perfect solution to protect, arrange, and display those well-earned cards—each one representing your skill (or good fortune!) as an operator. These well-made holders make a great conversation piece as you regale visitors with tales of breaking through logjams and snagging that rare entity in the final minutes of QRV status.
These holders can be hung on a wall or folded for neat storage. Each package includes a pair of holders that can fit 20 cards apiece for a total of 40 cards. Select from a standard U.S. postcard size (3.5″ x 3.5″) or the larger international card size (4″ x 6″).
For a look at some of the favorite QSL cards collected by the active operators at DX Engineering, just enter "QSL" in the above OnAllBands search box.