Today's DX Engineering Winter Purchasing Guide post features an ingenious device that has saved countless CW operators a mountain of grief and contributed to more than a few contest victories. Looking for an edge over other CW speed demons? You'll find it here—and it won't even make a dent in your amateur radio budget.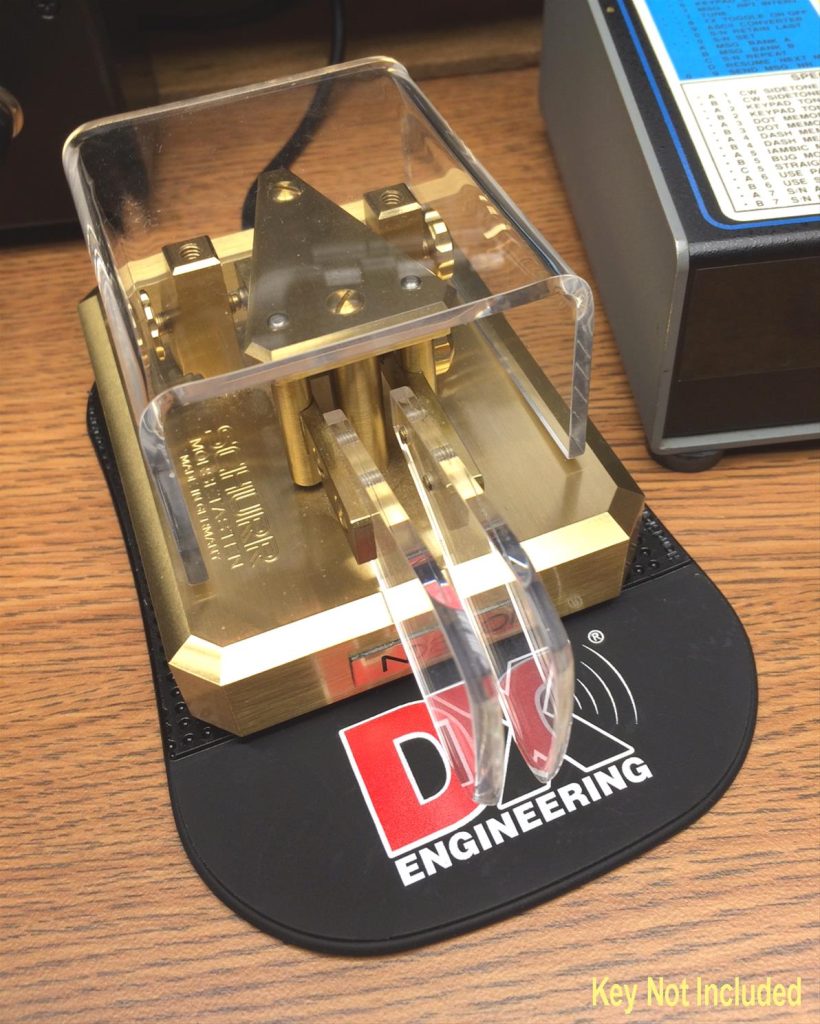 Hams who are also Paul Simon fans may find themselves annoyingly humming "Slip Sliding Away" during the heat of a CW contest as they attempt to keep their paddles rooted to the desktop. On the other hand, operators who use DX Engineering PaddlePads will be more inclined to belt out Bob Seger's "Like a Rock" when sending Morse code transmissions. Why? Because their instrument of choice won't be slipping or sliding anywhere—even during high- WPM marathon sessions.
To quote another songwriting legend, DX Engineering PaddlePads are the perfect way to keep your paddle (as well as keys and bugs—read reviews below) from traveling "like a rolling stone" when you're working the world, practicing Morse code, or contesting. These soft, pliable, and washable friction pads come in two sizes (5-3/4″ W x 7-1/2″ L and 3-3/4″ W x 5-7/8″ L) to accommodate everything from tiny, lightweight paddles to the large, heavy paddles of today and yesteryear. You'll be amazed at how the gel-pads feel "sticky" to the touch but use no adhesives that leave sticky or oily residue.
Only 1/16″ thick, the DX Engineering-logoed pads also make nice gifts for the non-hams in your orbit since they can be used on any relatively flat surface to prevent a range of things from sliding. Uses outside of ham radio include:
Keeping items on the dash of a vehicle in place
Keeping glasses, mugs, and other items from moving about when boating
Keeping other desktop devices from sliding
Hams everywhere sing the praises of DX Engineering PaddlePads
Five Stars: "Great product for any CW ops. These mats do exactly what they are supposed to do. My bug, paddles, and straight key don't move at all anymore. I don't know why I waited so long."
Five Stars: "I expected a good paddle pad for the desktop, but this one is amazing. It will not budge while in use, but is easily moved around on the desk. A great item!"
Five Stars: "Nice. Works like it's bolted to the desk!"
Five Stars: "I got this PaddlePad to replace the shelf liner that I had been using under my bug. It is way more effective than shelf liner. It really sticks to a flat surface. So it's not just for paddles. Put your bug on it; you will not be disappointed."
In addition to PaddlePads, you can take care of all your CW needs (keys, paddles, electronic keyers, code practice oscillator kits, and more), at one convenient source—DXEngineering.com.
Also, take a moment to read Ward Silver, N0AX's OnAllBand's article, "Choosing a CW Key or Paddle: Understanding What's Available."