Editor's Note: Every month, DX Engineering features QSL cards from our team members' personal collections. To highlight upcoming DXpeditions, we'll be displaying a few of our favorite cards along with details about what it took to make these contacts. We're excited to share some of the special cards pulled from the thousands we've received over the years. We look forward to seeing your cards as well!
Sable Island QRV in March
If you've never been fortunate enough to have sparsely populated Sable Island in your log, March is a great opportunity to make it happen. This smile-shaped Canadian island about 190 miles east of Halifax, Nova Scotia, is scheduled to be active from March 20-30 thanks to the multi-operator CY0S DXpedition. The CY0S team will be operating from 160-2M in CW, SSB, FT8, and RTTY. The team has received approval from Parks Canada for 2M EME (Earth-Moon-Earth) operation from the island (Lee, WW2DX, is the team's EME operator).
DX Engineering Gear to be Used on Sable Island
DX Engineering is a proud equipment sponsor of CY0S. Gear provided for the DXpedition includes DX Engineering's dual impedance antenna transformers, radial plates, rope guying earth anchors, premium radial wire, and saddle clamps, as well as band pass filters, diplexer, rope, seven-band dipole antenna, and more equipment from other leading manufacturers. For up-to-date information, visit the CY0S website. And check out OnAllBands for more articles on CY0S in the days ahead.
About Sable Island
Ranked as the 49th Most-Wanted DXCC Entity per Clublog as of February, Sable Island (CY0) has a small population which rises in the summer months when researchers and tourists temporarily call the 26.8-mile long, 12-square-mile sandbar home. Managed and staffed by Parks Canada, the Sable Island Station is the island's only permanently staffed facility. Naturalist Zoe Lucas has lived on the island since 1971, where she has spent a lifetime cataloging Sable's birds, horses, seals, and insects, while also tracking pollution in the Northwest Atlantic. She and the island's ecosystem are the subjects of a recent documentary, Geographies of Solitude. You can watch the trailer here.
Among the island's wonders are more than 350 species of birds, such as the rare Ipswich sparrow; the world's largest breeding colony of gray seals; and, most notably, more than 500 wild Sable Island horses. While the exact origins of the horses on Sable is unknown, some theorize that the horses are ancestors of those that survived the many shipwrecks that gave the island the nickname "The Graveyard of the Atlantic." Sable Island earned this well-deserved but macabre moniker after being the site of an estimated 350 shipwrecks, dating from the first recorded one in 1583. Thick fog, dangerous currents, and its location in the center of a major shipping route have proven to be an unfortunate recipe for numerous maritime tragedies over many centuries.
There are no trees on Sable Island, save for a scrawny pine that is the only surviving tree of the 80,000 planted five decades ago to stabilize the island. It is decorated yearly at Christmastime by island staff. Filmmakers mistakenly portrayed Sable Island in the 2000 film A Perfect Storm by dotting the landscape with trees and a large stone lighthouse.
Below is a photo of Sable Island taken from the space shuttle.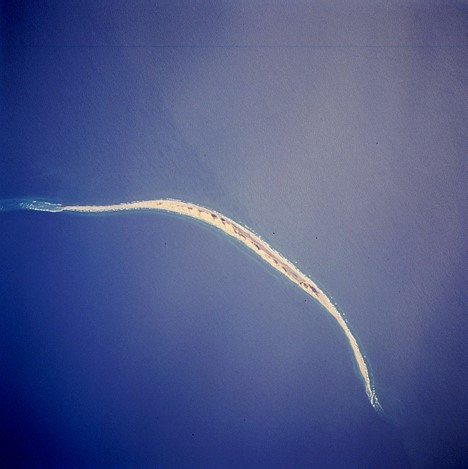 QSL Cards
The active hams at DX Engineering have had great success contacting Sable Island over the years (a good reason to contact them for help with your gear if you'd like to do the same). Here are a few of the QSL cards from their collections.
Mark, W8BBQ, DX Engineering customer/technical support specialist, made contact with the N0TG, K8LEE, N1SNB CY0 DXpedition in March 2011 (40/20/17/15M SSB). The card provides an excellent look at Sable's elongated shape as well as a photo of the island's feral horses walking in procession. Dave, K8DV, DX Engineering customer/technical support specialist, received the same QSL card by contacting CY0/K8LEE on 80/20/12M CW and 20M RTTY.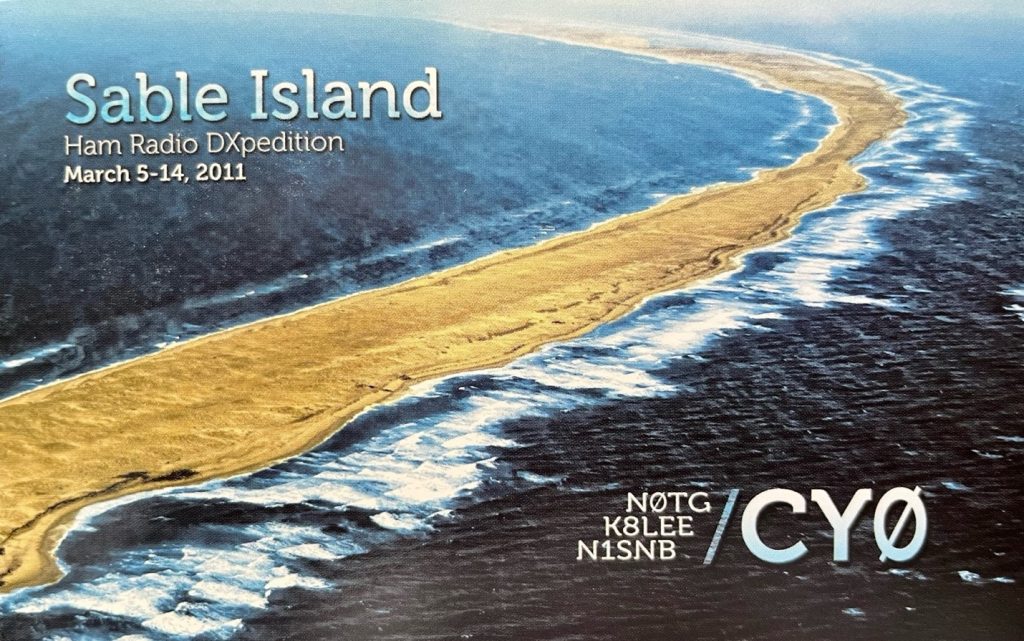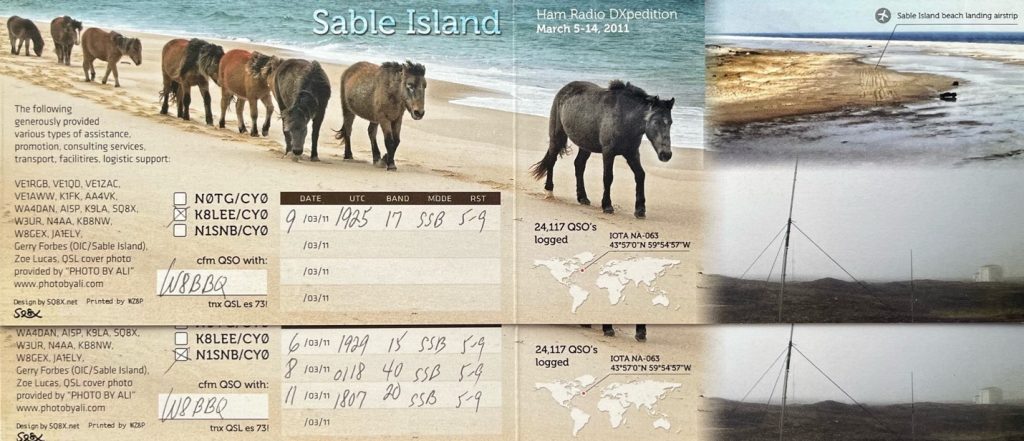 Tom, KB8UUZ, DX Engineering technical writer, reached AA4VK/CY0 on 12M SSB in October 2012. In November 2002, he received the QSL card below from CY0MM after contacting them on 15M SSB.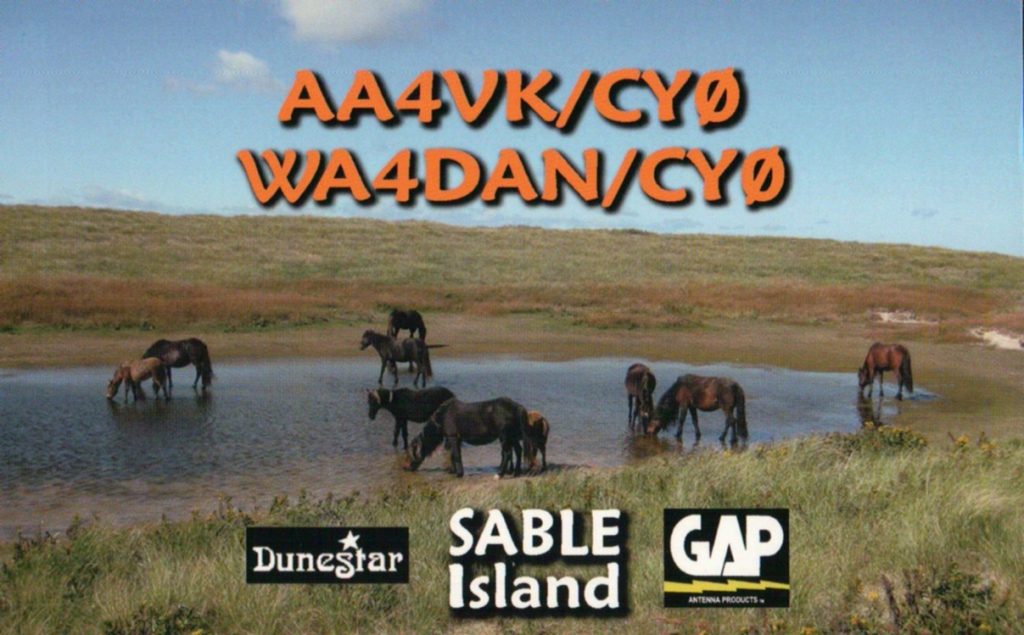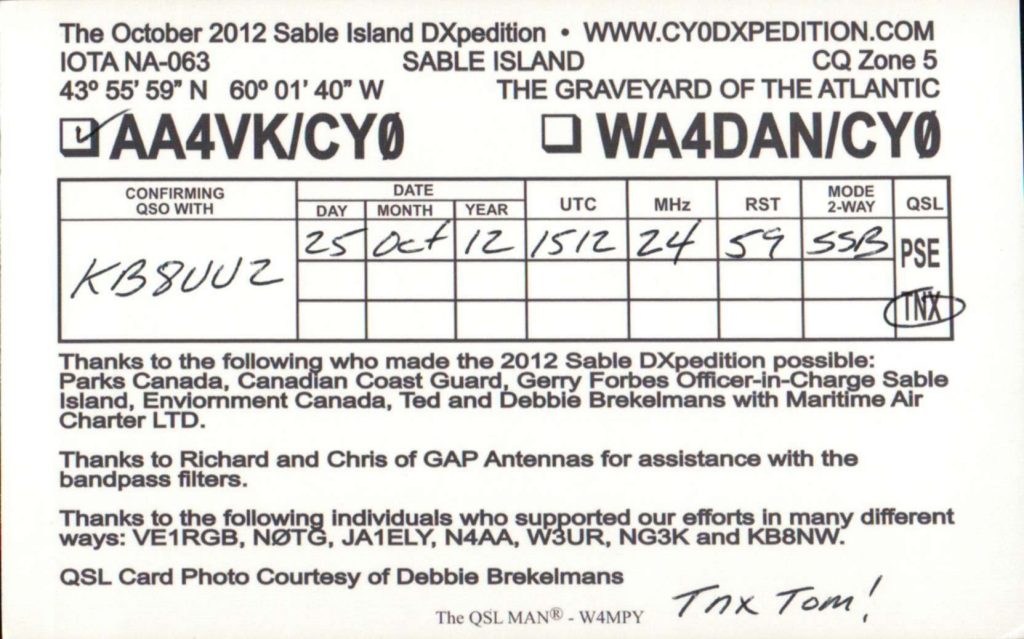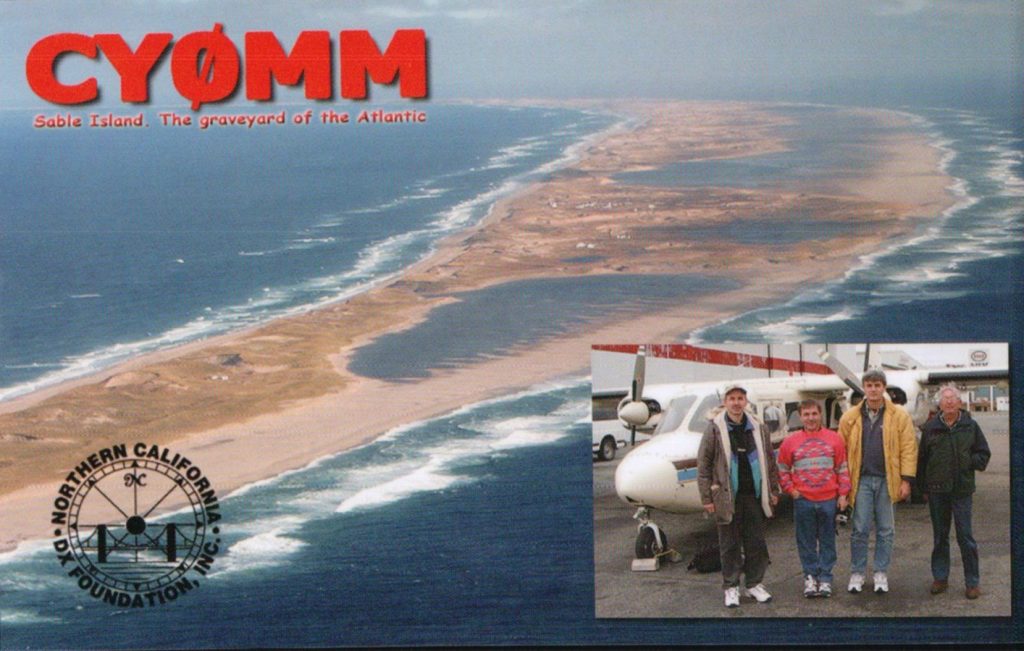 Wayne, K8FF (K8WOT is his old call sign), DX Engineering customer/technical support specialist, received this treasure map-style QSL card (one of our all-time favorites at OnAllBands) from the VX9A DXpedition. Note the images of ships being tossed at sea.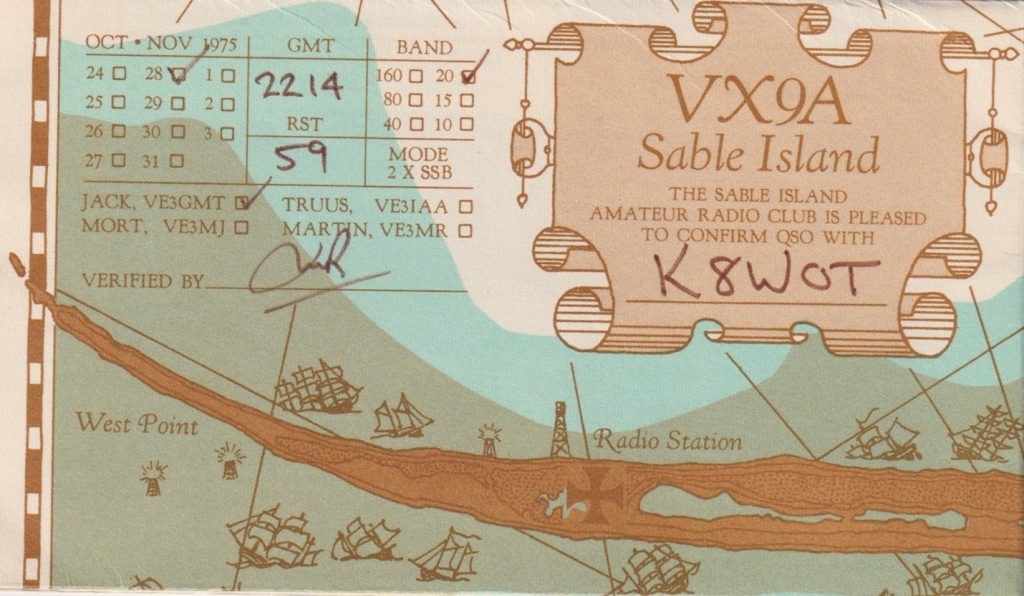 Dave, K8DV, reached the June/July 2008 CY0X Sable Island DXpedition on 6M and 20M CW. Tom, KB8UUZ, received the same card by contacting CY0X on 6M SSB.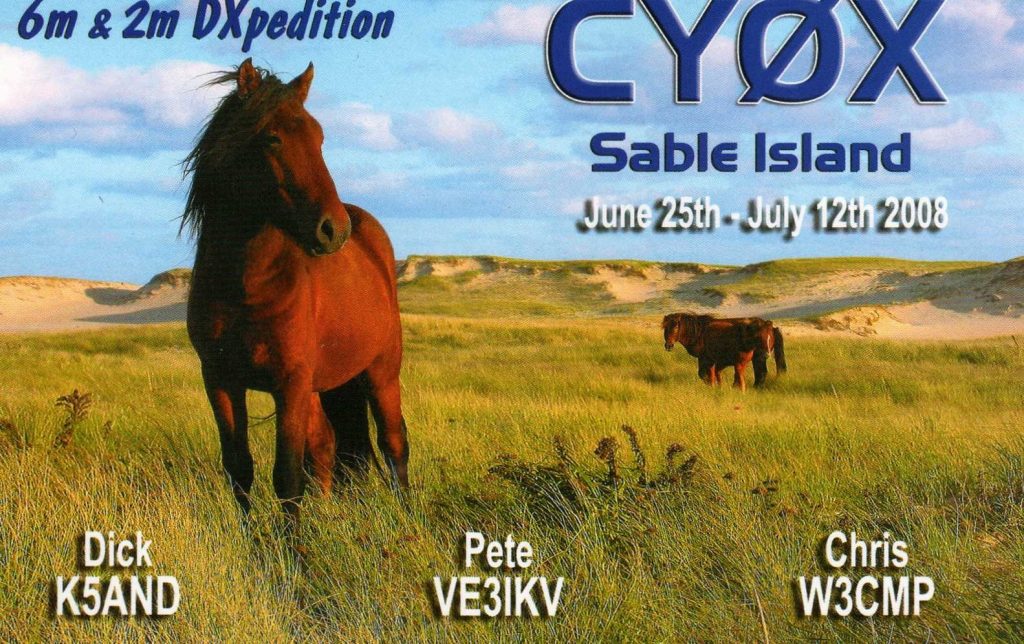 Scott, N3RA, DX Engineering sales manager, received this QSL card from the CY0TP October 1995 DXpedition on 40M CW.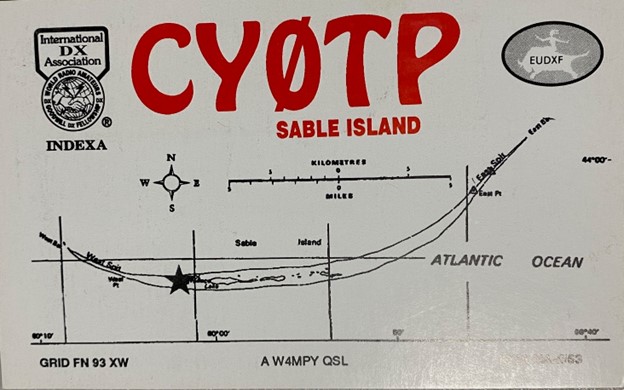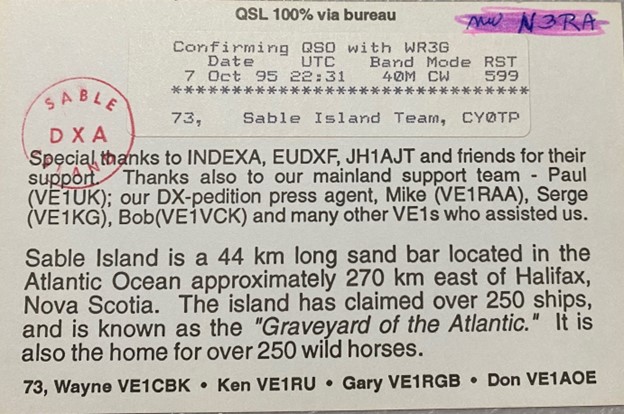 Want to upgrade your DXing capabilities? The Elmers at DX Engineering are here to lend an ear. Reach out to them at Elmer@DXEngineering.com. Find everything you need at DXEngineering.com to up your game, including transceivers, antennas, amplifiers, headsets, and more.