When the VP6R Pitcairn Island DXpedition team sets up camp in the South Pacific this October, they'll be unpacking and installing loads of gear from DX Engineering, including a custom-designed and fabricated 160 meter vertical antenna.

The VP6R DXpedition to the small volcanic island—the least populous national jurisdiction in the world and the spot where, in 1790, mutineers from the H.M.S. Bounty settled after famously burning the ship —is scheduled for October 18 to November 1. The international team of experienced DXpeditioners will be operating on SSB (80, 40, 20, 17, 15, 12, 10M); CW (160 through 10M); RTTY (80 through 10M); and FT8 (160 through 10M, plus 6M and 6M EME).
From the VP6R website:

"Although there may be some fine tuning, we plan for eight stations, each capable of maximum legal power, with monoband Yagis for the high bands and verticals with good radial systems and directional receive antennas for the low bands. Remember the big 160 meter antenna DX Engineering designed for Bouvet (3Y0Z) that never made it ashore? Fear not, it is going to Pitcairn Island."

DX Engineering's 90 foot top-loaded 160M vertical antenna features:
Heavy-duty hinged pivot base with custom base insulators to accommodate a 40 foot falling derrick made with three inch diameter pipe
Base-fed design using two inductors to match to 50 ohms
Aluminum tower (12 inch face) for the first 70 feet and tapered diameter aluminum tubing for the top 20 feet
Guying at 30, 50 and 70 feet
Three 30 foot top-loading wires attached to the top of the tubing that are tied to anchors 60 feet out from the base
"We're thrilled that our 160 meter antenna will be making the trip to Pitcairn Island," said Tim Duffy, K3LR, DX Engineering Chief Operating Officer. "VP6R has an experienced and dedicated group of operators who will certainly make the most of the top band while on the island."
From the VP6R team's official website:
"We are near the bottom of our solar cycle. This makes good, efficient low band operation a must for every DXpedition," wrote operator Nodir, EY8MM. "The Pitcairn Island DXpedition team takes this very seriously, and we bring one of the most experienced teams to the island to meet this challenge. We have carefully selected our equipment, both for transmitting and receiving. We think it (DX Engineering's antenna) is going to perform very well on 160. The 80 and 40 meter bands will be covered by two full-sized verticals for each band. This will allow simultaneous CW/Digital and phone operation on each band."
In addition to the 160 meter antenna, the VP6R team will be using other mission-critical equipment from DX Engineering, including:

400MAX DX Series Low-Loss 50-ohm Coax Assemblies

NCC-2 Receive Antenna Phasing System

RF-PRO-1B Active Magnetic Loop Antenna

TFS4 Series B Transmit Four Square System and Phasing Cables

Phased Array Quarter Wave Tuned Cable

RADP-3 Radial Plates
"DX Engineering is proud to support DXpeditions that allow enthusiasts around the globe to log All Time New Ones and fill bands. It's another way we strive to give back to the Ham Radio community," Tim, K3LR, said. "As longtime DXers ourselves, we look forward to joining our fellow Hams in the pile-ups."
Pitcairn Island currently ranks as the 65th Most Wanted DXCC Entity in North America, according to Club Log. In addition to QSOs logged thanks to DXpeditions over the years, thousands of Hams made contact with the island by reaching one of the most coveted figures in Amateur Radio—Pitcairn citizen Tom Christian, VP6TC/VR6TC (SK). Known as the "Voice of Pitcairn," the great-great-great grandson of H.M.S. Bounty mutineer leader, Fletcher Christian, frequently operated from a radio hut located on the island's highest point. He became a silent key in 2013.
DX Engineering sales manager, Bob, W5OV, took this photo of Tom Christian in 2005 at Hamcom in Arlington, Texas: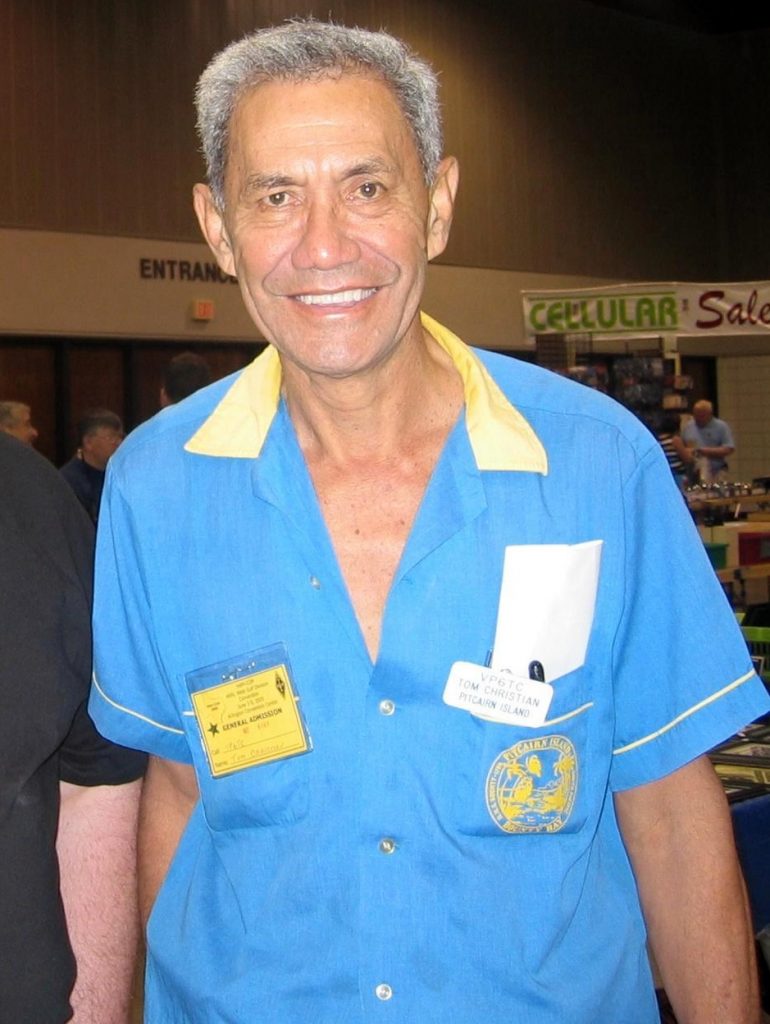 For complete details of the DXpedition, visit the VP6R website. Here's an interview with VP6R team member, Hal Turley, W8HC, who sat down with Tim, K3LR, to discuss the long-awaited event.
And when you're ready to upgrade your station's DXing capabilities, DX Engineering has chaser packages featuring transceivers, antennas, linear amplifiers, headsets and more.