Do you know a fledgling ham who has been struggling with a low-end handheld transceiver and has yet to realize the pleasure of working with a high-performance model? Are there HT fanatics on your shopping list who you'd like to surprise with a rig they don't have in their collections? You'll find an impressive selection of the latest and greatest handy-talkies and accessories at DXEngineering.com, plus tried-and-true transceivers that continue to deliver the results you can expect by purchasing from leading manufacturers.
These HTs come in a range of prices, functions, and coverages, so you're sure to find an appropriate model with the necessary bells and whistles, whether gifting a friend or gifting yourself. If you're overwhelmed by the options and can't quite pinpoint the ideal choice, you'll find plenty of guidance from the helpful holiday hams at DX Engineering. Here are a few HTs to consider:
Alinco
Icom
Kenwood
Yaesu
Also find HT models from Bridgecom and transceivers from AnyTone. Plus, visit DXEngineering.com to find a full lineup of handheld accessories for Alinco, Icom, Kenwood, and Yaesu models, including battery packs, cases, replacement antennas, rapid chargers, wall chargers, drop-in chargers, car chargers, multi-unit desktop chargers, speaker microphones, earphones, tie-pin microphones, lapel microphones, belt clips, power adapters, Bluetooth headsets, ear-hook headsets, boom mic headsets, and mini-manuals. 
Our next holiday gift idea was inspired by OnAllBands blogger and DX Engineering customer/technical support specialist Troy, KE8DRR, who was looking for an easy-to-deploy go-kit that wouldn't take up too much space in his vehicle for spur-of-the-moment activation opportunities. You can read all about the gear he chose for his "ultra-portable" setup in his post, "Lightening Your Go-Kit."
For an antenna that provides big coverage with a small footprint, Troy opted for the Chameleon MPAS Lite Modular Portable Antenna System.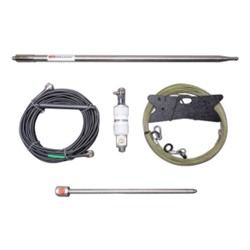 Here are a few reasons why it also might make the right gift for a ham in your life—especially one who has the itch to operate in the great outdoors.
Users can configure the antenna in a variety of ways (vertical, horizontal, sloper, inverted-V, inverted-L, and NVIS—all requiring a wide-range tuner).
Antenna can be deployed on a balcony or on a non-moving vehicle.
Its integral broadband impedance matching network transformer allows broadband antenna tuning.
Users can enjoy operation from 1.8 to 54 MHz, continuous, without any adjustment when using a wide-range antenna tuner.
The MPAS Lite antenna system features:
CHA HYBRID-MICRO Feedpoint with SO-239 (50W CW, AM, FM, RTTY; 100W SSB and SSB-based digital modes)
60 Feet of Wire
CHA SS17 17-Foot-Long Collapsible Telescopic Stainless Steel Whip
CHA SPIKE
50 Feet of Coax with RFI Choke
Stainless Steel Hardware


Longer antenna wires, counterpoise, and carry bag are user supplied.
Also check out the Chameleon 160-6m MPAS 2.0 Portable HF Antenna System, which comes with more wire to support additional antenna configurations, counterpoise, backpack, and CHA MIL 2.0 portable whip antenna (113 inches) and CHA MIL EXT 2.0 portable whip antenna extension (105.5 inches).
Portable Masts
Portable masts make another useful gift for aspiring POTA, SOTA, or IOTA operators. At the top of the line, DX Engineering Premier Telescoping Carbon Fiber Masts provide long-lasting performance and easy transport. They're available in three lengths: 24 feet, 33 feet, and 49 feet, plus a heavy-duty 33-foot option. They feature short section lengths designed for low-cost shipping and portability, with the 49-foot model collapsing to 81 inches and the other three masts sliding down to an impressive 69 inches.
Also check out portable aluminum telescoping masts and mast tripods from WiMo and telescopic masts and guying kits from SOTABeams.
Still not sure what to give?
Problem solved! Visit DXEngineering.com or call 800-777-0703 to order a DX Engineering Gift Card in denominations from $25 to $500. You can also receive a "digital" version of the DX Engineering Gift Card sent right to your email inbox within two hours.